The University of Nevada, Reno has named electrical engineering student Anita Savell the recipient of the Spring 2017 Herz Gold Medal for having earned the highest grade-point average, a 4.0. The Herz Gold Medal will be presented to Savell for her outstanding scholarship during the University's Thursday evening Spring Commencement ceremony, May 18.
Savell, an Honors Program student with a biomedical engineering emphasis and minors in biology and statistics, was named an Honorable Mention for the 2015 and 2016 Barry Goldwater Scholarship Program. Director of the University's Honor Program, Tamara Valentine, encouraged Savell to apply for nationally competitive scholarships. With help from multiple professors and supporters, Savell created a successful application for an American Heart Association grant studying novel drug targets for the treatment of ischemic stroke.
Savell's mentor Elena Pravosudova, lecturer and associate chair of the Department of Biology, said Savell was simply impressive and clearly stood out among her peers.
"One of the requirements for the students in my Honors' section was to write a review paper on a biological topic of their choice," Pravosudova said. "Anita wrote a paper on the use of nanotechnology in targeted drug delivery for treatment and prevention of multiple drug resistance in cancer, tuberculosis and HIV/AIDS. It was an impressive and brilliant work, especially considering that at the time, she was only a freshman."
Savell was born in Georgia, moved to northern California and spent most of her high-school years in Santa Rosa, taking college classes since her freshmen year. Her family moved to northern Nevada and Savell graduated valedictorian from Truckee Meadows Community College High School, and entered the University with a Presidential Scholarship.
"My most influential mentor, Elena Pravosudova, encouraged me to become a biology discussion group leader," Savell said. "She helped me realize how my critical thinking and problem solving developed in engineering could be valuable in biology and medicine. For years, Elena's kindness, guidance and humor have been a motivating force."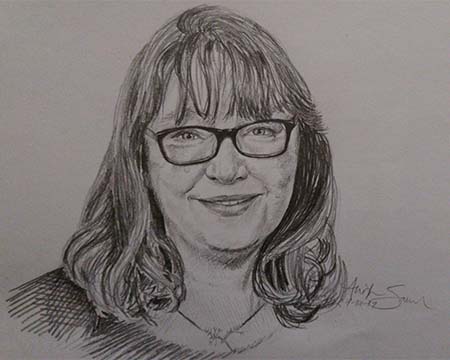 Pravosudova said Savell's "open-minded teaching style" is helping a new crop of Honors' students to find their love for biology, and quite a few of them are now applying to become discussion group leaders as Savell has been.
"Anita is confident, extremely hard-working and correct," Pravosudova said. "Her organizational and leadership skills are superb, and she is respected and loved by peers and faculty. She is also an artist, whose drawings are creative and inspired; when does she have time for this?"
Savell's career aspiration is to become a physician. She also hopes to continue being involved in biomedical engineering research.
"The University of Nevada, Reno, has provided me with opportunities beyond what I could have imagined. Four years and an engineering degree later, I am preparing to enter the University of Nevada, Reno School of Medicine this fall. Along with innumerable hours of studying and research, my success stems from the support of a multidisciplinary group of the University's outstanding faculty."
The Herz Gold Medal is the University's oldest and most prestigious award and was established in 1910 when the University was only 36 years old by brothers Richard, Carl and Otto Herz.
Funding for the award is provided by the University of Nevada, Reno Foundation and the Thelma B. and Thomas P. Hart Foundation, a Reno-based charity. The foundations continue to honor the Herz family and this tradition of recognizing excellence.
The University its Nevada Alumni Association will recognize nine graduates, the top students from each school or college, with one of the most prestigious awards at the University - the Senior Scholar distinction - along with their selected faculty mentor, at 6 p.m., Wednesday, May 17, in the Joe Crowley Student Union, Milt Glick Ballroom.