Johnson W. Makoba, an associate professor in the Sociology Department at the University of Nevada, Reno, was awarded a fellowship by the Carnegie African Diaspora Fellowship Program to travel to Kampala, Uganda over the summer of 2016. Makoba was one of 59 African Diaspora scholars who were awarded fellowships to travel to Africa to collaborate on curriculum co-development, research, graduate teaching, training and mentoring activities. Makoba was able to work with Uganda Technology and Management University (UTAMU), a private university founded in 2012. At UTAMU, Makoba focused on graduate student training and mentoring doctoral students in the School of Business and Management.

Makoba co-led the 10-week UTAMU graduate student training and mentoring project with the dean of UTAMU graduate school, Doris Kakuru, as they provided hands-on research experience to graduate students at the doctorate level, which was the goal of the project.

"I think the most important experience was working with Ph.D. students who had full-time, high-level jobs in the private and public sectors in Uganda," Makoba said. "Who were very hard working and thrilled to be working with me for the 10-week period I was at UTAMU."

Several topics were covered during the project, including developing a research proposal, extensive literature review, research design and methodology as well as how to successfully complete the research project. The graduate students were also provided tips and ideas about effective and timely completion of their reports and how to seek potential outlets for publication of their research. Students were provided a list of 31 peer-reviewed, relevant journals that they could select for their potential publications of their research. According to Makoba, the students, including advanced students, had never had the opportunity to publish their research in a peer-reviewed journal.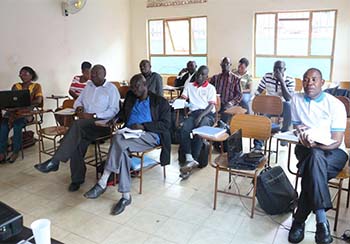 "The fact that I was guiding them in the research process and assisting them to find outlets for potential publication of their research, including the list of 31 peer-reviewed journals I shared with them, was very special," Makoba said.

The Carnegie African Diaspora Fellowship program facilitates engagement between scholars born in Africa who are now based in the United States or Canada and scholars in Africa on mutually beneficial academic activities. The Advisory Council selected 41 African universities to host the fellows, based on collaborative project proposals submitted by faculty members and administrators at the African universities, who had to also meet specific needs at their universities. This innovative program is managed by the Institute of International Education (IIE) in collaboration with United State International University-Africa (USIU-Africa) in Nairobi, through Paul Tiyambe Zeleza, who chairs the Advisory Council, and is funded by the Carnegie Corporation of New York.
In addition to graduate training and mentoring, Makoba was appointed as the first editor-in-chief of UTAMU`s first online open-access interdisciplinary international journal, the International Journal of Technology and Management. Makoba has helped launch the first research journal, and its first issue published in June 2016. Makoba is now working with UTAMU colleagues and the editorial team to send out a call for articles and solicit peer-reviewers for the second issue of the research journal to be published in December 2016. Makoba hopes that in the long term, UTAMU and the University of Nevada, Reno could have a relationship involving student and scholar exchanges.

"This was a great opportunity to give back to students in my native country, Uganda, where I had been an undergraduate student at Makerere University in the late 1970s," Makoba said. He majored in sociology, and then came to the University of California, Berkeley, in the 1980s for his master's and doctorate degree, before joining the University of Nevada, Reno in 1990.

Eligible universities can submit a project request via the online portal to host a fellow for projects that will start Dec. 1, 2016. For more information regarding the application deadline or fellowship, contact the program officer.