It was hard not to miss the presence of the University of Nevada, Reno during Tuesday's "Big Day" special event commemorating the coming together of eight regional entities and the quickly growing "Biggest Little City" movement.
The nine entities, which included the University, the cities of Reno and Sparks, the Desert Research Institute, Airport Authority, the Economic Development Authority of Western Nevada, the Reno-Sparks-Northern Nevada Chamber, Washoe County and the Reno Sparks Convention and Visitors Authority, all pledged their continued collaboration with the movement, which was spawned in February 2013 as a grassroots effort by area talent in a variety of fields to shed a more positive and compelling light on the region through heartfelt and realistic storytelling.
The participating groups on Tuesday gathered in the theater of the Joe Crowley Student Union and delivered tagline takes on a "Big/Little" theme. Each take was representative of what the entity does, hopes to do, or represents.
For the University, the message delivered by Associated Students of the University of Nevada, Reno Vice President-Elect Alex Bybee was clear and concise: "Big Education. Little Holding You Back."
Bybee, a Dean's List student in the College of Liberal Arts, explained that the University is a place where students, faculty and staff have "big dreams" that are realized on a daily basis thanks to the University's unique and caring character and excellent academics. He said there is little holding students back from accomplishing whatever they wish.
"It's a vibrant, quality institution that cares about our people and our region," Bybee said of the University.
Biggest Little City Movement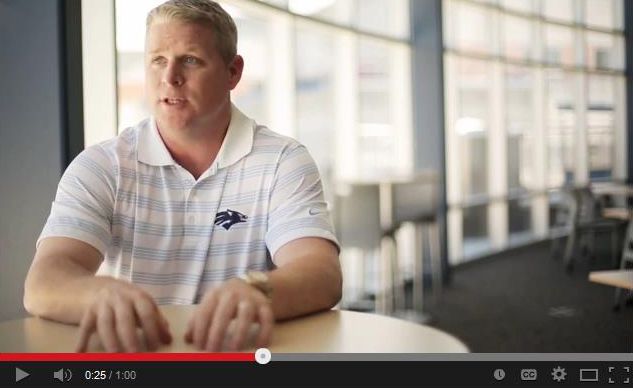 Watch Brian's Little Story, produced by the Biggest Little City Movement.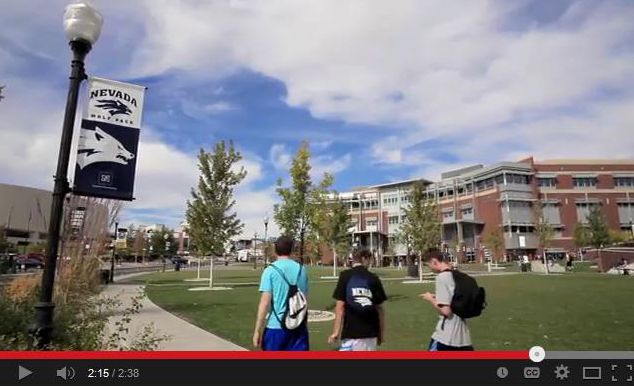 Watch Eelke's Little Story, co-produced by Mark Gandolfo and Brian Sergott, University of Nevada, Reno.
Watch Lawrence Tam's Little Story, produced by the Biggest Little City movement.
The University theme was evident throughout the proceedings, as a video featuring Wolf Pack football coach Brian Polian and introduced by Biggest Little City board member Jamie Kingham started things off.
Polian said in the year he has been at the University, he has grown to love the institution and the region.
"I can't wait to go out and introduce it to other people," he said.
Another video shown to the group of about 150 attendees featured Eelke Folmer, associate professor computer science and engineering. Folmer spoke about his research agenda, which is helping to create low-cost, accessible technology for the visually impaired through the use of Google glasses. Folmer said the University has provided him the opportunity to not only do important research, but to be part of a vibrant city and region pulsing with outdoors-oriented activity.
Kingham encouraged the community to continue to share stories such as Folmer's on the movement's website, BiggestLittleCity.org
Kristin Stith, former Wolf Pack softball standout, University graduate, current College of Business MBA student and Dolan Auto Group community relations manager and Biggest Little City board member, said the energy powering her group centered on a wish to tell a more positive area story.
"We declared we were sick and tired of our city being picked on by the national media," she said.
The colorful descriptor "Biggest Little City" has been around for decades, she said, and the group is hoping to capitalize on the "equity" that the phrase has gained in its use over the years.
The organizations on hand for Tuesday's "Big Day" were all poised to work together to tell a community's story of vibrancy and opportunity - a story that many area residents have known for a long time, Stith said.
"The time has come for all of us to walk in the same direction," she said.
In the coming weeks and months, Biggest Little City plans to organize voter registration efforts, a "Big Trip" to share ideas with other successful community pride efforts in other cities as well as "Adopt-A-Business" efforts to help non-profits and small businesses in the area more effectively brand what they do and to explain why their work is important.
"All these entities," said Biggest Little City board member Abbi Whitaker, "we're all collaborating ... we're all talking." Then, with a grin, she added a brief glimpse of how far her energetic group has come, and how it plans to carry out work in the future: "Here's to conversation ... here's to collaboration ... here's to coffee ... here's to cocktails ... in the Biggest Little City."