The fifth annual Nevada Scholars Signing Day ceremonies kicked-off on Friday, May 10 with an event at the University of Nevada, Reno's Redfield Campus. Two National Merit Scholarship Finalists, Marissa Crook who has been home schooled and Emma Beebe from Galena High School, were recognized.

These scholars were joined by many other outstanding students throughout the state who "signed" this year, including students from Reno High School, Wooster High School, Incline High School, Bishop Manogue Catholic High School, Pahrump Valley High School, Coronado High School and Ed W. Clark High School. University President Marc Johnson, Executive Vice President and Provost Kevin Carman, deans, department chairs and other University senior leaders were on hand at the events to congratulate and welcome the scholars who will enter the University of Nevada, Reno this fall.

This is the fifth year the University has partnered with high schools in northern and southern Nevada in hosting ceremonies reminiscent of high school athletes' "signing days" to acknowledge the decision of several of the state's highest-achieving students, or as President Johnson refers to them as "academic all-stars," to pursue their college degree in Nevada.

This year, seven National Merit Scholarship Finalists and 12 Presidential Scholars were honored, and all scholars were offered admittance into several highly ranked universities around the country. At each Nevada Scholars Signing Day ceremony, the students officially selected to attend the University of Nevada, Reno.

"There are many reasons I selected Nevada," Crook said. "I'm very impressed with the Honors Program, and I like the small class size - smaller class size means I will have more opportunity to work with my professors, but it was definitely the scholarship that sealed the deal."
2013 Nevada Scholars Signing Day at Reno High School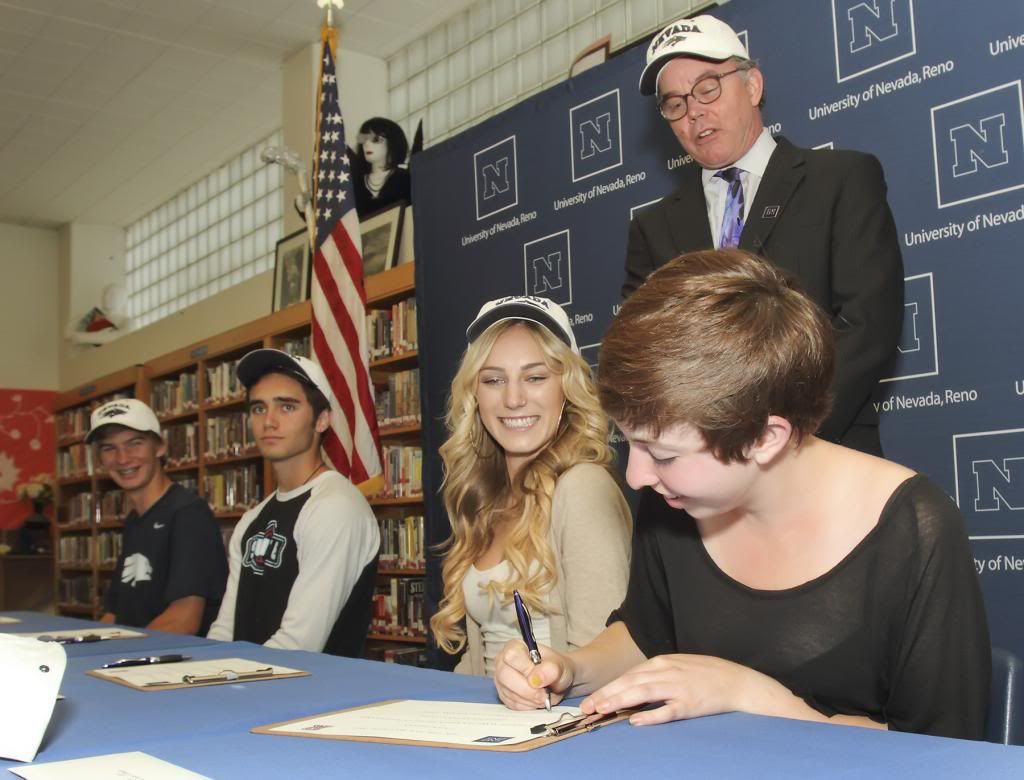 University Provost Kevin Carman watches over the shoulder of Presidential Scholar Sian O'hara from Reno High School as she "signs" her commitment to attend the University of Nevada, Reno this fall. Photo by John Byrne.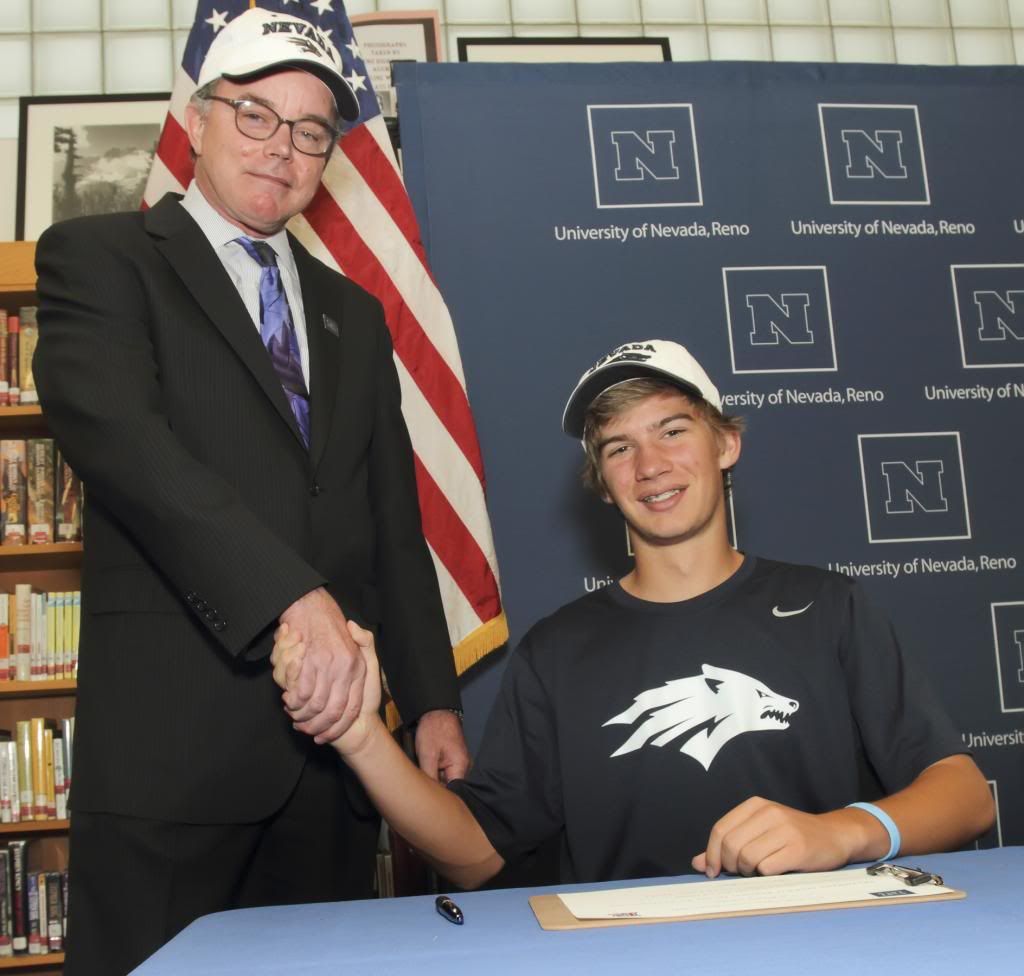 Provost Carman welcomes Presidential Scholar Ryan Diggs to the Wolf Pack family during the signing ceremony at Reno High School on May 20. Photo by John Byrne.
In 2010, the Nell J. Redfield Foundation established the Redfield Foundation Scholarship Program for National Merit Scholars at the University. By this fall, the Scholarship Program will have funded a total of 15 National Merit Scholars through four years of study, and next year, the number of students will increase to 20.

"We are extremely pleased to see our Merit Scholars staying local," said Jerry Smith, Redfield Foundation trustee.

The University of Nevada, Reno was officially notified of its sponsorship status by the National Merit Scholarship Corporation four years ago. Scholarships awarded through National Merit programs are regarded as some of the highest academic honors attainable by high school students in the United States.

The University's student body recently included obtained nearly 50 National Merit Scholars, the largest number ever enrolled at Nevada. The scholarship offered to National Merit Scholarship Finalists at the University is $15,000 per year for four years of undergraduate study, and covers tuition, books, fees, automatic entry into the Honors Program and room and board in the new Nevada Living-Learning Community residence hall.

Students recognized at the Presidential Scholarship level are presented to qualified freshman with a minimum 3.5 cumulative high school grade-point average and either a score of 31 on the ACT or 1380 on the verbal and math portion of the SAT. Presidential Scholars receive a $5,000 annual scholarship funded through the University's scholarship and aid budget.

"Having the 'best and brightest' students in our classrooms elevates the learning experience for everyone," said President Johnson. "As graduates of the University, these students will contribute to the economic success of our state's future."

For many of the state's top scholars, weighing the University's merits has led them to the state's oldest campus.

"It is important for me to stay in Nevada; my family and I researched several different universities," Crook, who plans to major in political science, said. "We realized Nevada is a top University with really talented faculty."

For more information about the National Merit Scholarship Program, go to www.nationalmerit.org.