Renowned language and acting talent join forces with Nevada Rep
Theater lovers from around the globe will be watching — and listening — as "Hamlet" comes to life at the University of Nevada, Reno.
Created by a group of international Shakespearean scholars and the Nevada Repertory Company, "Hamlet" will be performed in Original Pronunciation (OP) for the first time in centuries. Amazingly, the last time "Hamlet" was presented in its original dialect was in the early1600s. In fact, only four OP productions of anything Shakespearean have been performed in modern times: two recently at The Globe Theatre in London, one at the University of Kansas, and one at Cambridge in the 1950s. Now, the contemporary world premiere comes to Reno.
Purchase tickets to Hamlet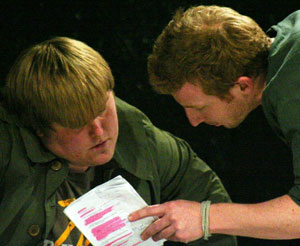 Take a closer listen:
How does it sound?
Listen to English linguist and consultant for London's Globe Theatre David Crystal as he reads from "Hamlet" in Original Pronunciation, as it would have sounded in the 1600s.
This reading is deliberately flat, intended to give the actors in the company the sound of the Original Pronunciation accent, without emotional emphasis or intention.
---
Nevada takes center stage In Shakespeare debate
Nevada's award-winning Shakespearean scholar, co-editor of "The Royal Shakespeare Company's Complete Works of William Shakespeare," and chair of the English department, Eric Rasmussen, released his newest work on the Bard, "The Shakespeare Thefts: In search of the First Folios."
According to reviewers, Rasmussen has been able to be both entertaining and accurate in his new work, which just published on Oct. 11.
As a professor honored with the University's and the entire Nevada System of Higher Education System's top teaching awards, Rasmussen is known for his ability to make Shakespeare interesting and relevant to students today.
Reviewers of his latest work say that Rasmussen has been able to do the same for his readers. Rasmussen is dramaturge for the contemporary world premiere of "Hamlet," which is also attracting international participation and interest.
In order to bring a production of such magnitude to the University of Nevada, Reno campus, the creative team includes the eminent English linguist and The Globe's own consultant, David Crystal, author of "Pronouncing Shakespeare," and British superstar actor and scholar Ben Crystal, who plays Hamlet. Crystal has been working with the students in the production since August under an agreement with the University/Resident Theatre Association.
"We have too many fantastic resources for this play," JJ von Nolde, senior theater student, said. "It almost seems unfair to have every resource we could ever want."
This contemporary world premiere was also made possible with the help of the University's award-winning Shakespearean scholar, co-editor of "The Royal Shakespeare Company's Complete Works of William Shakespeare," and this production's dramaturge, English Professor Eric Rasmussen, and the University's art professor and production costume designer, Gini Vogel.
"The concept of the show is eclectic, it draws from all periods," Rob Gander, chair of the University's theatre and dance department, said. "We use contemporary dress along with using the Edwardian and Victorian themes, yet the fight choreography is ancient with a little contemporary twist."
Crystal has spent the last 12 years writing, performing, teaching, acting and talking about Shakespeare. He is the author of "Shakespeare on Toast," a book that dispels the myth that Shakespeare is difficult. Here, he shares his thoughts about performing Shakespeare and reveals his top tips for first-time actors.
Crystal has spent many years working with student groups all over the globe, conducting workshops that last up to a week, but his time at the University of Nevada, Reno is, by far, the longest he has spent working with a single group of students.
"It's been wonderful to work with the students," Crystal said. "There is an incredible talent pool here and it has is been a real joy,"
"Ben is a member of the Actors' Equity Association, a professional union, and our students have worked on stage with him," Gander said. "They have been in the rehearsal room watching his process as he develops each character and approach."
Along with gaining new insights to Shakespeare and his work, the exposure and practice of OP is something new to all students involved. In learning to speak OP, the students rely on the sounds of the syllables from the OP recordings, produced by David Crystal.
"Being able to listen to David speak the words in OP has been a huge help," von Nolde said. "It's been interesting for us to learn that the way things are spoken can really change the meaning. It brings the poetry of his writing."
The OP dialect that the production is based around is more than 400 years old.
"OP is really like a dialect grounded not in geography but through time," Gander said. "When Shakespeare was writing, 'love' and 'prove' would have rhymed; however, OP is still remarkably easy to understand, even to a modern ear."
Melissa Ortiz, who serves as the student dialect coach, uses a good ear and her skills of reading International Phonetic Alphabet to observe the students and their speech performances. Throughout the process, she has witnessed vast improvements and has seen the cast come alive.
"From a technical standpoint, it helps the actor get to the heartbeat of the language," Ortiz said. "Ben gave us the heartbeat, and now watching everyone else speak the verse with such clarity is astounding."
Of the students involved with the production, Drew Ernhout, Ethan Leaverton, Meghan Kirwin, Melissa Oritz, and von Nolde, all fine arts students, say working with a professional such as Crystal has been very intense and challenging, but most of all, fun.
"It's easy to forget to have fun while you're playing Shakespeare," Ortiz said. "Ben has taught us how to play games and have fun while developing our characters; we can then take that and apply it to our parts."
After auditions took place and roles were cast, Crystal took the initial week of rehearsal to teach the cast an exercise called "Passion in Practice." During the exercise, students are taken out of their comfort zones to learn about themselves as actors and people.
"Passion in Practice is about approaching Shakespeare with fresh eyes," Crystal said. "We play Shakespeare as simply as possible, without any great conceptual frame placed between participants and the play, and approach our work with honesty and great passion."
To Crystal, acting is about reaching outside of a comfort zone, taking risks and exploring the human condition. He says there should not be parts of yourself that you can be afraid to explore, particularly with Shakespeare.
"The reason why I spend my life with Shakespeare is, as Hamlet quotes, 'the purpose of playing is to hold a mirror up to nature,'" Crystal said. "As we stand on stage, open and vulnerable, we are not just holding a mirror up to ourselves, but we are also holding a mirror up the audience, and they are very perceptive about the truth."
The main idea is to teach students to speak from the heart. To some it was a daunting and emotional task that often made the actors run short of breath.
"I feel like I have had a Shakespeare revelation," Ernhout, who plays Guildenstern, said. "I have always liked Shakespeare, but I couldn't connect with it. I lacked an understanding until I went through this process with Ben and the other actors. I now see it as more grounded and emotional work."
Leaverton, a junior who plays Rosencrantz, and clown number two, says there is so much to think about while acting -- it can often be difficult to let go and let the words come from your heart.
"It was a place I had never been before, and I want to go back there," Leaverton said. "Ben's exercise was a great way for us to get to know each other and become the close family that we are now."
The students agree that the opportunity to work with Crystal is a once-in-a-lifetime opportunity. Crystal's passion for acting and working with the students has impacted them in ways that will live on past this Hamlet production.
"Even though he is not my professor, Ben has been a huge influence," von Nolde said. "Not just with performing Shakespeare, but, he has shown me how to perform better for my future."
Kirwin, who plays Ophelia, has learned from her character, and from Crystal, to take risks.
"My character goes mad on stage," Kirwin said. "Since working with Ben, I have more confidence to try risky things when I am acting. I have learned to follow my instincts and try anything."
The long practice hours and weekends rehearsing has paid off in full as the actors feel like family as they watch one another take on their characters and fulfill new roles.
"It gets emotional to watch each other," Kirwin said. "We have seen the beginning process and the transformation up until now; it's so connected and touching to see."
Established in 1973, the Nevada Repertory Company, part of the University's department of theatre and dance, produces four plays annually featuring student actors and community performers. In true repertory tradition, the company offers valuable onstage opportunities as well as mastering the challenges and responsibilities of technical backstage work. The Nevada Repertory Company has toured extensively in rural Nevada as well as participating in several USO tours.
Preview performances of "Hamlet" in original pronunciation will take place Nov. 1-3, with additional performances happening from Nov. 4- 20. Free parking for all School of the Arts events is available after 7 p.m. in the Brian Whalen Parking Complex, north of Church Fine Arts. A patron drop-off area is located in front of Church Fine Arts on North Virginia Street just north of College Drive. For tickets, go to My Nevada Tickets or for more information, go to School of the Arts.