The Optimism Series: The STEM Student Has Changed
Lyndsay Munro, Teaching Associate Professor in the Department of Chemistry, writes about how the students sitting in her classroom have changed
In honor of Mental Health Awareness Month, the College of Science has asked researchers across a range of disciplines to share how they remain optimistic in the face of the many challenges of today, particularly within the field of science.
---
The face of STEM education has undoubtedly changed in recent years, and along with it, so have the faces of the students sitting in our classrooms. It can be easy to discuss how COVID-19 has impacted our learners in a challenging way, but there has been a more significant positive change unfolding within our STEM students over the past decade that makes me excited for the future. And that change is part of Generation Z.
When I first began teaching ten years ago, I would look at my students sitting across from my majors chemistry course and confidently say I was looking at scientists – hard working academics, engulfed in the discipline and living the craft - and I was proud of this distinction. They were malleable and wide-eyed, and as far as I could tell they would eat, sleep and breathe chemistry. Their goal was to leave university thinking, acting, and talking like a traditional scientist. I was, and am still proud of all of these individuals who came through our program and went on to pursue their passion, whether in industry, medical school, or otherwise.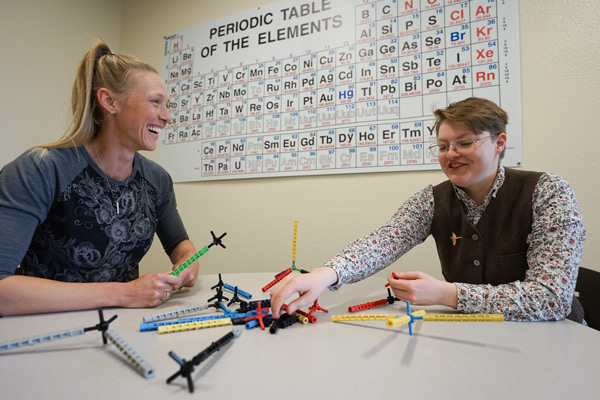 Fast forward to the students I see in STEM today. I no longer see the same students in my classroom. Race or gender aside, our STEM students have changed. Part of Gen Z, our students today are multifaceted learners with technology at their fingertips and deeply rooted characteristics far beyond their core major. These students that I see are no longer just traditional scientists; they are also artists, musicians, athletes, writers, etc. – so much so that they are more often adding a second (sometimes third!) major to their portfolio. And while some of these same type of students might have also been in my classroom ten years ago, far more of them exist today. Today's STEM student is not just a STEM student and they no longer fit into a single box; they fit into many. In my opinion, the traditional scientist that is hyper-focused solely on one discipline is no longer the standard coming through the STEM fields. And frankly, I am delighted and I welcome Generation Z in my classroom. Because along with this observed shift in identity, I am constantly surprised to see that these students are so much more diverse in their thinking as well. They no longer just apply their chemistry knowledge to the classroom, nor do they want to. They want to lean on their knowledge of the arts, music, business, and writing (again, to name a few) to form their reasoning and establish conclusions. They don't want to be told what to do, and they do not accept traditional ways of thinking – they are forging a path in STEM we (educators and those alike) haven't seen before. Generation Z students are not only ambitious and more focused on social justice than their predecessor Millennials, but they also know how to set boundaries, are highly collaborative, self-reliant and pragmatic.
So what are the implications for the future of science? These young scientists can bring fresh perspectives to work, have excellent online research skills, and are young and eager to change the world. These traits as well as the ones mentioned above provide an excellent foundation for science, and in fact, there are many examples of young scientists already making a difference in their field, even though most of them are still teenagers. With technology a part of their every day lives, they can share these perspectives with others across the world, forging a distinctive generation of scientists. Scientists as young as 17 are doing things like patenting inventions, publishing papers, giving TedTalks, and developing statistical models that seem far beyond their years. And each emerging scientist brings a unique insight from their own personal experiences and multidimensional academic background. The future of science is in the hands of Gen Z, and I look forward to seeing what miraculous things they do with it.
---
About the author
Lyndsay Munro is a Teaching Associate Professor in the Department of Chemistry. She is interested in chemical education, specifically at the interface of high school and university. Currently, Lyndsay collaborates with the Washoe County School District (WCSD) and the College of Education to create assessments surrounding the Next Generation Science Standards (NGSS). She received the University's F. Donald Tibbitts Teaching Excellence Award in 2022 and the College of Liberal Arts Alan Bible Teaching Award in 2023.