The Optimism Series: Finding your antidote to doom
Thomas Albright, Associate Professor in the Department of Geography, writes about finding inspiration with his students and getting engaged in a climate solution
In honor of Mental Health Awareness Month, the College of Science has asked researchers across a range of disciplines to share how they remain optimistic in the face of the many challenges of today, particularly within the field of science.
---
As a scientist who studies the impacts of climate change and biodiversity loss, I might seem an unlikely candidate to pen a piece on optimism. After all, my students and I have worked on such cheery topics as heat-induced bird die-offs, disappearing alpine plant ranges, and adding a Central American bird to the list of globally threatened species.
A dozen years ago, I developed a course that came to be called "Climate Solutions". The course focuses on what we can do to limit the magnitude and impacts of climate change. A key assignment challenges students to consider a vast portfolio of actions that reduce greenhouse gasses and select a favorite solution to evaluate in the context of home here in Nevada. It is always a highlight of the semester to watch their project presentations on everything from conserving water, to reducing food waste, to repurposing mine sites for solar energy.
Over the years of teaching this course, I increasingly asked myself "What it my climate solution?" Sure, our family took many of the steps my students were reporting on, such as reducing our meat consumption, carpooling in a plug-in hybrid, and line-drying our laundry (these are also economical, enjoyable, and healthy choices). Nonetheless, I felt a need to channel my experience and passion into something that could have a larger impact in our community.
During the early stages of the pandemic, I realized that my solution was biking. Here was something I've enjoyed since grade school, something that was healthy, saved money, and reduced traffic congestion and air pollution. But like most climate solutions, riding a bike isn't just a personal choice. Rather it is embedded and constrained by the community and circumstances we live in. I can ride my bike to work because I'm fit, live within 10 miles, have a (mostly) safe route to ride, and have a secure place to store my bike. But many folks aren't in this position. That's why I also devote my time to organizing for safer streets, teaching folks about biking, and advocating for more affordable bikes, adaptive bikes, and e-bikes to so that people of all abilities and circumstances can safely enjoy biking.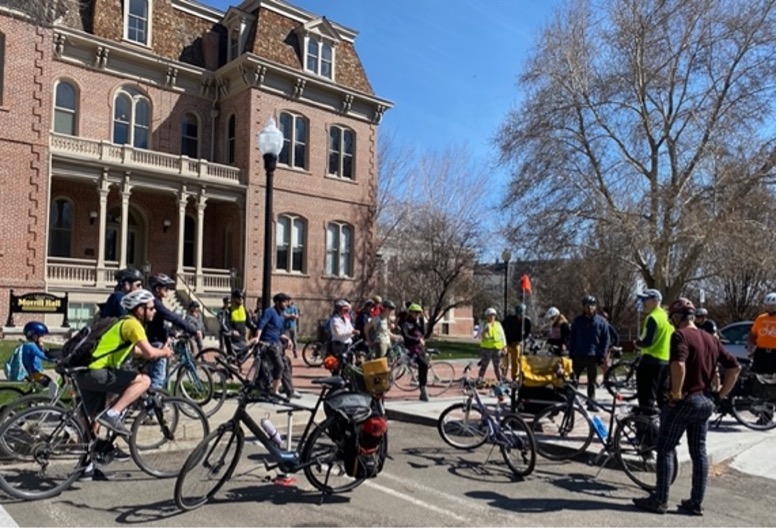 But this is just me. Your most pressing concern may not be climate change and your solution may not be bikes (although you should really try an e-bike if you haven't already!). I can tell you a couple things I've learned from this that are bigger than bikes.

Focusing on solutions is healthy. Many of my students begin class feeling overwhelmed and worried about a problem they've seen their parents' generation ignore or even exacerbate. But these very same students often tell me that they exit the class with more purpose and hope based on real progress we are making and a sense that they can take personal and collective actions to improve the future they and their children will live in.
Spend time with other people. Talking about and riding bikes with other people has served as my main "third place" – those settings other than work or home where we interact with members of our community. Third places have famously grown less common in our society (partially because we too often drive alone and chauffeur our kids everywhere). Such places provide a critical outlet for us to socialize, connect, and share our hopes and concerns. I'm not sure how much I realized I needed this but I did!

Whatever your challenge or concern is, whether it is personal, societal, or both, I hope that you get the chance to interact with others on solutions. We might not all be in a position to "change the world" but we can work on ourselves, our families, and our communities. And sometimes, the most important thing is to just be in the game … or to just be out there optimistically riding that bike.
About the author
Thomas Albright is an Associate Professor in the Department of Geography who joined the University of Nevada, Reno in 2010. In addition to teaching Geog422: Climate Solutions and leading the Laboratory of Conservation Biogeography, he co-organizes UNR's Bicycle Working Group and has been a bike rider and commuter since elementary school.