Nerds rule the night
Science writer Michelle Werdann attends Reno's local chapter of the international Nerd Nite event
There aren't many places where you can find laid-back graduate students spewing binomial nomenclature in front of a captive audience, but Nerd Nite Reno is held at West Street Market, if you're interested. I certainly was.
Nerd Nite, an internationally adopted event, was started by a graduate student on the East Coast in 2003 to give the public some science to drink about. Since then, it has spread to over 100 cities around the world, including Reno. The program brings three armchair experts (on anything) to the stage. Often, Nerd Nite Reno has presentations from College of Science graduate students, though the microphone is open to anybody who wants to nerd out. Humor is strongly encouraged.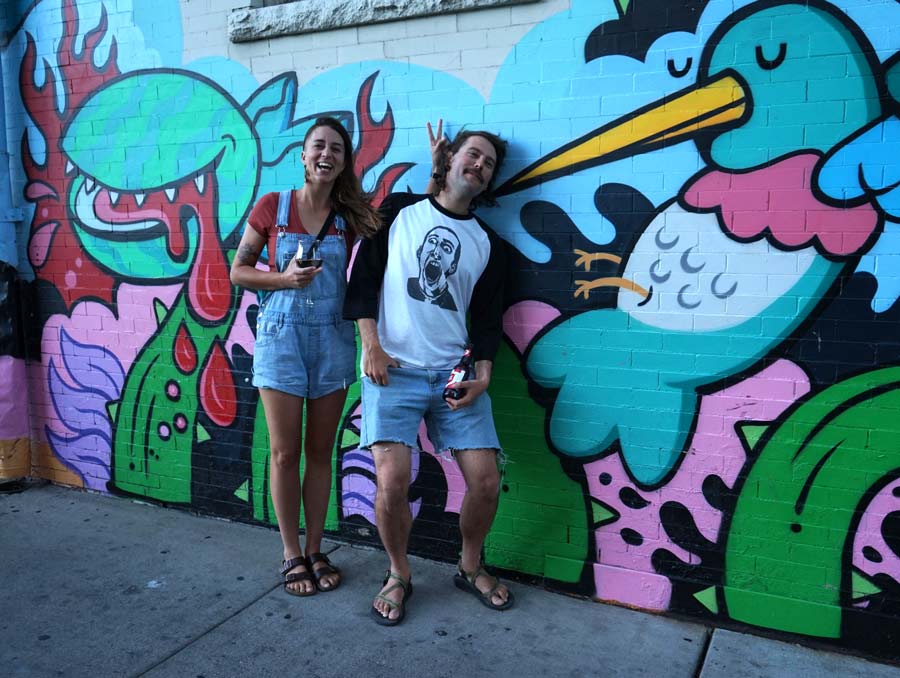 I recently attended my second Nerd Nite, where the speakers talked about keyboard mechanics, whether magic has to make sense in fantasy, and parasitic flies. The topics don't tend to overlap much more than that.

Nerd Nite Reno is held at West Street Market, in a location one might imagine for trivia or a low-key birthday party.

Anna Tatarko is a doctoral student in the Ecology, Evolution and Conservation Biology (EECB) program and studies the biomes of bees. She founded the local chapter.
Tatarko moved tables and chairs into the room as people began to file in.
"I love when we get speakers who are armchair experts on a topic," Tatarko said. "I'm not an expert on flags, but I think they're cool! So, I sunk an hour's worth of research into it and called myself an expert."
Tatarko (who recently gave a talk about flag design) started the local chapter after attending a Nerd Nite in Kansas. Tatarko's role as a "Co-Boss" involves communicating with West Street Market (which provides the space at no cost), creating fantastical posters that incorporate themes from each talk and gathering speakers for the next Nerd Nite.
"I couldn't do it by myself, so I had to wrangle in the first sucker to help me," Tatarko said.
Chris Halsch is another doctoral student in the EECB program and studies butterfly conservation. Halsch is a nerd for Tolkien and Nicolas Cage, and according to Nerd Nite Reno's website, is mostly useful for his truck, though his "Co-Boss" duties also involve website-building skills and introducing the speakers during the event.
I asked Tatarko why she thought Nerd Nite would take off in Reno.
"Because Reno is so weird!" Tatarko said.
The room is full by the time the first talk starts, with a graduate student nerding out about why QWERTY isn't all that and how there are better keyboards out there, if you're willing to get experimental. The audience laughs when the presenter calls Keanu Reeves the "king of green text on a black screen" as a frame from a Matrix movie shows up in his slides.
The free event attracts graduate students as a grad student-budget-friendly way to get out of the lab and socialize. They only pay for the beers they sip on throughout the night, and sometimes end up as speakers themselves.
"We recruit a lot of people. That's why a lot of the speakers are grad students," Tatarko said, laughing. "I don't ever want to have to give my talks. I really want to see what other people are doing and what other people are excited about, listen to the community and see what they've got to say."
The second talk of the night is more interactive, as the speaker asks for fantasy book recommendations and places them on the spectrum of "hard" or "soft" magic novels. The speaker references multiple scenes from the Harry Potter franchise.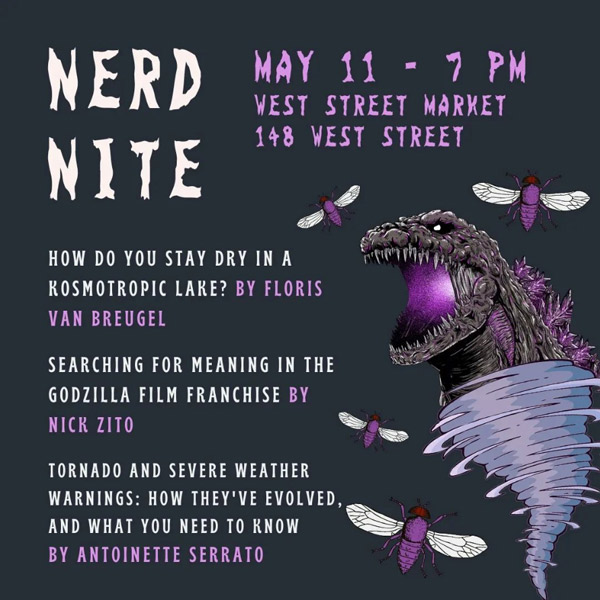 Halsch's favorite talk to give was about the "Atlantis" of Middle Earth.

"There's an event in the history of Middle Earth, well technically it's not in Middle Earth, it's on Arda, so it's like the planet that Middle Earth exists on, and there's an Atlantis story where this island Númenor gets sunk to the bottom of the ocean…" As I spoke with Halsch and Tatarko, friends kept coming up to speak with them and catch up, and I never got to hear about the tale of Númenor.

I asked the Co-Bosses what their favorite talks to watch have been.

"Oh no. I hate this question," Tatarko said.
"I don't mind," Halsch said, and told me about a talk given by a former doctoral and postdoctoral student at the University, Josh Jahner, who happened to stumble upon some gynandromorphic butterflies doing field work. "Ever since then, he calls himself the worldwide expert on gynandromorphs, even though he's published one paper and would tell you he doesn't actually know that much. But there's very little work on it. He gave this talk on gynandromorphic butterflies and he's just a phenomenal presenter."
The last talk of the night is given by a student with two bugs tattooed on the back of his legs. A bug on his left calf stands in for the "O" in "MOM" and a bug on his right calf stands in for the "A" in "DAD." Perhaps unsurprisingly, this student is presenting about fly parasitism.
Nerd Nite Reno has held 22 events, including several virtual ones.
"We started in May 2019, and we have been rolling ever-ish since," Tatarko said, referring to the brief pauses when the COVID-19 pandemic hit and again when Zoom fatigue became too much.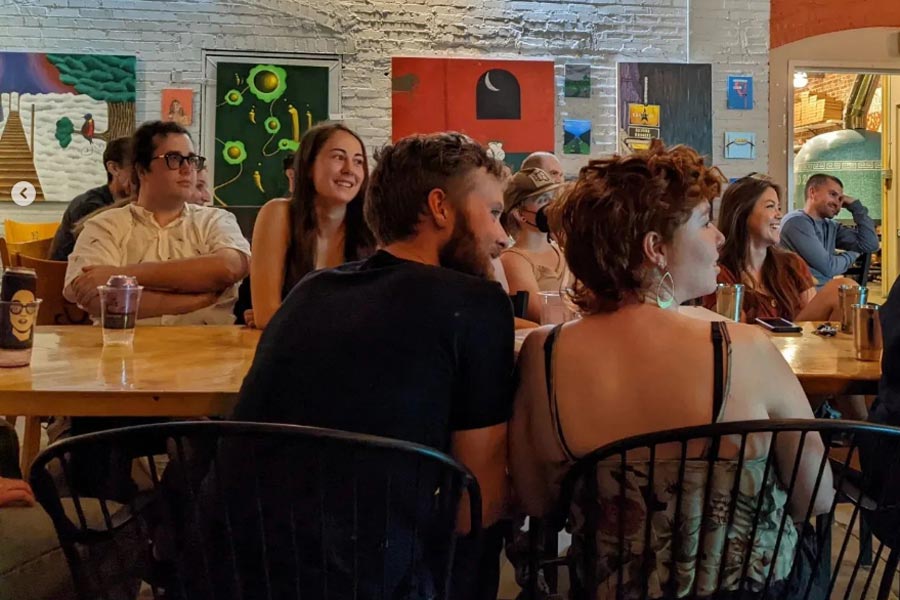 I asked Tatarko why she thought Nerd Nite would take off in Reno.

"Because it's so weird!" Tatarko said.

"The Weirdest Little City," added Halsch.

"I went to Nerd Nites in the Midwest, in Kansas and Nebraska," Tatarko said. "Part of why I thought it would be successful is because grad students love to talk about nothing, and I knew I was going to be surrounded by a bunch of grad students who I could harass into giving talks. As a city, Reno is much more interesting and has a lot more diversity of ideas and experiences."
Nerd Nite Reno is held one Wednesday each month at 7 p.m. at West Street Market in downtown Reno. Their Instagram @nerdnitereno has updated information and events, as does their website. As the Nerd Nite website says, "Be there and be square."