MFA-IA Alumna Karen Krolak
Karen Krolak ('18) has forged an interdisciplinary practice rooted not only by her primary medium of dance, but through the community she builds with others by making work that addresses grief and trauma, building awareness of these feelings that oft aren't celebrated. While the complexities of these emotions stem from her own experience through her work they take on new form—like choreography, a publishing project, and the occasional knitting pattern—to allow others to connect to themselves, to find space to find validation and modes of expression alongside the artist. That mutual exchange is at the heart of Krolak's work, which is often collaborative, and extends into her roles as a mentor, board member of organizations, and founder of a dance space that lifts up the work of others.
To grieve or experience pain in isolation may be something familiar to many, especially in the last couple years, or in any current moment of global or personal turmoil. Krolak pushes through the solitary by continually building connection to others with her work and in doing so really situates her work in healing—or at least embarking on the journey of processing that which ails us, even if ever-present and unrelenting; knowing that someone is else is there alongside us. Below, the artist shares some insight into her most recent projects, which revealed a fruitful technique: using stop motion film as a facsimile for choreography.
KQS: Can you talk a bit about Pane #432.1 (2021), which was on view for the month of January 2022 at Canyon Flats Video Wall in Reno, NV?
KK: As an artist who lives with a rare chronic health condition, I felt pretty isolated and stuck last winter before the vaccines came out. I did not feel safe going into the shared dance studios in town. Fortunately, I live with one of my best friends and long-time collaborator, Nicole Harris. She kept nudging me to find ways to dance in our home.
Recently I became a member of the Boston Dance Alliance's Dance and Disability cohort funded by the Boston Foundation. One of our first conversations was describing how our health condition influences our creative practice. I explained about the challenge of my unpredictable pain episodes that often require me to be still for extended periods of time while I manage them. When I was talking about them, I had an idea. What if I reframed these moments of stillness as a daily dance break and a study in the choreographic gesture of stillness?
I wanted to find a way to show my discomfort in a way that did not make me feel ugly or broken. I had noticed that my feet get gnarled and twisted in ways that reflect their flexibility and strength so Nicole and I decided to focus on them by photographing my feet next to text written by Nicole on a large sheet of newsprint and turn it into moving image using stop motion techniques but still sought ways to activate the text and images to convey that I am a dancer and to reflect my thoughts (that's how we ended up using Bananagrams tiles for the letters!).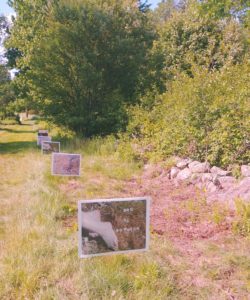 Once we organized the full text and the choreography of the letters, it took about 4.5 hours to photograph the whole thing in a small section of our hallway. Pane #432.1 originally premiered at the Malden Dance Mile in June 2021. I was nervous because I was still wrestling with whether other people would accept this as a dance film. An audience member whispered, "This could be my favorite film yet" to the person sitting next to him and I relaxed. It dawned on me that perhaps stop motion is my new choreographic language. Since then the film has been shown at festivals around New England but Canyon Flats in Reno, NV is the first time it was shown on the West Coast.
KQS: You have another recent project with Nicole that stems from your times at SNU, can you describe how the program informed your other Panes project? Pane appears to be a deliberate double entendre.
KK: When I came to SNU, I was fragmented. I had been defining myself as a choreographer for decades but was slowly shutting down as a dancer because of my health. I had been a costume designer, textile artist, teacher, writer, and sound designer but I struggled to integrate all of these things into a cohesive vision of myself. My mentor in the first semester helped me identify that I loved collaborating and I began to define myself as a free-range collaborator. This shift helped me explore my work from a totally new direction. Rather than siloing projects to one medium, I began to look for ways that they could interact with other media.
For example, last summer Nicole and I created another Panes piece for an outdoor sculpture festival, Art on the Trails in Southborough, MA. Pane #3262.1 A to G is a series of 7 18'x24' Eco Stake double sided lawn signs (98% biodegradable made from waterproof paperboard, designed to last for 2 months to a year outdoors) featuring photographic images taken at nearby Beals Preserve.These miniature billboards alternate between a photo of something I observed from the ground (including a pencil and a tiny elephant that were lying in the grass) with images of my feet beside letters spelling out my thoughts. This sculptural iteration helped to further reframe my pain episodes as panes in an unconventional graphic novel.
---
About the Author: Kara Q. Smith is a Sacramento-based writer, curator, and arts advocate. She is currently Manager of Programs and Organizational Advancement with Californians for the Arts. She has more than 15 years of experience working for museums, galleries, and non-profit institutions. She has curated exhibitions, spoken at art fairs and symposiums, officiated workshops and lectures, and written for numerous publications. Kara also currently holds an adjunct faculty position in Sierra Nevada University's Interdisciplinary Arts MFA program.