"I did it!" Reflections of a 2022 graduate
Spring 2022 first-generation graduate Edgar Padilla looks back on his time at the University
I did it! I am now an alumnus of the University of Nevada, Reno with a Bachelor of Science in Marketing and a minor in Time-Based Media/Videography. I felt a sense of pride when I walked across the stage, knowing that all my hard work had led to that moment. Hearing my friends and family cheering for me filled me with joy because I couldn't have done it without their support. My sister, Sulema, graduated last semester, and I got to join her as the only college graduates in our family. As a first-generation graduate and son of immigrants, I knew completing my degree would make my family and Latinx community proud.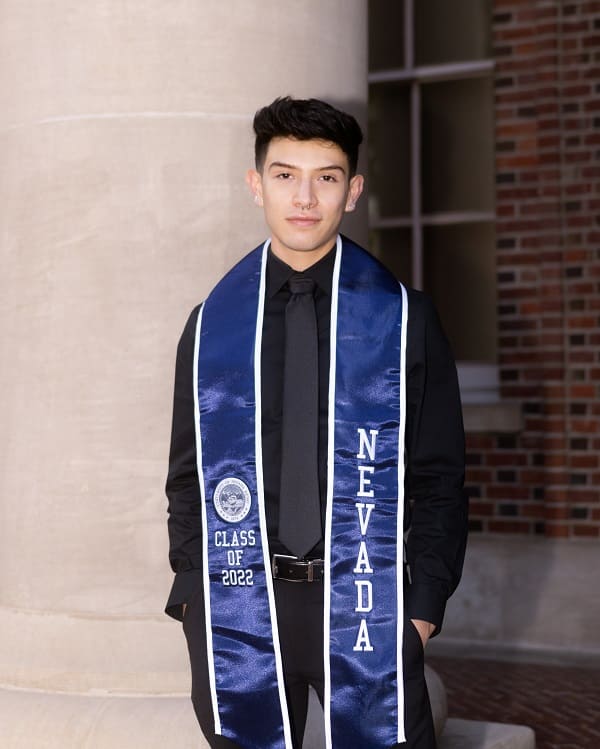 My time at the University went by fast, but I will not forget the countless hours I spent dedicating myself to my education. Like many other students, it felt as if the homework and studying would never conclude, but I finally made it to the end… for now. Being part of the Wolf Pack will be an experience I will never forget. I always enjoyed spending time on campus and felt like I belonged at this University. I lived at home throughout my college education but always made my way down to campus to stay involved.

I created countless memories as a University student that I will hold with me for the rest of my life. I will never forget the late hours I spent at the Knowledge Center working on assignments, going to the E. L. Wiegand gym, and socializing with friends on the Quad. Spending time with my peers on campus was always a great time. I am glad to have shared my happiest and most stressful moments at the University with my friends. Sharing laughs and distracting ourselves from our schoolwork is something I will forever be grateful for.
In March of 2020, the world shut down, but we continued our lives through the internet. I was halfway through my college education, and all my courses moved online. At first, I enjoyed spending more time at home and being with my family, but I eventually missed the daily interactions with my peers on campus. At this time, I also paused taking my art classes because I felt that I needed to be in-person to get the most out of them. I am thankful that I spent my last year at the University in person, got back into an academic routine, and was surrounded by other motivated students.
Knowing my senior year would be spent on campus, I wanted to be more involved. I attended more University events and utilized the resources and facilities available. I also got the amazing opportunity to intern for the University's Office of Marketing and Communications. As their photography and social media intern, I was able to learn so much to get me ready for my professional career. My phenomenal supervisor, Natalie Fry, gave me the freedom to express myself creatively along the whole way.
I am a few days past graduation, and it has finally settled in my mind that I have entered a new chapter in my life. I had the most wonderful experience at the University of Nevada, Reno and hope future scholars will as well. The future holds something new, and I look forward to taking everything I learned with me.