Leaf photo creates a flurry
Charming campus photo from 1979 leads to some interesting online crowdsourcing
I often find myself telling friends and family to label their photos while they still remember who everyone is, what the occasion was, and when it took place. Laughter or regretful sighs are the most common responses.
It's an unfortunate truth of archives that by the time things come to us, the associated metadata is often spotty. This is especially true of photographs, hence my broken-record plea to anyone who raises the subject. Every archive has photos labeled "unidentified" or "unknown." Sometimes there is little hope of filling in the blanks.
Then again, sometimes you get lucky.
On Instagram and Twitter there are active communities of libraries that make up loose, collegial networks under a variety of hashtags. For people who want reading recommendations, there's an hour of #AskALibrarian on Thursday mornings, while anyone wanting a chuckle about the realities of our workday can peek at #LibraryLife. There's even a place for the #SaturdayLibrarian who wants some virtual company while working a weekend shift. My personal favorite is #LibrariesofInstagram, hosted by the eponymous @iglibraries on both platforms. It tends to be populated by academic, special collections, and subject libraries.
Every month, a different institution proposes a thematic challenge for weekly posts to Instagram, and that's where we got unexpectedly lucky regarding a photograph with missing information. In November 2019, the theme was #LibraryLeaves. The hosting institution that month, the Special Collections and University Archives at Miami University in Ohio, described the challenge this way:
#ChallengeAlert! Please join us on Wednesdays this November for the @iglibraries #LibraryLeaves, a celebration of all things foliage! Interpret it any way you choose: loose pages, fall and spring aesthetics, botany collections, or even folio sized books! We can't wait to see what falls our way with this challenge!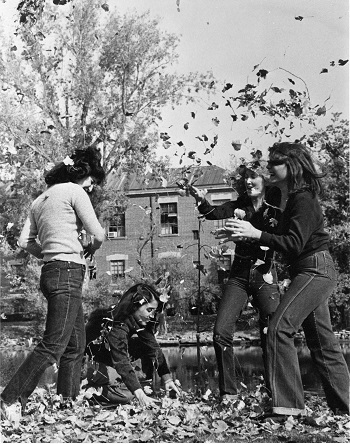 UNR's Special Collections director, Kim Anderson, pointed me toward a charming photo in the archives of The Sagebrush. The November 1979 black-and-white image shows four female students playing in the autumnal piles of leaves. They appear to be throwing them at each other. We knew the date of the image, we knew that it was from campus paper, but that was it. Who were the young women in the photo?
So when I posted the image to our Instagram @unrspc and Special Collections Facebook accounts, I included a request for information. "The students in this delightful picture remain unidentified," I wrote. "If anyone recognizes them, please let us know!"
What happened next astonished and thrilled me. I've heard of such things happening, but have never experienced it firsthand. The post started to spread. It was shared to Facebook groups for Reno history, the Tri Delta Theta Theta sorority chapter, and a variety of personal account pages. In all, it was shared 18 times. That might not sound like much, but it's a big number for us!
Within a few hours, someone commented with the first lead, pointing us toward the sorority chapter. And it continued from there. Six hours after posting the image, we didn't just have identification on the students in the image, we had direct comments on the image from all fourof them. They were able to tell us the photographer's name, and even related the story of the photo's origins. As you can imagine, we here in the department were tremendously excited and effusive in our thanks. And of course, we updated the photo's metadata immediately!
In all, the photo got shared on Facebook 18 times, garnered 16 comments on the original post, reached more than 7,000 people, and directly engaged more than 1600. On Instagram, it got 42 likes.
Social media gets a lot of bad press, and for good reason. It's important, therefore, to remember the ways it can be useful and bring us together. It might seem like a small thing, to identify the people in one photo, especially when you consider the size of our collections, which currently include around 300,000 photographs. But to those who are responsible for preserving these materials, any fragment of additional information is precious. Social media is a way of gathering information that engages our community and gives them a way to contribute. Asking for and receiving help like this makes those involved feel a sense of shared ownership in the collections and a connection to the history.
In March of this year, we'll be taking the next step in our social media presence as we host the Libraries of Instagram challenge. The theme we've proposed is #HometownHeroes, and we can hardly wait to see what our colleagues decide to share.
---
Elspeth Olson, project archivist with Special Collections and University Archives, is currently processing the collections of environmental activists Marjorie and Richard Sill. When off work, she's an avid crafter and documentary consumer. The UNR SCUA Instagram is @unrspc, and Facebook is @UNRSpecialCollections.