Cellular and Molecular Imaging Core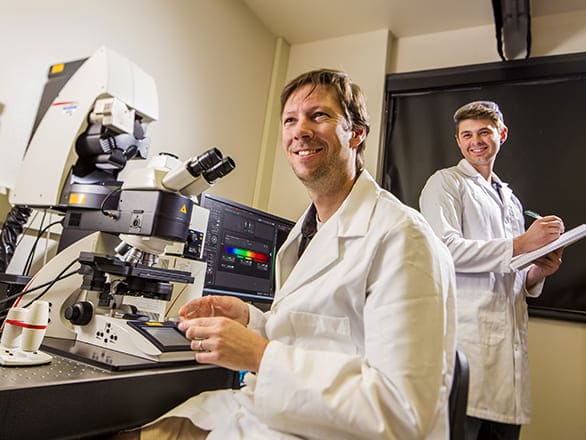 The mission of the Cellular and Molecular Imaging (CMI) Core facility of the Integrative Neuroscience COBRE center is to provide infrastructure and resources necessary to perform cellular and molecular imaging of biomolecules as well as media preparation to further research at the University of Nevada, Reno (UNR). The Core facility is located on the third floor of the Fleischmann Lifesciences building in the Biology Department of the College of Science.
The CMI Core facility provides access to state-of-the-art instruments including a new Scientifica HyperScope two-photon imaging system for deep tissue scanning in live brains and whole animals, a Leica SP8 confocal microscope system equipped with a LIGHTNING allowing the capture of cellular details and observe dynamics with a resolution down to 120 nm, a Leica Thunder 3D Tissue upright microscope, a Leica Thunder Model Organism stereomicroscope intended to image embryos, organs and small organisms such as Drosophila and C. elegans, a GE Phosphoimager for Northern blotting, a BioRad ChemiDoc for Western blotting, two BioRad Real-Time PCR instruments for precise and quantitative PCRs, a QIAgility for automated PCR set-up, a GeneSys 180 UV/Vis spectrophotometer, and a Quibit 4 fluorometer.
Further capabilities of the core includes media preparation instruments and resources for husbandry of Drosophila and C. elegans used as model organisms.
Director and staff
Laboratory/Core Technician
TBD - Position currently available
The equipment supported by the Cellular and Molecular Core includes:
Services provided to users
Information for new and existing users
A Lab/Core Technician (tbd) on staff provides basic training and technical support in order to assist researchers with all of our equipment and software. For information about the core, please contact the core director Alexander van der Linden, Ph.D. at avanderlinden@unr.edu.
For confocal and two-photon imaging:
For molecular imaging and accessories:
University clients: Free open access to all molecular imaging instruments. To schedule equipment, please register and log into Q-Reserve and select the Cellular and Molecular Imaging (CMI) Core facility at the University of Nevada, Reno as your site
Non-University clients: Please contact Alexander van der Linden, Ph.D. at avanderlinden@unr.edu.