Earlier this fall, the Nevada Museum of Art began its "Season of Seeing" with multi-disciplinary artists April Bey and Guillermo Bert. Although those might be hard "acts" to follow, the second half of the "Wide-Eyed and Dreaming: A Season of Seeing" features exhibitions that explore language, agency and the nature of memory through found images. And remember: University of Nevada, Reno students always have Free Admission to the Nevada Museum of Art!
"To be human is to speak, or so they say. Communication is at the root of all ritual and technological development. [Speech is] how [we] amplify, translate, respond, and receive," says the exhibition statement for Cannupa Hanska Luger: Speechless, which opens at the Nevada Museum of Art on Oct. 7, 2023. Featuring a large radio tower at its center surrounded by large speaker towers—all soundless—the artists asks visitors implicit questions about what it means to communicate and what it means to fall silent.
Taking his inspiration from the historical phenomenon of cargo cults, Cannupa Hanska Luger—a multi-disciplinary artist who is of Mandan, Hidatsa, Arikara, Lakota and European descent--asks critical questions relating to language, human agency, and implements of control: Who gets to speak? Who has to bite their tongue?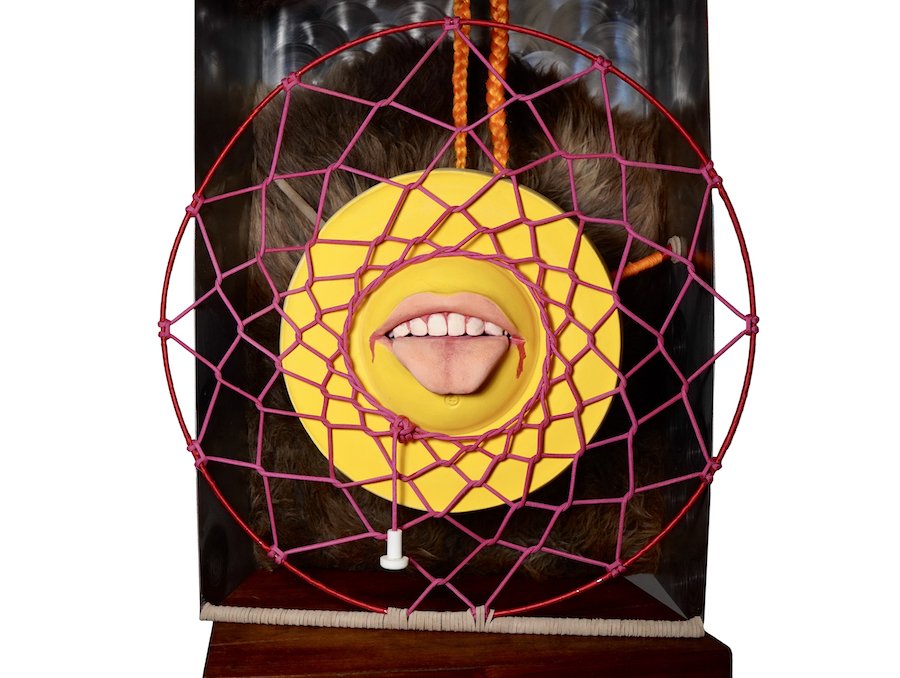 Cargo cults are a unique occurrence that developed as a result of military campaigns occupying and delivering supplies to areas already inhabited by Indigenous populations. This happened in the South Pacific when the US military was based there during World War II. Cults formed around the introduction of foreign food and necessities that seemed to magically drop from the sky. Seemingly gifts from the Gods, were only, in reality, provisions sent by Western forces to support their occupation of Indigenous lands.
With speaker towers that make no sound, a silent radio tower, and paper bustles that frame these "silent speakers," the exhibition flips the Western gaze back on itself through a spellbinding symphony of signs whose messages are muted and whose meaning remains to be seen.
Perhaps, as Luger suggests, in present day North American culture we are all in a cargo cult. Devoting our lives to the 'unnamed gods' of consumption, wealth and fame, we emulate those who have what we want in the manner of an arcane ritual-- prayerful action without practical understanding of who we are performing for, or of what we are petitioning.
We also speak to articulate memory, the past—the things we have experienced, witnessed and from which we learn and grow. And yet, what place in our lives do memories have when they are not our own?
The small-format paintings of San Francisco artist Elisheva Biernoff are inspired by enigmatic photographs she encounters and collects. Her highly detailed works take their inspiration from found images she locates in flea markets, salvage stores, and even on eBay—images that capture lost memories and moments in time. The photographs she gravitates towards are outtakes – photographs with double exposures, light leaks, odd cropping, and other "errors."
The exhibition, which opens on Oct. 21, features ten small-format paintings taken by strangers and that evoke an element of ambiguity and pensiveness. The process of creating the highly detailed works unfolds over a period of about three months in which Biernoff recreates it all: the same diminutive size as the found photograph (both front and back), the emulsion defects or lens flares, or other unintentional imperfections that transform into intentional features of her minute paintings.

As the details accumulate, the compositions of her works eventually adopt a photographic quality. In rendering them in such great detail, Biernoff explores the role of mischance, and reflects on the anonymous traces of lives and places that are for the most part unknown to her. Effectively, the artist finds herself painting and collecting other people's memories, friends, relatives and noteworthy places. Because Biernoff doesn't know the photographer or those featured in the images she paints, each work is an invented world.
Free student admission for University of Nevada, Reno and TMCC students
Students can experience the "Season of Seeing" at the Nevada Museum of Art for free thanks to the Free Student Admission Program. Bring your Student ID and enjoy free admission to all exhibitions on view during Museum operating hours.
The Museum is open Tuesday through Sunday, 10 a.m. to 6 p.m., open until 8 p.m. on Thursdays and closed on select national holidays. For more detailed information, visit the Free Student Admission program webpage.
The Free Student Admission Program was made possible through a generous endowment by longtime Nevada Museum of Art Trustee and Philanthropist Wayne Prim.