The University of Nevada, Reno Veterans Service department, in coordination with the Nevada Veterans Alumni Chapter and Wolf Pack Vets, has installed a karma box in front of the Veterans Guest House, located in Reno across the street from the Veterans Affairs (VA) Hospital.
"The Karma Box Project has boxes all around Reno. Their tagline is, 'If it's empty, fill it. If you need it, it's yours.' So, it's really a place for our community, the Reno community, that might be housing insecure or food insecure, to just walk up and grab what you need," Director of Veteran Services Chai Glenn-Cook said. "The idea is that the community at large fills it with non-perishable goods, any sort of personal items that somebody might need, like socks, deodorant and food. Then, it's just there for people as they need it."
The Karma Box Project was founded in 2018 by Grant Denton in the Truckee Meadows community. Since its creation, 50 donation boxes have been placed in various areas around Northern Nevada.
For the Veterans Services box, student volunteers spearheaded the project, building and painting the box and filling it with donations once it was placed at the VA Hospital.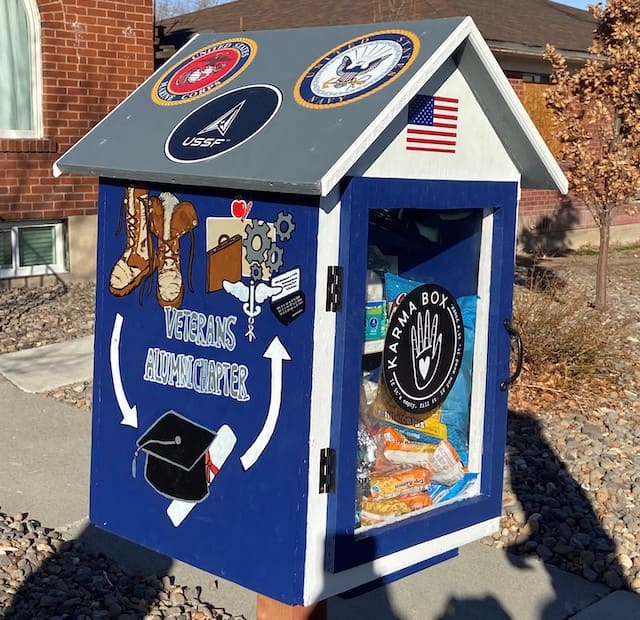 "The idea came up during a Veterans Alumni meeting, and we just thought it was a great way for the three veterans' organizations on campus to come together and really have a tangible, impactful place where we can help our larger community," Glenn-Cook said. "We thought it was a great way for us to be able to give back to the community and place the box somewhere that a lot of veterans are around."

The Veterans Guest House serves as a place for families to stay while their loved ones receive treatment at the VA hospital. Often, these families have to travel to Reno because there is no VA hospital wherever they live.
"They house veterans and veterans' families who come in from places that don't have a VA hospital and need to come to Reno for their treatment, so the families can stay there for free. That's why we put the box there," Glenn-Cook said. "This box is a symbol of what we all do on a daily basis for our community and the campus. It's there when people need it, and we're there when people need it on their own time."
People interested in filling the karma box can bring items to the Veteran Services department or place items directly in any of the karma boxes around the community. Non-perishable food and personal, sanitary and hygiene items are best to donate.