Mimirs Well-Ness, a student-led developer of a new medical appliance to protect newborns, has won the $50,000 Sontag Entrepreneurship Competition Award at the University of Nevada, Reno.
The company founded by Bridget Martinez, M.D., a doctoral candidate in Basque Studies, has developed an appliance designed to reduce the chance of injury or death during circumcision. Judges selected Mimirs Well-Ness from a field of five finalists for the award.
The Sontag Entrepreneurship Award Competition, now in its 12th year in the College of Business, provides a $50,000 prize to the student-led team with the most-promising business plan. The competition was established by a $1 million gift from University of Nevada, Reno alumnus Rick Sontag in 2011. The endowment created by his gift funds the $50,000 annual prize in perpetuity.
Dr. Martinez said Mimirs Well-Ness will use the award to fund the manufacturing of 3,500 of its neonatal femoral protectors. That will allow the company to begin distribution to healthcare providers in Nevada.
College of Business Dean Greg Mosier said the Sontag Entrepreneurship Award Competition spotlights exceptional work by students from academic disciplines across the University.
"I was impressed by Mimirs Well-Ness. The company stands ready to stake its position in the market," Mosier said. "All the participants in the Sontag Entrepreneurship Award Competition demonstrate that successful companies demand more than a creative idea. They require hours of hard work, the counsel of experienced advisors and the grit to move forward in the face of daunting challenges. The participants in this year's competition truly reflect the values of Rick Sontag as he built his own remarkably successful career."
Dragonfly Energy Innovation Award awarded to TRYBE Summits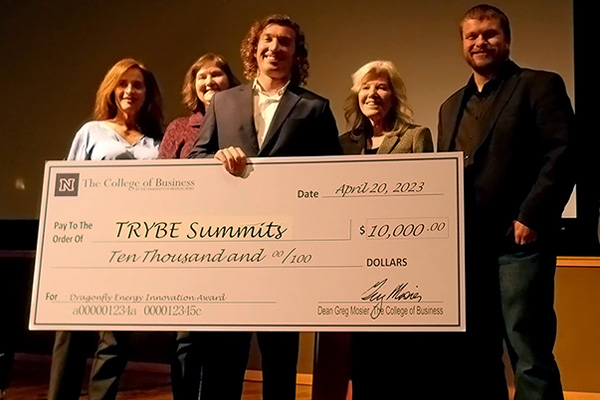 TRYBE Summits, one of the five Sontag Award finalists, was honored with the Dragonfly Energy Innovation Award. The $10,000 award is funded by Dragonfly Energy, a Reno company whose founders, Denis Phares and Sean Nichols, themselves were finalists in the 2014 Sontag Entrepreneurship Competition.

Founded by Keaton Lynn, a master's degree student in the College of Business, TRYBE Summits provides team bonding and training programs for use by business organizations, executives and high-performance professionals.
Other finalists in the 2023 Sontag Entrepreneurship Award Competition were:
Adventure Provisions, which is making dehydrated foods that meet the outdoor adventure needs of consumers with dietary restrictions. It was founded by Sierra Hixson, an undergraduate student in behavioral psychology.

Robo Spec, which developed an automated robotic system for bridge inspection. It was founded by Son Nguyen, a doctoral candidate in computer science and engineering/robotics, and Stephen Lencioni, a second-year student in the University of Nevada, Reno School of Medicine.

Trellis, which is developing employee-training software to teach skills for safe and secure workplace environments. It was founded by Patrick Smith, a doctoral candidate in psychology.
The five finalists for the Sontag Award were selected from an initial field of 26 student-founded entrepreneurial startups during preliminary judging rounds.