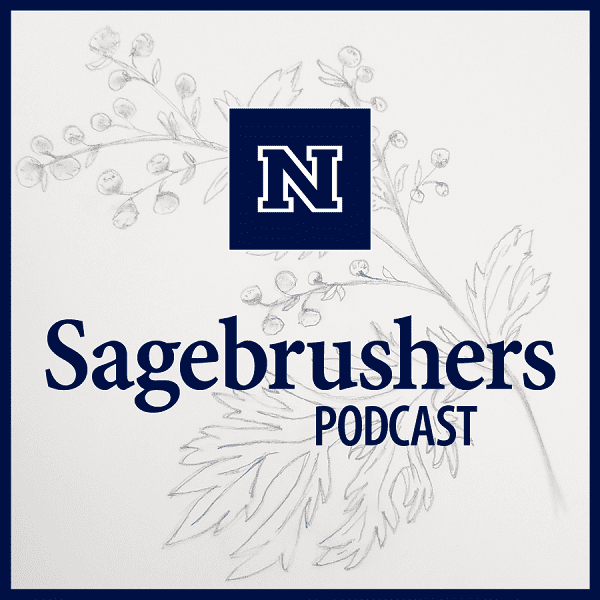 President Brian Sandoval hosts Reynolds School of Journalism Dean Al Stavitsky and Associate Professor of Electronic Media Kari Barber in this 11th episode of Sagebrushers. They discuss the history of journalism at the University of Nevada, Reno, which began with a class taught by Laura Ambler in the fall of 1922, and ways in which the school is commemorating the 100-year celebration. They also talk about "On the Record: A Century of Journalism Education at Nevada," the 30-minute film produced by Barber in collaboration with Reynolds School students and faculty, which explores the evolution of the school through a century of challenge and change. This episode was recorded in December 2022. Sagebrushers is available on Spotify, Apple Podcasts and other major podcast platforms, with a new episode every month.
Sagebrushers – Ep. 11 – Dean Al Stavitsky and Kari Barber
Join host President Brian Sandoval as he, Reynolds School of Journalism Dean Al Stavitsky and Associate Professor Kari Barber discuss the 100-year history of journalism at the University of Nevada, Reno, the creation of a documentary about the centennial and ways in which the school is commemorating the centennial celebration.
President Brian Sandoval: Welcome to Sagebrushers. The podcast of the University of Nevada, Reno. I'm Brian Sandoval. I'm a proud graduate and president of the University of Nevada, Reno, and I'm your host of Sagebrushers. Each month at Sagebrushers, which by the way was our University's first nickname, we take a closer look at the people, history and future of our University. We explain why the University, ever since its founding in Elko in 1874, has been about so much more than ourselves and why we remain Nevada's best experiment in understanding who we are and what we're capable of achieving.
Today's podcast is being recorded at the Reynolds School of Journalism on our University's campus. In this episode of Sagebrushers, we welcome two distinguished guests that call the Reynolds School home, Dr. Al Stavitsky, dean of the school, and Kari Barber, an associate professor of electronic media. Dean Al, as he is affectionately called by students, faculty and friends, has been dean at the Reynolds School of Journalism since 2012.
Under his leadership, the school has received major national honors for diversity and for innovation. He is past president of the Association of Journalism Education Administrators, he was named a distinguished scholar by the Library of Congress and he was inducted into the Nevada Broadcasters Hall of Fame in October 2022.
Kari Barber is a journalist and an award-winning documentary filmmaker. Her feature-length documentary, "Struggling Hope" was broadcast nationally on public television, and many of her films have been shown internationally at film festivals. Before becoming a professor and filmmaker, Barber was a journalist in Southeast Asia and West Africa working in print, television and radio. Kari teaches documentary filmmaking at the Reynolds School and was the director of "On the Record: The first 100 years of journalism education at Nevada."
Welcome to Sagebrushers, Dean Al and Kari, and let's dive right into it. I'm really excited to be here; I'm in the presence of giants. But as you know, it's the Reynolds School of Journalism's 100th birthday this academic year. So, can you give our listeners a little background about how journalism education started here, at the University of Nevada, Reno in 1922, Dean Al?
Dean Al Stavitsky: Well, thank you for the invitation, Mr. President. It was 100 years ago this semester, in the fall of 1922, that a reporting class was offered in the Department of English and that was the first time that journalism was taught at our University. The instructor was a young reporter named Laura Ambler, who was also a University graduate and was working as a journalist in Reno.
The following year, Alfred Higginbotham, who was a noted journalist from the Midwest, came here as the first journalism professor at the University – the first full-time professor – and he set to building an academic program and he wound up spending 40 years at our University.
In the 1940s, journalism left its home in the English Department and became a free-standing department in what was then the College of Arts and Sciences. Then it was in the 1980s, with the philanthropic support of the Donald W. Reynolds Foundation, that we became the Reynolds School of Journalism. So, if you take all those different incarnations together, it's 100 years this fall.
President Brian Sandoval: And a remarkable history it is. I'm sure you can go into chapter and verse about the amount of awards that the Reynolds School and our faculty and students have received through the years.
Dean Al Stavitsky: Well, we're very proud, both of the individual honors: our six Pulitzer Prizes by our graduates, the leadership roles that so many of our alums have taken, as well as the honors that we have won as a collective, AEJMC [Association for Education in Journalism and Mass Communication]'s Equity and Diversity Award and the Grand Prize for Innovation in Journalism Education from the Online News Association, just to name a few.
President Brian Sandoval: And you could say we punch way above our weight, wouldn't you say?
Dean Al Stavitsky: Absolutely, small but mighty, Mr. President.
President Brian Sandoval: Yes, I like that. So, as a history buff, I find this incredibly fascinating and I especially love the film about the school's history that your team put together. Now, I have to admit that I've actually watched it multiple times because I enjoyed it so much. So, Kari, as the film's director, why do you think it was so important to make this film?
Associate Professor Kari Barber: Well, personally, of course, I love documentary films – I make them, but I think documentary is a very popular form of journalism right now and our students are very engaged with it. I mean, we conducted dozens of hours of interviews to do this documentary and we have all those transcripts and I think that really also gives us sort of a repository of information for the future that we'll have. So, I think it was an exciting choice.
It was Dean Al who wanted to do a documentary in the first place, that was his idea. I think it also showcases what we're doing here. We have a new emphasis in film and media production, so it's an opportunity for those students to be involved in this and to showcase what we're able to do.
But we've been teaching documentary here for eight years, and it's become a really integral part of our school. So, I was honored when he asked if documentary can be the form that we use to share that story.
President Brian Sandoval: So, as you made the film, was there anything that you discovered that you were like, that "wow" moment where "I didn't know that?"
Associate Professor Kari Barber: As Al just mentioned, the first class being taught by a young woman, I think, was something that not very many people knew coming into this, and when we realized it, that was really exciting. When I shared that with students, all students, women and men, I just shared that the first class was taught by a young person, and by a young woman, I said, "so just think what you can start." You know? "What steps you might be doing that 100 years from now, people will be thinking about you and appreciating your work."
So, I think that that was exciting. Then just to see how through the years, women have played a really integral role in this, in the development, the direction of the school from Bourne Morris to really significant female journalists that we've had here. Two of the Pulitzer Prize winners were women from our school. So, I think that that was something that I didn't understand; I didn't realize the extent and it was very exciting and inspiring for me to see and I think it was inspiring for the students who were involved as well.
President Brian Sandoval: Well, in watching the film, it is amazing and I can't wait for the public really to have an opportunity to see it. But a lot of times, people don't really understand or appreciate the amount of time and effort that went into it. So, can you talk a little bit about that?
Associate Professor Kari Barber: Well, we started talking about it back about a year, more than a year ago, we started talking about the idea and starting to try to put together a team that could do this. We really got really launched in doing the interviews in the beginning of 2022 in January. Overall, in the end, I've lost track of how many interviews we did, 30 maybe, interviews with different people, first Al gave me a list of 70 people to interview and I said no.
But I think in the end, we probably interviewed about 30 people, and it was just a ton of information, a ton of interviews that we had to go through and transcripts had to be gone through. But really what I loved was the archival research – looking at the old photographs and having to go to special collections, and go through boxes and, you know, folders and envelopes. That was really exciting and time consuming, but I love doing that kind of stuff. So, that was really fun to find, just like the magic of finding these pictures and boxes. Even here, we found a box in our closet full of amazing photographs from the past, you know, 30 to 40 years that was really exciting.
President Brian Sandoval: For you or Dean Al, one of the things that I took from that film, and I love history and I love this University's history, but Higgy, you know, 40 years on this campus. So, you know, one of you, both of you comment on that.
Dean Al Stavitsky: Well, there was one interesting clip when our alumna Diane Hayes said, "I was scared of Higgy." He was someone who obviously, you know, built this program, but he was a very intimidating figure.
Associate Professor Kari Barber: Yeah, and I think it's Warren Lerude, who said, "Some people loved him and some people had different experiences with him." I think when we did the interview and Diane said, "You know, maybe I shouldn't say that." And Al said, "No, this is history; we're going to tell the truth." You know, different people had different experiences, different feelings, but nobody would underestimate how significant or when nobody would say he wasn't significant, and that he didn't make an enormous and incredible impact on the school, even if there were different feelings about his approaches at times.
President Brian Sandoval: So, let's move on and again, we're talking about 100 years of history and so much has changed, yet some things remain the same. So, can you talk a little bit about that, Dean Al?
Dean Al Stavitsky: Well, I think one aspect of our history that I didn't know until the research that Kari and her team did was that the very first class, which Laura Ambler taught, was structured, basically, as a news organization that the students were sent out to cover the news of our area.
We were really ahead of our time in that. Now, this is very common for journalism schools and we're very proud to be among the leaders of this, but that student-produced journalism really adds to the news and information, the ecology of various areas. But, I was very surprised, and pleasantly so and proud to learn that we were doing that from the very beginning back in the fall of 1922.
Associate Professor Kari Barber: Yeah, I was going to say, and it's great to learn that really, a lot of this started from student initiative. It wasn't the University. It wasn't the state. No, it wasn't even faculty saying, "we should have journalism and journalism education here." This came from the students wanting thi,s and I like to share that with students too saying, you know, "Your voice matters; you could make a difference. You guys are the ones that started this. This is your school."
President Brian Sandoval: So, I've teased a little bit in terms of this film and how amazing it is, and it'll soon be available. We're halfway through the centennial celebration for the Reynolds School. So, Kari, will you talk a little about what's next for the film and how people are going to have the opportunity to watch it? And Dean Al, if you could talk a little bit about what else we have coming up for centennial.
Associate Professor Kari Barber: Yeah, so we had the premiere in October at the gala and then we have a really exciting opportunity, with the film. We're talking with PBS Reno about the film being broadcast, likely in February. So, we'll definitely promote that when we have the date and that's finalized. After that, we intend to make the film available online. We're still looking at what way will be best to make sure most people can access it, so that everyone can see it and so it's widely available. So, we're very excited about those upcoming opportunities for the film.
Dean Al Stavitsky: And for the remainder of our centennial celebration, we always have a very active program of speakers and events. But for the 100th year, we're really looking to supersize everything. So, we're in the planning stages for some really exciting events. One speaker, whom I can talk about right now that we're going to be bringing in is Carl Bernstein of Woodward and Bernstein and Watergate fame, who will be on our campus in the spring.
President Brian Sandoval: Now, I was just mouthing, "wow"' That's phenomenal, and anyone who has read some of their books, it's just incredible. So, let's advance what we were just chatting about. So, we have this celebration and how can we support students in the years to come?
Dean Al Stavitsky: Well, we are, as part of our centennial celebration, are fundraising for the Centennial Scholarship program, and this will be an opportunity really to provide scholarship support for our students in the next generations to come.
We're very proud of the level of scholarship support that we provide on a regular basis, but in thinking about what to do, you know, at this time to commemorate this milestone, to have a named scholarship, that will forever continue, and then when we get to 200 years, we'll figure out what to do then.
President Brian Sandoval: No and speaking of 200 years, you know, we've seen a lot of change in journalism and social media. What do you think is kind of like the next big thing?
Associate Professor Kari Barber: Al, you got the answer to that?
Dean Al Stavitsky: Well, our curriculum is constantly changing when you think, you know, in the 1920s, the program that Higgy built was about newspapers. Then gradually, when radio was the new technology, then we added broadcast and then eventually public relations.
Now you know, we're very active in social media, all things digital. We're sitting right now in our terrific new podcasting studio. We have a vibrant documentary program that Kari and her colleagues have taught, so we're we talk about blending, the enduring and the emerging right? It is always about accurate information fairly and ethically presented, but on what platform, you know. We will be teaching in this next century technologies that we have no idea of today.
Associate Professor Kari Barber: But that's exciting and I think we've always sort of been on the cutting edge of technology here and that's never been something that's, you know, that we're afraid of, or that worries us. I think that's one of the benefits of having, like you said, punching above our size and being a small school is we have the ability to be innovative, nimble and to adapt to these technologies, I think, and to embrace them.
President Brian Sandoval: Well, I want to thank you both for being on and the Reynolds School is certainly a point of pride for our University and that's what excites me is the legacy that you've created, yet the future that we have to look forward to in meeting the needs of the future and providing the public with the information that it needs.
But unfortunately, that is all the time we have for this episode of Sagebrushers, and again, thank you for joining us today Dean Al and Kari. Next month, we will bring you another episode of Sagebrushers and continue to tell the stories that make our University special and unique. Until then, I'm University President Brian Sandoval and go Pack!