Chemical & Materials Engineering Assistant Professor Maryam Raeezadeh Sarmazdeh has received a $312,750 grant from the National Institutes of Health to purchase specialized equipment for use in biomolecular engineering research.
Sarmazdeh, whose research interests include protein engineering, directed evolution and synthetic biology, says the Biolayer Interferometry (BLI) Octet R8 is used for detecting molecular kinetic interaction with applications in biosensing, drug discovery and diagnosis. The equipment will allow Sarmazdeh and other University researchers to conduct real-time, high-throughput screening (testing thousands of drug candidates or antigens for binding to their target).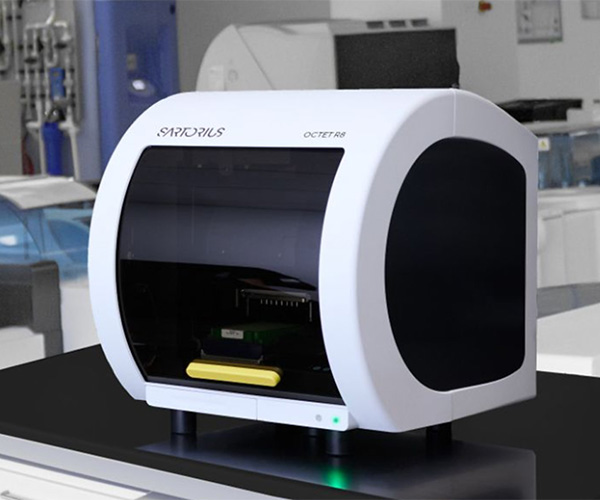 "To our knowledge, this is the only equipment of its kind in the state of Nevada," Sarmazdeh said. "This grant will bring more opportunities to the University as well as the state of Nevada for new collaborative and interdisciplinary research directions. The cutting-edge technology will be part of training of the next generation of biotechnology and biopharmaceutical workforce."

The BLI Octet R8 will be housed in the Cellular and Molecular Imaging (CMI) core facility in the Center of Biomedical Research Excellence (COBRE) Integrative Neuroscience Center at the School of Medicine. Reservation of the equipment will be available through the iLab platform.
The NIH grant — Sarmazdeh's fourth from the institution— garnered attention from U.S. Sen. Jacky Rosen, whose office congratulated Sarmazdeh on the equipment acquisition.
Sarmazdeh describes the BLI Octet R8 as a versatile tool that allows for the detection and analysis of a diverse range of biomolecules, from small molecules to viruses. Its ability to handle real-time, high-throughput screening will allow researchers to screen potential protein, peptide and small molecule therapeutics and provide diagnosis, ranging from COVID-19 with virus detection to cancer diagnosis with precision in a quantitative manner.
The project was supported by Vice President of Research and Innovation (VPRI) Mridul Gautam; the College of Engineering, including the Chemical & Materials Engineering Department; the College of Medicine and the College of Science, and the Biology Department. The initial faculty involved in the projects using BLI Octet R8 include Chemical & Materials Engineering Associate Professor Ravi Subramanian; Biology Professor Alexander van der Linden; Professor Thomas Kidd; Microbiology & Immunology chair David Aucoin, along with Microbiology & Immunology faculty Professor Thomas Kozel and Associate Professor Cyprian Rossetto; Regents Professor and Foundation Professor Iain Buxton from the Department of Pharmacology, along with Pharmacology associate professors Ruben Dagda and Heather Burkin; and Professor Thomas Bell from the Chemistry Department.