Nevada Dining, part of Chartwells Higher Education, at the University of Nevada, Reno has revamped its dining program for the 2023-24 academic year to give students and guests a more tailored dining experience.
Several new and exciting updates have been made, including expanded hours, all-day breakfast, international meal concepts and the introduction of grab-and-go vending units with meals made from scratch to streamline its meal trade program.
Joining the University's robust dining program that features state-of-the-art dining facilities, autonomous delivery robots and made-from-scratch meal offerings, these upgrades are designed to provide guests with high-quality food day and night and enhance the overall dining experience.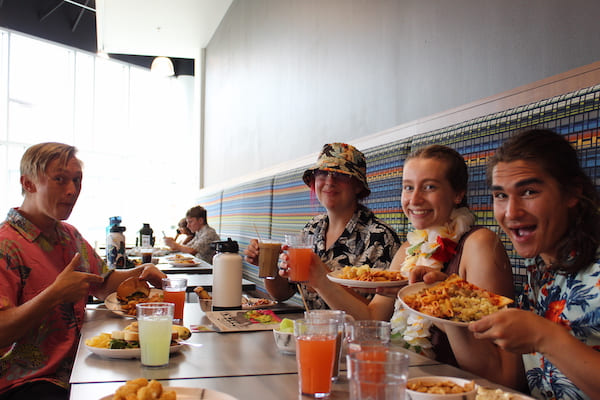 "We're inspired by the passion our students and campus community have for the University's dining program. They spoke, we listened, and we've made upgrades, big and small, that we think will create a much-improved dining experience for students," Resident District Manager for Chartwells Gabe Lewis said. "We're excited to see the students' reactions when they come to campus, and we hope these changes will not only add to the excitement of a new school year but fuel their growth throughout it."
Some of the changes University students can expect to see include:
Expanded Hours: After hearing requests for more breakfast and late-night options, Nevada Dining has extended its dining hours by 43%. Three restaurants and three vending units will be open for breakfast starting on or before 7:30 a.m. In addition, seven restaurants will operate beyond 7 p.m., with three restaurants continuing to serve until 11 p.m.
New Culinary Offerings: On Friday, Aug. 25, three new dining concepts will launch on campus: Mongolian Grill, BRKFT & Co., and Grab Goodness, a grab-and-go concept featuring fresh foods made in-house. In addition, Thrive, a meal station that avoids the nine major food allergens, and Create and Wild Pie are getting menu refreshes.
Vending Units Serving In-House Meals: Starting this semester, most grab-and-go foods will be prepared on campus to offer fresher, higher-quality meals. The new Grab Goodness concept will be available at the three new vending units at locations across north, mid, and south campuses soon, as well as in select restaurants.
Meal Trade Program Enhancements: In direct response to feedback from students, the meal trade program has been revamped. Now, all Meal Plan holders have access to premium locations such as Panera Bread and Habit Burger.
Catering Excellence: Nevada Dining has launched a new catering program specifically designed for student groups. Whether celebrating a birthday with friends or hosting an event with a registered student group, Nevada Dining's new menus are diverse and budget friendly.
"The updates we've made to the dining program are a labor of love, aimed at creating an unforgettable culinary journey right here on campus," Jon Buchholtz, senior campus executive chef, said. "We can't wait for students to savor the new flavors and feel the fresh ambiance and look forward to their feedback so we can continue to innovate the program together for years to come."
Additional dining program updates will be announced throughout the academic year. For more information on the dining changes and future plans, please visit the Dine on Campus webpage.