University students are enjoying a completely reimagined dining experience on campus this spring semester thanks to several new initiatives implemented by Chartwells Higher Education, Nevada Dining's food service partner and a recognized leader in contract food service management. From innovative, sustainable cooking methods to enhanced community partnerships and expanded autonomous delivery, Chartwells and the University are bringing customized and enriched dining experiences to students.
"The voice of our students is an important part of our program, and we use every opportunity we have to infuse their feedback and individual needs into our strategic dining vision," says Kylene Ott, District Manager for Chartwells Higher Education. "Monthly Dining Committee Meetings, email and website feedback as well as our annual Voice to Vision surveys are regularly assessed to identify opportunity patterns that we can quickly bring to life."
In response to evolving cuisine trends and continuous student feedback, the University and Chartwells are introducing new dining initiatives to students this semester:
Reimagined "Create" dining experience. Create offers a newer approach to made-to-order salads and wraps featuring increased protein portions and house made dressings and sauces added right into each order. This location in the Pennington Student Achievement Center now showcases a line of quick grab & go salads and wraps featuring campus favorites for guests that want to skip the line.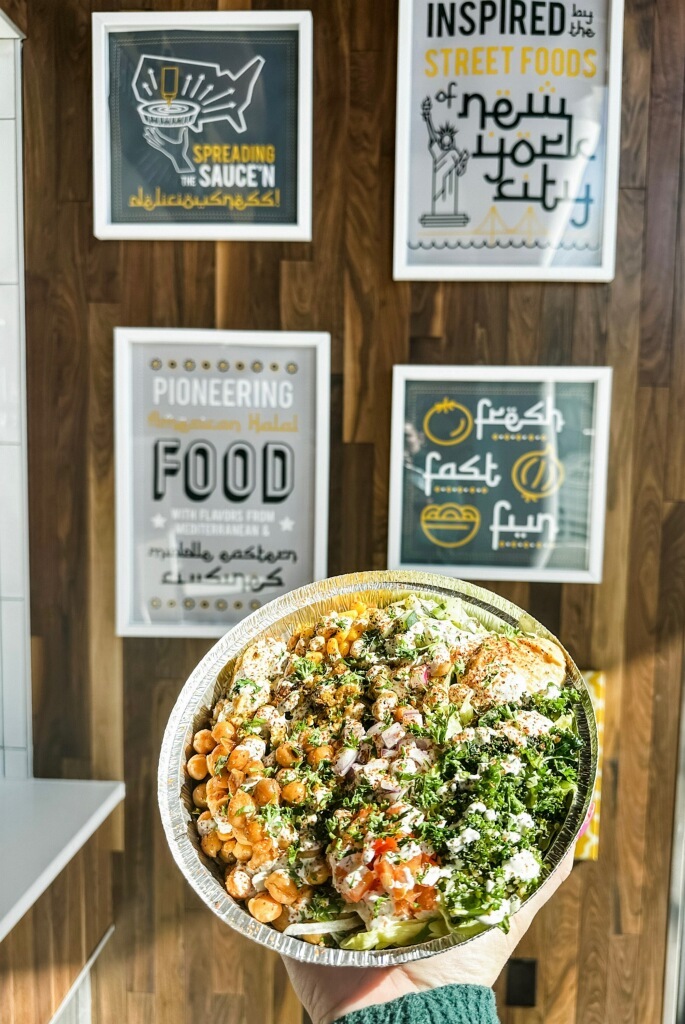 New Middle Eastern street food location, Halal Shack. According to the National Center for Education Statistics, in 2022 there's been a 68% increase in international student college and university applications this year. Halal Shack comes to the University of Nevada, Reno offering a build-your-own Middle Eastern street food experience where guests can pick favorite fillings like falafel and chickpea korma, fresh toppings, and house made sauces, all loaded into your choice of vessel from naanritos to zoodle bowls.

Expanded MealTrade offerings. To increase the flexibility and portability of meal plans, Chartwells added new locations that offer MealTrade to any meal plan holder. This includes the new Halal Shack, Peet's Coffee & Tea, El Chavo's, and Las Trojes at Student Choice.

Pack Place enhancements. Pack Place is the center of the Nevada Dining experience with 12 unique stations that offer a rotating variety of flavors and cuisine styles. Pack Place has shifted stations to improve accessibility and line flow, and added new menu offerings at 500 Degrees, pasta at Hot Top, and made-to-order mobile ordering options for a convenient and customizable experience.

Thrive – featuring foods made without the top 9 allergens. The culinary team is dedicated to offering a safe variety of rotating dishes featuring lean proteins, whole grains, fresh fruits and vegetables, and healthy snacks. Guests can enjoy meals like chimichurri meatballs, house-made vegetable and beef pho, and cajun chicken with okra and tomatoes, to name a few.
"The Thrive Station is the best within Pack Place. I love the food, and the people are nice. Ted the cook always tells us what's good to eat," says Justin Hunter, Sophomore majoring in Psychology.
"I was super happy when Thrive opened. The food is really fresh, and you can see the chefs preparing your food right in front of you. One of my favorite things is that I can talk with the chefs about the ingredients and what is used in the food. This is especially useful for people like me, who have food sensitivities, because I feel safe eating there knowing there is no cross-contamination. Not to mention that I also feel like this station has the most flavorful food in Pack Place," says Cheyenne Hills, Senior double majoring in Anthropology and Acting.
Expanded options on Starship. Launched in Fall 2021, A flagship of the University of Nevada Reno program is its fleet of autonomous delivery robots. This spring, Starship now offers Panera Bread via mobile ordering to students, faculty and staff, allowing for the convenient and environmentally friendly delivery of their favorite sandwiches, salads, soups, and baked goods.
Retail dining changes and expanded concepts. Chartwells continues to evolve the Nevada Dining program with retail changes and new concepts that focus on expanding local community partnerships including adding the popular El Chavo's Mexican Grill featuring tortas, tacos, burritos and more, to the Overlook. Local favorite, Mothers of Macros, has taken over the Pathways Café menu, offering healthy and fresh, chef-inspired foods, and campus favorite, Las Trojes, has expanded to the Student Choice location, including late night.
For more information on the dining changes and future plans, please visit the Dine on Campus webpage.