The Nevada INBRE Undergraduate Summer Boot Camp took place at the Wayne L. Prim campus at the University of Nevada, Reno at Lake Tahoe from June 26 to July 14, 2023. Twenty-two students curious about data and biomedical life science received the opportunity to gain research experience through many hands-on activities and discussion groups at camp.
Although having lab experience or an understanding of R coding might have been beneficial, it was not necessary.
"Everything within the boot camp is designed for the novice student," Juli Petereit, director of the Nevada Bioinformatics Center and co-director of the Nevada INBRE Data Science Core, said. "We usually have students with varying experience levels who are grouped to support peer mentoring."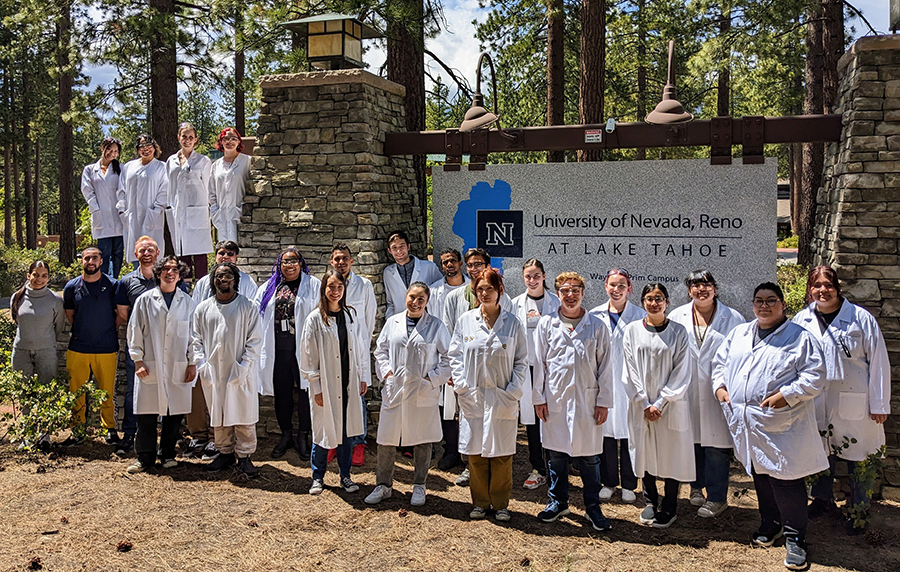 Throughout the engaging three-week research program, students met with many researchers, were presented with several scientific technologies, and were involved with an ongoing large human gut microbiome study.

Additionally, working in the wet lab preparing samples for sequencing and analyzing the samples using bioinformatics and data science techniques gave students a feel for what research can look like. Participants engaged in safe lab procedures, DNA extraction, R coding, high-performance computing and much more; practices and skills that can be transferred to other areas. Toward the end of the boot camp, students presented their findings at a research seminar.


"This research was led by exquisite professionals who offered great help and clarification along the way," Sarah Schott, a Nevada State College student participant, said. "I never felt pressure or frustration from my peers or my directors and it was very nice to conduct research with them all. My favorite camp experience was being surrounded by others like myself who are trying to get into a scientific field."

While at Tahoe, teamwork played a vital role.
"These students spend three weeks together; building a community is very important," Petereit said. "Science cannot be done by one and teamwork is an essential part of the boot camp."
Students stayed in the dorms at the Lake Tahoe campus throughout the entirety of the program, helping further strengthen their bond. Moreover, students chose what they would like to explore within the data and research groups began to form. Outside of the research, students would hang out to have gaming nights, hiking trips, night swims and more.
The boot camp was supported by Assistant Professor of Nutrition Steven Frese and his lab.
"When Dr. Petereit approached me about supporting the program, one of the first things that I remembered was a summer research experience I participated in as an undergraduate," Frese, with the College of Agriculture, Biotechnology & Natural Resources, said. "It was the first time I got to see and do research at a Carnegie R1 university, and it was a fantastic experience that solidified my choice of career. I saw this as a great way to 'pay it forward' and help provide a similar opportunity for students in Nevada."
The Frese Lab guided the 'wet lab' portion, which took place during the first week of the program. Frese and his graduate students instructed participants on techniques used within any microbiome research lab.


"Often, students are either exposed to wet-lab or dry-lab science but many times these two aspects of research are not combined; we wanted to develop a program that exposes students to a comprehensive research experience and builds their confidence allowing them to seek out other opportunities," Josh Baker, INBRE director, principal investigator, and associate vice president for research, said. "Training the next generation of scientists is an essential part of our grant's mission."
Nevada INBRE is a National Institutes of Health (NIH) program created to help build biomedical infrastructure in underfunded states and to help promote biomedical research educational opportunities. Thanks to their support, the program is at no cost to accepted students, including room and board.
The program first began during summer 2022, held on the main University campus. The 2023 program was a great success and plans for summer 2024 are already in the works.
Students interested in applying must be at least 18 years old and active undergraduate students at any NSHE institution at the time of application and boot camp. The application will open in January 2024.
NSHE faculty interested in participating in or supporting this program, please email nvinbre@unr.edu.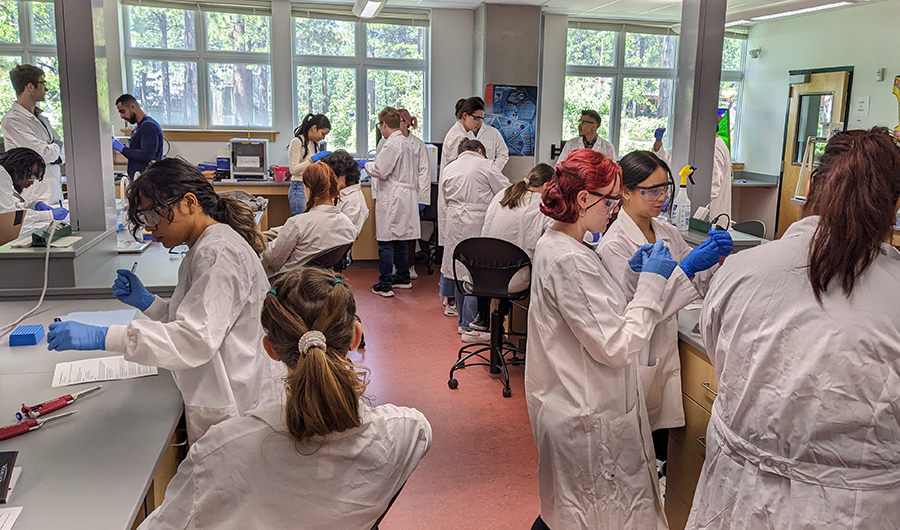 ---
Student takeaways
Some of the student participants were asked about their biggest takeaways, what skills they developed, their favorite camp experience and if they would recommend the program to others. Their answers are shared below.
Clarisse Andrada, public health major at the University of Nevada, Las Vegas
I came in with little experience and came out with heaps of knowledge! I feel much more confident in my wet-lab abilities like pipetting and general lab safety. This boot camp exposed me to the program R making me feel more assured in my ability to analyze data. Furthermore, I loved going to the beach and exploring everything around the Lake.
Bradon Burd, biochemistry and molecular biology major at the University of Nevada, Reno
I had a love-hate relationship with coding before, especially after struggling with robotics and the worldwide hour of code during elementary school. It almost deterred me from applying for this program. However, my experience with learning R here was surprisingly enjoyable and straightforward, despite the challenges that arise from both coding and research. I thoroughly enjoyed my time here and believe it significantly contributed to enhancing my research analysis, question 1 formulation and coding skills.
Sarah Schott, biology major at the College of Southern Nevada
I had never used a programming source before, but I learned how to program, interpret data and intercept data. I also came to know how to input my scientific findings and properly display them with the help of a computer or an analytics program. I would certainly recommend this program to other students looking to gain research experience or that might be intimidated to start science. I, as a semi-experienced undergraduate, was taught techniques that will make future research exciting and thrilling.
Anonymous
The camp offered ample opportunities for research skill-building. I had the opportunity to delve into DNA sequencing, access terminal commands, tap into high-performance computers and more. These tools and techniques unlocked a new realm of possibilities for future research. This isn't merely a camp to learn; it's a platform to challenge and most importantly, discover yourself in the world of research.
Anonymous
Being in Lake Tahoe for three weeks was amazing and the food at the campus was delicious. The most amazing part of the program was being able to collaborate with the Frese Lab and work with human survey data. It was a new experience for me and it informed me of the possible issues that can arise when working with real people's responses and data storage.
Anonymous
I gained knowledge in R-coding and its purpose without any previous experience which I can apply in the future working in a laboratory. I would have to say my favorite experience was the karaoke night a big group of us has in the dining hall; it was a blast! The location itself was a whole experience. Lake Tahoe is very beautiful. This program provides hands-on experience in the wet lab and with data science; I definitely recommend this program to other students.
Dawit Gobena, 2022 boot camp participant
My participation in the Nevada INBRE Microbiome boot camp has tremendously influenced my academic career. Learning from instructors that prioritize teaching and mentoring while also taking the time to assist each student in shaping their thoughts and future has profoundly influenced me and my future.