Reynolds School of Journalism Assistant Professor of Video Production and Immersive Media Melissa McClinton has secured official selections at more than 40 domestic and international film festivals for her film "Interception: Jayne Kennedy American Sportscaster." The short documentary follows the story of Jayne Kennedy, a trailblazer for Black women in the entertainment and sports broadcasting industries.
Kennedy was one of the first women, and the first African American woman, to infiltrate the male-dominated world of sports broadcasting when she joined CBS' "The NFL Today" show in 1978, but her experience was far from equitable. As swiftly as she was able to blur the rigid racial lines of American broadcasting, Kennedy suffered egregious disparate treatment, even as her popularity with audiences grew.

"To me, [Jayne Kennedy] is a symbol of resilience, persistence and determination in a way that is truly grace under fire. She's such an elegant, beautiful woman in her presentation. But I wanted to show what she had to endure right before the tally light came on and she had to pretend she wasn't under attack" McClinton said.
McClinton drew inspiration from true crime and murder mystery documentaries for the editing of this film, an approach that clarifies to viewers that the discrimination that Kennedy faced should not be viewed as commonplace and acceptable for the era. "I treat stories about racism as crime stories. Racism is a crime, a theft, an assault, and leads to lethal consequences. As a film director, I want to illustrate that no matter if the law condoned it, such treatment was always a violation against humanity," McClinton said.
Kennedy served as an executive producer on the film and was very involved with its production. "She's an excellent storyteller, not to mention, she has the most beautiful voice. It's so melodic and entrancing. When we were on set, all the crew were just hanging on to her every word." McClinton said. "The crew's reaction made me feel confident that the story would resonate exceptionally well with viewing audiences."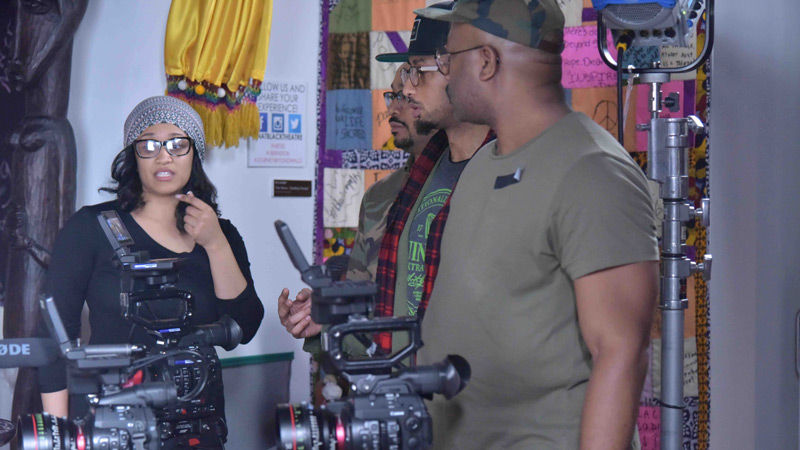 "Interception: Jayne Kennedy American Sportscaster" has earned 12 awards, including best documentary short, best female director, best editing and audience choice award in festivals based in New York, Los Angeles, Davenport, Iowa and Orlando, Florida.
The film is set to premiere in Greenbelt, MD, Alexandria, VA, Minneapolis, MN, Atlanta, GA, and San Antonio, TX.
McClinton's career spans broadcast news, fiction film directing, talk show producing. She is a former commentator for CNN's Erin Burnett OutFront and has won a local Emmy in the District of Columbia's chapter of National Association of Television Arts and Sciences. McClinton holds an MFA from New York University's Tisch School of the Arts and a BA from Howard University's film program, and has helped to develop film programs at other Universities she's worked at. At the Reynolds School, McClinton teaches media production and filmmaking courses.