Jessica FitzWilliam graduated from the University of Nevada, Reno in 2022 with a Bachelor of Science in Business Administration in Management and Marketing with a minor in Sports Management. Now, she has decided to stay in Reno and work on getting her MBA while also working as an event coordinator for Nevada Athletics.
Not only did FitzWilliam graduate with a double major, she did it while being a student athlete. She was a goalkeeper for the University's Women's Soccer Team for all four years of her studies, but her love for the game started much earlier. FitzWilliam has been playing soccer since she was 4 years old and even after graduating from the University's team, she joined an adult soccer team to keep her love of the game alive and maintain her skills. Her time playing for the University was an incredible experience where she encountered many obstacles that tested her resilience, but she wouldn't change it for the world.
"My journey was hard, overwhelming and enjoyable and with all the attributes that came with playing it truly shaped me to be the person I am today," FitzWilliam said. "Adversity shapes us into strong individuals and for my career at University of Nevada, Reno I am forever grateful and thankful for my time here! I've met some of the most incredible people and have truly left the program stronger than I found it and I am forever blessed to be a part of the team!"
While working on her MBA, FitzWilliam continues to be involved with the Athletic Department. While working as an event coordinator for Athletics, FitzWilliam tries to help out with the Women's Soccer Team as much as she can. She loved her time with Nevada Soccer and wants to give back to the program that shaped her into the person she is today.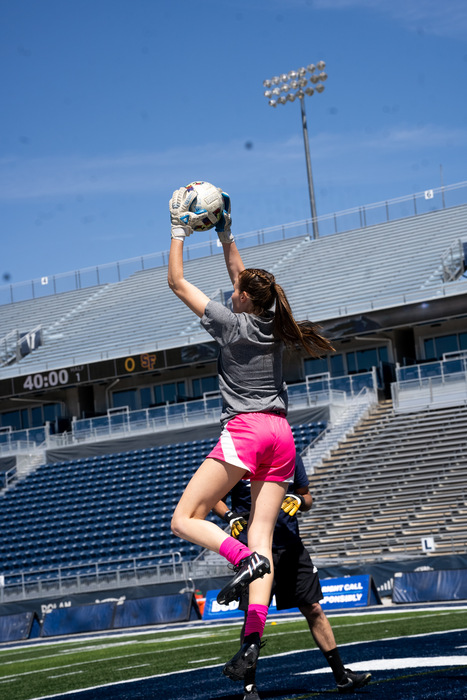 "The soccer program is my family. I try and help the program in any way possible! I'm still best friends with all the girls and I live with one of them too!" FitzWilliam said. "I will always love Nevada Soccer and those memories will stick with me forever. We've been through some hard moments, and some really incredible ones, too and I wouldn't want it any other way! The memories I share with those girls and the lessons I've learned are experiences that I will cherish forever. Those girls are my sisters for life! There's something really special about the University of Nevada Soccer Team; they are strong individuals, kind hearted people and talented soccer stars!"
While originally from Southern California, deciding to stay in Reno was an easy choice for FitzWilliam. Continuing to stay in Nevada and pursue her MBA was already in her plans but when she was presented with an opportunity she just couldn't pass up, the answer to stay was obvious.
"I had an incredible opportunity within the athletic department to work as a graduate assistant for game operations and I am lucky to get involved behind the scenes," FitzWilliam said. "Athletics is something I want to pursue, and being able to have an opportunity to work with talented individuals and learn from some of the best is something I could not pass up. I also wanted to get my master's degree to expand my knowledge within the workforce and business side of things, to set myself up for the best path in the future."
While working to get her MBA and continuing to be involved in athletics, FitzWilliam is always willing to push herself to be the greatest version of herself. Every obstacle she encountered throughout her athletic career taught her valuable lessons that transfer to her everyday life. Now with her website, "Unlocking the Code of Adversity with Jess", FitzWilliam's goal is to share personal experiences and provide direct insight on how to overcome adversity not only in sports but in life.