It started with mining.
In 1882, a young mining engineer named Jules Ernest Gignoux was hired to teach a short course in assaying and mineralogy to nine students at the State University of Elko. That university, founded in 1874, would become the University of Nevada, Reno, which will celebrate its 150th anniversary in October 2024.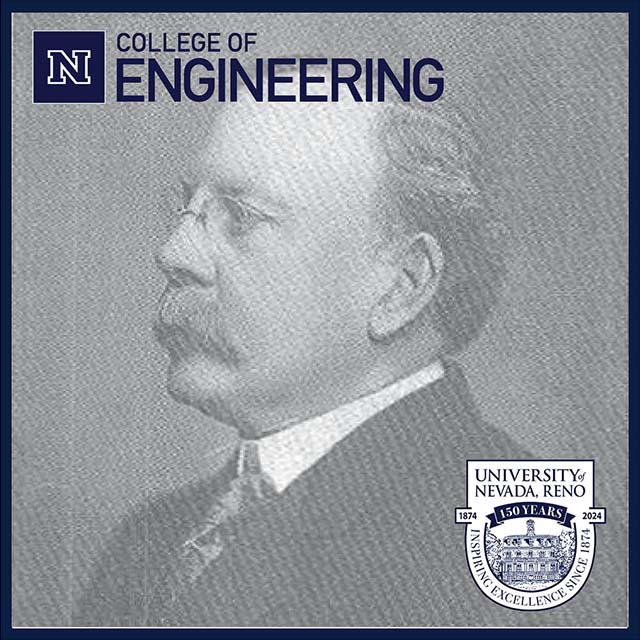 The College of Engineering will mark the upcoming anniversary by sharing historical photos of the school every month on its Instagram and LinkedIn channels. Follow the College on Instagram at @unrengineering and on LinkedIn at College of Engineering at the University of Nevada, Reno, and join us as we take a look back.

We'll be sharing photos of our early leaders, students throughout the decades and our engineering buildings as they appeared over time. We start with Jules Gignoux, who taught at the University from 1882 to 1884, but remained involved in Nevada mining activities until his death in 1914.

Former Mechanical Engineering Professor E.W. Harris wrote about Gignoux in his 1974 history publication "Origin and Development of the College of Engineering at the University of Nevada." Harris was a child when he first met Gignoux, who was a friend of his father's. Harris wrote, "Mr. Gignoux enjoyed fine Havana cigars and had vintage wines on the sideboard. He also enjoyed science and engineering to the fullest, and bought a wonderful expensive Doris touring car (in) about 1911. It fairly sparkled with gleaming brass headlights and radiator grill."
Gignoux left an impression on Harris, but also on the College of Engineering. His engineering course marked the beginning of engineering instruction for the University.
Engineering curriculum expanded in 1887, when the School of Mechanic Arts and Mining was established after the University relocated to Reno, according to the Harris' history publication. Engineering education at the University further developed in the following years, with the 1894-95 University register for the first time listing a "Department of Engineering," with two subdivisions: a "School of Mines"; and "Schools of Engineering" (civil and mechanical).
The Mackay School of Mines Building was dedicated in 1908, a gift from Mackay family to memorialize John Mackay, one of the four Bonanza Kings — silver mine owners with claims on the Comstock Lode, a vein of silver discovered in 1859 under Mount Davidson near what would become Virginia City, about 35 miles southeast of Reno.
The College of Engineering as it's now called got its start in 1914, when Professor James Scrugham became its first dean. Another big development came in 1951, when the Mackay School of Mines was given separate college status from the College of Engineering. Even more recently, Chemical Engineering, Materials Engineering and Computer Science moved from Mackay School of Mines to the College of Engineering.
Today, the College of Engineering is composed of five departments: Chemical & Materials Engineering, Civil & Environmental Engineering, Computer Science & Engineering, Electrical & Biomedical Engineering and Mechanical Engineering. Its history dates back to the University's earliest years and is a shared history with the Mackay School of Mines. We're excited to celebrate our story through pictures on social media, and we hope you join us in celebrating the University's 150th anniversary.