Courtney and Joel Bitonio met in the best possible way when they were both freshmen at the University.
It was the best possible way because of the way it happened.
It was perfectly imperfect.
A young man who throughout his life growing up in Long Beach, California had been a die-hard Kobe Bryant and Los Angeles Lakers fan was in the main lobby area of Argenta Hall, engrossed and seemingly unaware of anything else happening around him as his beloved Lakers and their star Kobe were in the middle of a pitched game on television.
A young woman who had grown up in Las Vegas, who was always a good and constant friend to others but who admittedly was never one to put herself out there, saw the young man watching a basketball game on television and decided to do just that.
"They had a TV downstairs that everyone could watch, and I saw this really cute guy watching basketball," Courtney remembered. "I don't what it was, but I just decided, 'OK, I'm going to shoot my shot.'"
Cue the romantic music. The "meet-cutes" they always talk about in Hollywood's best rom-coms don't get any better.
Or do they?
"So I tried to have a conversation with him, but he was … totally disinterested," Courtney said.
Unbeknownst to Courtney, Joel might've seemed disinterested. But he really wasn't.
"The Lakers, especially back then, as they were playing for championships with Kobe, were always a really big deal to me," Joel said. "So I was watching the Lakers game on TV in the main lobby area, and Courtney and her friend walked by and we talked and I'm also trying to watch the game and concentrate on the Lakers, but in the back of my head …"
Was the spark of something special.
"I was this young freshman, and I had no idea what it was all going to mean," Joel said. "Courtney told me later she wouldn't just walk up to anyone and start talking to some random person.
"So we just had this connection."
Within a few days of that chance encounter in the lobby of Argenta Hall, the two, who shared a common circle of friends and made it a point to find out more about the person they had met in the lobby, became friends.
"We connected as friends, and ever since then, Courtney's been my best friend," said Joel, who from those early days as a freshman went on to become one of the greatest football players in Wolf Pack history. Chosen 35th overall in the 2014 NFL Draft by the Cleveland Browns, Joel is one of the finest offensive lineman in professional football. He was selected a first team All-Pro both in 2021 and 2022 and earned his fifth consecutive Pro Bowl selection, becoming the first Browns guard to accomplish the feat since Hall of Famer Gene Hickerson. The soon-to-be 10th-year pro and the longest-tenured current Brown has played every regular season offensive snap for Cleveland since 2017.
Joel and Courtney have been a couple ever since that chance meeting in Argenta Hall. Joel graduated from the University in 2013 with a degree in economics; Courtney graduated from the University in 2014 with a degree in human development and family studies.
When his professional football career in Cleveland beckoned following the NFL Draft in spring 2014, it was not long after that Courtney, once she had completed her studies, joined Joel there to start a life together. Married since 2016, they have two children: Zoey Grace, 4, and Benjamin Michael, who recently turned 2.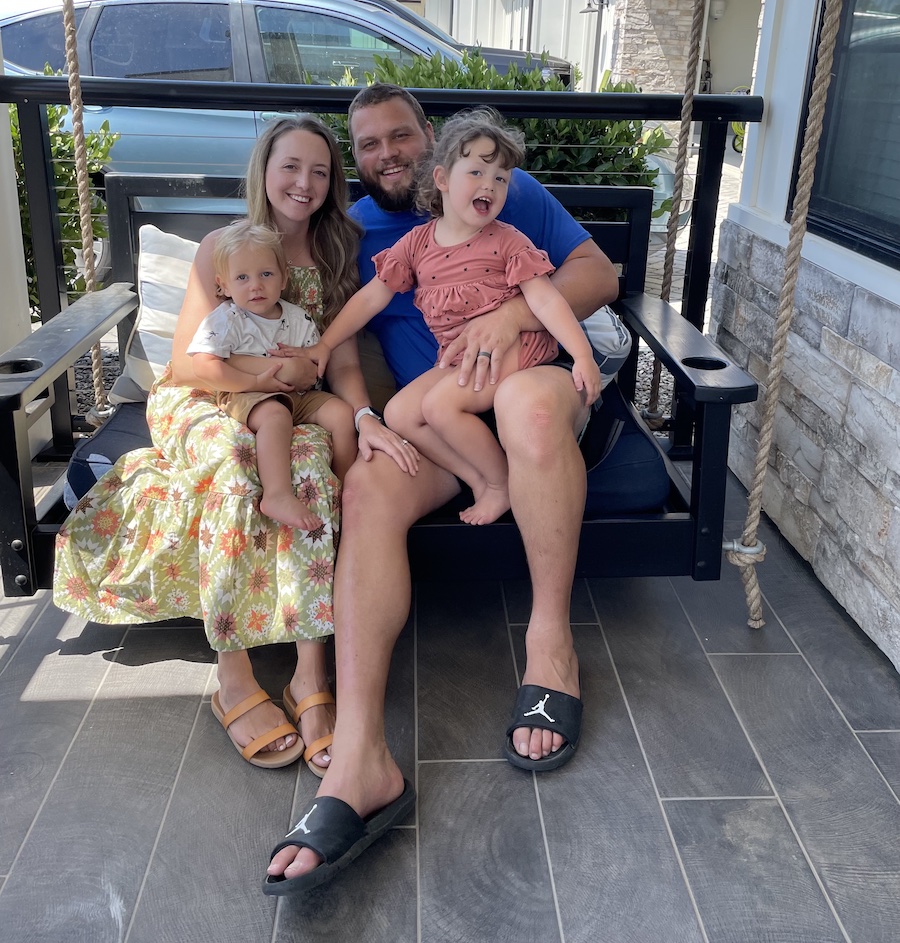 "Throughout this journey, we've grown together," Joel said. "I told her, 'I am going to marry you,' but it's a huge commitment when we were both still pretty young, for her to move across the country to be there with me. Courtney graduated a semester after me, and ever since it's been great. I'm just so happy about all of that, how I chose Nevada, met Courtney, was able to play Division I football and it's worked out where we could start our family together.

"Nevada is always going to have a special place in our hearts because of what it means to the both of us."
The Bitonios, not surprisingly given their backgrounds of having learned the value of giving back from an early age, have earned a reputation throughout the NFL and particularly in Cleveland as a family that is intimately involved with their community.
Joel was honored this past season as the Browns' nominee for the Walter Payton Man of the Year award. Each year, one honoree is nominated from each NFL team in recognition of the player's commitment to philanthropy and supporting communities. Joel's record in these areas is remarkable. Just as being a first-team All-Pro means that Joel is at the top of his profession as a football player, being nominated as a team's Walter Payton Man of the Year signifies that there is profound respect and appreciation for him as a person.
One of five 2022 team captains, Bitonio is the only three-time Professional Football Writers Dino Lucarelli Good Guy recipient, which recognizes a player's professionalism and cooperation with media members. Joel and Courtney are ambassadors for the Greater Cleveland Food Bank, which has not only included donating their time and money to the organization, but for the past two years having Joel serve as a co-chair of "Taste of the Browns," the group's largest fundraiser. Joel has participated in a Shop with a Pro event every year since joining the team, personally funding the night for Northeast Ohio youth each of the past five years.
Throughout 2022, Joel has identified multiple opportunities to raise awareness for A Kid Again Ohio, including by hosting a group of families during training camp and supporting the organization through My Cause, My Cleats. A Kid Again Northern Ohio aims to foster hope, happiness, and healing for children with life-threatening conditions and their families.
During his time in Cleveland, Joel has engaged in many Browns community events encompassing the team's commitment to education, youth football and social justice, including support of the Stay in the Game! Get to School, Every Day Network; participating in Cleveland Browns Adapted Football League sessions; serving as a member of the Browns social justice committee leadership council; and making multiple visits to children at University Hospitals Rainbow Babies and Children's Hospital and individuals receiving treatment at University Hospitals Seidman Cancer Center.
"It's a huge honor," Joel said of being the Browns' Walter Payton Man of the Year in 2022. "I feel like I've always wanted to help the community, and it's something that I learned very early on through my parents and how they went about helping others. It's amazing, though, to look at what some of the winners of the award have done throughout the years. What people like Drew Brees and J.J. Watt have done for their communities … for lack of a better word, it's just ridiculous what they've been able to do and the standard they've set in making their communities a better place. They've all done so much.
"I think given where I am in my life, and I know Courtney feels the same way, it would be a disservice for us not to do something to help our community. Everybody needs a helping hand."
Courtney agreed with Joel, noting that throughout her life, her parents have always stressed the importance of helping "the person next to you."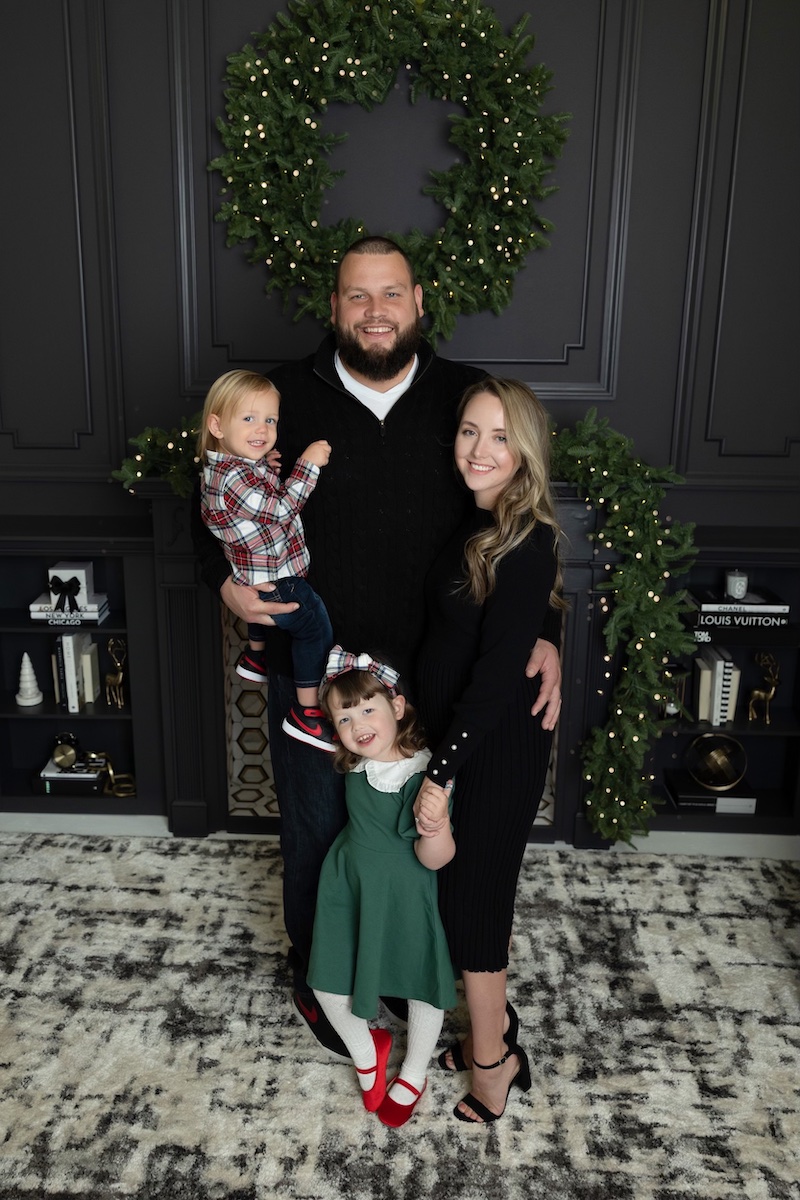 "I definitely think a lot of it was how I was raised," said Courtney, a graduate of Las Vegas' Spring Valley High School. "It wasn't seen as doing anything extra. It was taking care of the person next to you and making sure that they they are doing well.

"To me it's not really doing anything out of the norm. It's just something we've always wanted to do. We've been blessed, and we're able to get involved to help people."

On Friday, Wolf Pack Athletics announced that Joel and Courtney Bitonio had made a generous gift and pledge supporting the Bitonio Family Strength & Conditioning Center, which will be a state-of-the-art strength and conditioning center for future Wolf Pack football players. Joel cited the hard work and long hours he had put in at Cashell Fieldhouse and at Mackay Stadium, and said he hoped that the Bitonio Family Strength & Conditioning Center would do the same for "generations to come."
The Bitonio Family Strength & Conditioning Center
The new Bitonio Family Strength & Conditioning Center will feature state-of-the-art equipment to support student-athletes at Nevada.

Arial rendering of the Bitonio Family Strength & Conditioning Center.

Rendering of the exterior of the Bitonio Family Strength & Conditioning Center.

The Bitonio Family Strength & Conditioning Center will support student-athletes in Nevada's pursuit to build a championship-caliber athletic department.
"It's how we can help kids and their trajectory," Joel said. "Once I made the NFL and started to have a career, I eventually knew I wanted to help out the University."
Joel said the example of his parents has always inspired him. His father, Mike, who himself was an excellent athlete and was known in the flooring industry for his craftmanship and was universally respected for always looking out for others, passed away unexpectedly in 2010 at age 45 when Joel was a redshirt freshman. The career of his mother, Debbie, who's a third-grade teacher and continues to make a difference, is a constant reminder for Joel to be mindful of others and to take that extra step in learning who a person is and what dreams they might have.
Of his father, Joel said, "I am so thankful that I got 18 years with my dad. Thankful that I had 18 years, with the wish that he was still around for the grandkids and the family. I definitely take certain things that he did as a father and the way he raised us. The main thing was, and you always got this very clearly with him, was that he just loved his family. He would work hard, worked extra hours, would do extra things to help his friends, family and neighbors and give his shirt off the back to the people who needed it. And all of it was done so he could make sure our lives were better than what he had as a kid growing up.
"Now that I'm a dad with two kids, it blows my mind what he was able to do. You learn pretty quickly that time is very important … that time is the unstoppable force in our lives, and you need to make the most of it."
Courtney, who before she joined Joel halfway across the country with the Browns, was teaching pre-school and was hoping to one day further pursue a career as a teacher, said she and her husband both make a concerted effort to understand where they are in their lives right now. Although the world of professional football can feel all-encompassing, it is important to both of the Bitonios that their lives maintain a sense of balance.
"We're in a really unique part of our life that's pretty fleeting," Courtney said, "with both the kids, the ages they are, and the football."
Most important of all, Courtney said, are the couple's children and knowing they are being raised the right way.
"Joel and I talk about this all the time," Courtney said. "Kids are like little sponges and they soak it all up, good, bad and indifferent. We try to put our best foot forward as parents. It's hard to be 'on' at all times, but we always try to set good examples.
"We want to teach them to be kind and treat others with kindness. It's all about taking care of the person next to you. When you start with kindness, you're showing them what it's all about."
In terms of kindness, Joel knows that he is lucky to be married to a person like Courtney.
"It's one of those things where we're a great team," he said. "With the profession I'm in, in the NFL, I am just extremely grateful that I have that person who really is the backbone of our home and our family and our kids. It allows me to be the person I can be at football and at home. Courtney always keeps me level-headed and positive. When things aren't going great at work, I come home … and all of that goes away.
"Courtney and the kids always bring the best out of me."
Of Joel's giving nature, Courtney said, "That's just who he is. I would give a lot of credit to his parents. He's always consistently the same person. Who you see on television in an interview is pretty much the same person you will see at home."
Theirs is a shared history. It goes back far enough that it is part of the University's history. Joel and his Wolf Pack teammates were part of the greatest victory in the University's nearly 125 years of playing collegiate football on Nov. 26, 2010, when the 19th-ranked Wolf Pack rallied from a 17-0 first-half deficit to beat the nation's third-ranked team, Boise State, 34-31, in overtime, before a national television audience on a freezing night at Mackay Stadium.
"There were so many good memories when we were students," Courtney said. "Football-wise, beating Boise was an incredible memory. I don't think I had any cold weather clothes, coming from Las Vegas. I remembered I borrowed one of Joel's football hoodie things to wear to the game that night. He's a little bit bigger than me and I looked like I was wearing a dress.
"I was in the student section with a bunch of my friends and that field goal (Anthony Martinez's 34-yard game winner), once it happened, I don't know if I was numb from the weather, but I remember hopping over the fence and running out on the field and going to find Joel. That was a really special moment."
Courtney paused, and took stock of his time at the University. She had come to campus on a Nevada Bound trip as a high school senior.
"I went to Reno and visited the campus and immediately fell in love with it," she said. And in addition to finding her purpose and her person, she remembered what made her time at the University so special.
"Walking through campus is one of the most serene, beautiful experiences a person can ever have," she said. "Especially if you catch it in the spring. It's such a beautiful place, with so much history. I just love the Quad – the beautiful trees, seeing the students who are out playing frisbee or studying or are just sitting around there visiting, loving and living life."
It was a place, Joel said, where the future started to come into focus for him. He dealt with tragedy with the passing of his father, and learned how to become an excellent student (he was twice All Mountain West All-Academic), a standout athlete and a reliable and respected teammate.
"I think in the back of my mind, I felt I wanted to be a NFL player," Joel said. "But there was so much I had to learn first. I remember thinking pretty early on, 'You know what, before you do anything else, you need to make sure you get to class first … you've got to learn how to study first … you've got to learn how to play college football first.' At first, it was always a one year at a time thing, always working to improve, to grind it out, to get better in all of things I was doing.
"And I guess it's a bit of luck, too. The story would've been different if I hadn't come to Nevada. San Jose State was my only other D-1 offer … there were a few other offers from schools like UC-Davis. But I went to Nevada. My whole life changed. I think a lot about how lucky I am that I did.
"Nevada gave me a shot and believed in me. And while I was going to school at Nevada, I met my wife in Argenta Hall.
"It was the perfect storm."