Former students and the current colleagues of Eric Wang stood in a long line near his classroom on the first floor of the William Pennington Engineering Building on the afternoon of April 25.
They were there to see what Wang's reaction would be when big news would be delivered by President Brian Sandoval. Like so many who have worked with and learned from Eric Wang during the nearly 28 years he has been a professor in the Department of Mechanical Engineering at the University, those from across campus and across the community were there because they wanted to let Wang know how much they appreciated him.
Anthropology Professor Geoff Smith, one of the University's finest teachers, had observed Wang teaching earlier in the semester. Smith, known for his ability to make special connections with his students, was impressed by what he saw. He wrote in a letter on behalf of the Paul and Judy Bible Teaching Excellence Award Committee that one of the committee's members noted that, "… despite serving on numerous teaching award committees, I have never seen someone engage in such intense self-reflection between course iterations – he constantly works to improve his product."
Smith added, "Dr. Wang exhibits many characteristics of a Master Teacher … Dr. Wang remains engaged with teaching and centers his efforts on three elements: (1) a learning focus, meaning that he balances web- and classroom-based teaching to help students grasp how the specific projects on which they are working fit into the broader context of their field; (2) a learner centering, meaning that he works to connect with each student by establishing an environment that is comfortable, inclusive, engaging, and welcoming to every student; and (3) self-reflection, meaning that Dr. Wang deconstructs each meeting and iteration of courses both during and after they conclude to reflect on what went right, what went wrong, and how he might improve teaching and learning moving forward."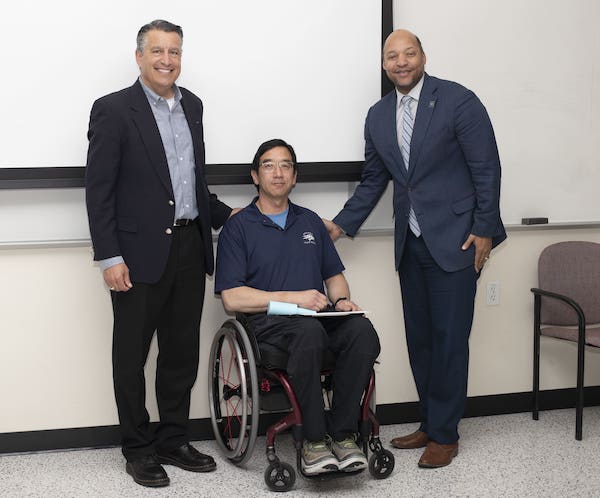 So when the group of former students, current colleagues, Bible Committee members, Sandoval, Provost Jeff Thompson and College of Engineering Dean Erick Jones entered Eric Wang's classroom on April 25, to announce Wang was the 2023 Bible Award winner, it was a moment that might've been unlike any other for Wang.
Yes, he had won other awards at the University, including the F. Donald Tibbitts Distinguished Teacher Award in 2003. But this one, the Paul and Judy Bible Teaching Excellence Award, which invites students to submit nominations each year and is given annually to recognize and reward outstanding teaching by the University's faculty, seemed especially poignant for Wang.
"We all know that engineering is really hard," Jones said once everyone had entered Wang's classroom and the class was momentarily halted to announce the news. "This award is well-deserved. I'm proud of you."
"I'm surprised," Wang said. "It's a student-nominated award. It really touches my heart."
What follows is a Q&A with Bible Award winner Eric Wang, about his award this year, his career at the University, and what is still to come. Wang suffered a serious injury on May 19, 2022, when he fell 50 feet while rock climbing. Along with a broken ankle and five broken ribs, Wang fractured his T12 vertebra that resulted in him being paralyzed from the belly button down.
The Bible Award is interesting because nominations start with the students. Does this fact make the award even more meaningful to you?
E.W.: Being nominated by students is wonderful, but I was especially moved by the nomination because I was nominated in the fall of 2022 – just I after I got released from a two-month stint in the hospital because of my accident.
Knowing you're in contention for this award can be a little nerve-wracking and at the same time, a little invigorating I would guess. What were some of the thoughts you had as you went through the nomination/selection process?
E.W.: I was actually very hesitant to accept the nomination because I still was on sick leave and had no idea what teaching from a wheelchair would be like. In the classroom, I can only reach the bottom of a whiteboard – which is also the hardest part for students to see. In the computer labs, I cannot help students because there is not enough room between rows of computers to fit my wheelchair. But I talked to a couple of the previous winners and I was encouraged to proceed. I practiced using my iPad in place of the whiteboard and was able to switch my class from SEM to a new computer lab in the new William Pennington Engineering Building that has just enough space between computers for my wheelchair.
It is really hard to believe that you've been at the University as long as you have. Throughout your time on campus, though, there has always been a feeling that you always, always, always give your work your best. Why is this? Where does your motivation come from?
E.W.: This is a hard one to answer. I have no idea where anyone's work ethic comes from. For me, I just don't like to let anyone down. I also strongly believe in continuous improvement. There is always a way to make a class better.
The past year has been a hugely significant one for you. If you are uncomfortable or don't want to share too much about your injury, I completely understand. But I was hoping to ask you how, if at all, your return to the classroom has helped you in your recovery process. Have there been any changes for you in how you teach? Or has much of it still felt the same? Did knowing you needed to return to the classroom help you?
E.W.: On May 19, 2022 I fell 50 feet while rock climbing. Along with a broken ankle and five broken ribs, I fractured my T12 vertebra that resulted in me being paralyzed from my belly button down. I am one of the lucky ones in that in am considered an "incomplete paraplegic", meaning my spinal cord was damaged but not completely severed. This means that I am currently confined to a wheelchair, I have partial control of some muscles below the injury level. This also means that there is still hope that I will be able to walk again someday. Unfortunately, returning to work has definitely slowed my recovery since I cannot devote as much time to physical therapy. On the other hand, returning to work has been very good for my mental health. Teaching and working with students makes me feel productive rather than like a burden to my caregivers.
I've always wanted to ask you why you became a professor in the first place. Who helped you on this path? Why did you know that being a professor was what you ultimately needed to do?
E.W.: My path to being a professor was neither obvious nor planned in any way. At each educational milestone (B.S., M.S., Ph.D) the easiest path was to enter the corporate world but each time a series of last minute decisions lead me to staying in school. I taught a couple of classes in my last year as a Ph.D student and was hooked. I had no idea before then that I was even remotely interested in being a professor.
It was so neat to see some of your former students among those who were there during the award presentation. What did that mean to you?
E.W.: When I first saw President Sandoval, it took me a few seconds to realize what was going on. Having so many former students there really made it special.
I ask this of all of our teaching award winners – what's next? Do you still feel there are still things to learn, that you can still find even more meaningful and impactful ways to share your teaching with your students?
E.W.: I have the best job in the world. But my accident has shown me the old adage is true – nothing is more important than your health. With that in mind, I'm starting phase-in retirement this July. This means I will be working part-time for the next few years and completely retiring from the University in 2025. After that, I plan to push my broken body to its limit.
Anything else you'd like to add?
E.W.: Adaptive equipment is mind-blowingly expensive. I've been looking at an adaptive mountain bike for a while but the $15,000 price tag has prevented me from seriously considering purchasing one. Until now. I know exactly how I'm spending the honorarium. Pushing my broken body to its limit …