Growing up in Reno, Nephtali Barrera '22 M.D., noticed a need to bridge communication barriers, particularly those his parents faced during doctor visits.
"I had to accompany my parents on doctors' visits because the physicians didn't speak Spanish," Dr. Barrera, a first-generation Mexican-American, said. "I want to be a physician for communities that are not receiving the support they need."
Last year, Dr. Barrera graduated from the University of Nevada, Reno School of Medicine. He works today on rotation at Renown Regional Medical Center, the VA hospital and the University health clinic on Moana Lane.
Dr. Barrera also serves as a first lieutenant in the 152nd Medical Group, Nevada Air National Guard, as a recently commissioned medical officer. More than 240 Nevada Guardsmen in the Nevada Army and Air National Guard work as medical professionals, whether as nurses, doctors, dental technicians or in other fields.
"It's not out of the realm of possibility when you're sitting in a dental chair or a doctor's office, the hygienist or physician across from you also wears the uniform as a member of the National Guard," said Lt. Col. Bruce Gallio, MPH, PA-C, a member of the Nevada Air National Guard's medical group. Gallio also works as a physician assistant at Swift Institute and community faculty at UNR Med.
"Both medical and military fields are similarly dedicated to service," he said.
In 2018, Dr. Barrera was accepted at UNR Med and entered the Nevada Air National Guard's Early Commissioning Program for Physicians or "Baby Doc" program. The program allows aspiring doctors to be commissioned as military officers and enter medical school.
It's one of several partnerships the Nevada Air National Guard has within the medical community, including the R-TEAMS (Readiness, Trauma, Education, and Medical Sustainment) course through Renown Health.
Mental health and overall care
There is an increased need for collaboration between academic and military communities, given the mental health demands in the military, said John Westhoff, M.D., MPH, a retired U.S. Army colonel and interim chair of the internal medicine department at UNR Med.
"All these bodies that are injured are attached to brains," Dr. Westhoff said during "No Stigma Nevada," a mental health podcast produced by journalist Kim Palchikoff. "Everyone is dealing with it differently. … Often, the mental health issues that I am dealing with are complicating the care of other conditions."
Gallio added: "It adds a new dynamic to my civilian life. We don't talk about (mental health) in ortho, but because of the military, I am more attuned to it. The Baby Doc program is one of many ways to bridge the gaps with both these communities, especially for aspiring doctors and care here in northern Nevada," he said.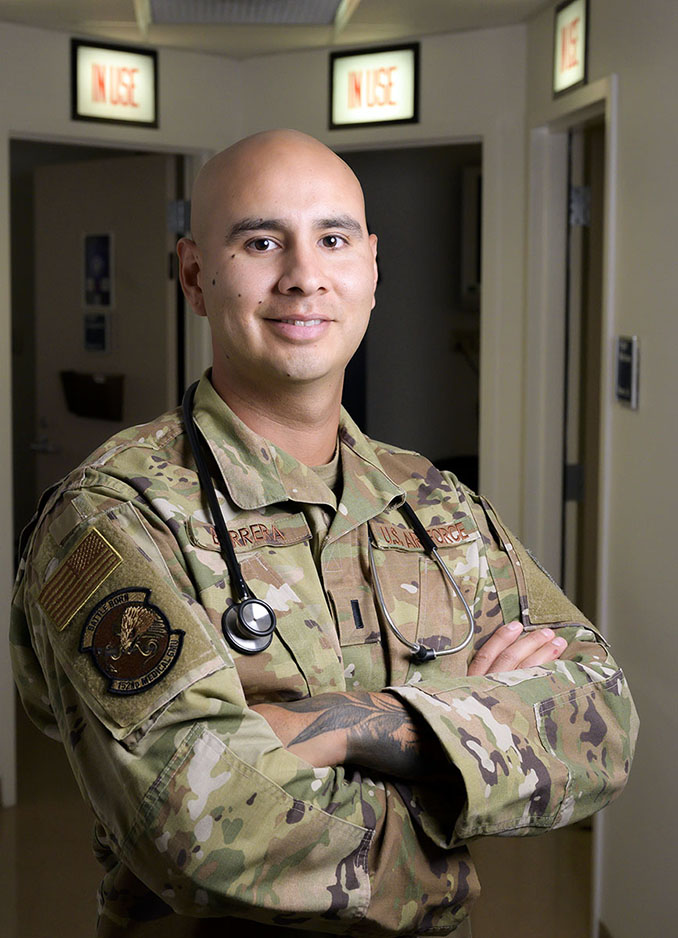 Path to military service
For Dr. Barrera, military service provided a foundation for his path to becoming a doctor.
After graduating from North Valleys High School in 2007, Dr. Barrera worked at RR Donnelley West Coast, a printing company off Lear Boulevard in Stead.
He also attended college courses at the University.
Barrera was interested in biology and anatomy, especially after stumbling upon the Discovery Health Channel and experiencing those doctors' visits that brought language barriers between physicians and his parents as a child.
"As I grew older, it was not just about taking care of people, but also being able to make a difference by bridging those language barriers that we've had for a very long time in our country," he said.
In 2009, during the Great Recession, Dr. Barrera lost his job and needed a way to pay for college courses. A family friend told him about the Nevada Air National Guard, and he joined as an optometry technician in the medical group in Reno.
The Nevada National Guard is primarily a part-time reserve force, with about 75% serving as traditional Guardsmen one weekend of training each month and two weeks each year. Most work full-time jobs outside the military or attend college.
The Nevada Air National Guard's largest unit resides in Reno on the south runway of the Reno-Tahoe International Airport. The C-130 military unit includes four main groups or sections: operations, maintenance, support and medical. The medical group provides administrative support for the unit, ensuring all Airmen remain updated on shots, dental records, and various health assessments in preparation for deployment to support the state and nation at a moment's notice.
While an enlisted Airman from 2009-18, Dr. Barrera also worked as a junior health technician and medical administrator.
"But the goal always remained to go to school, commission and become a doctor," he said.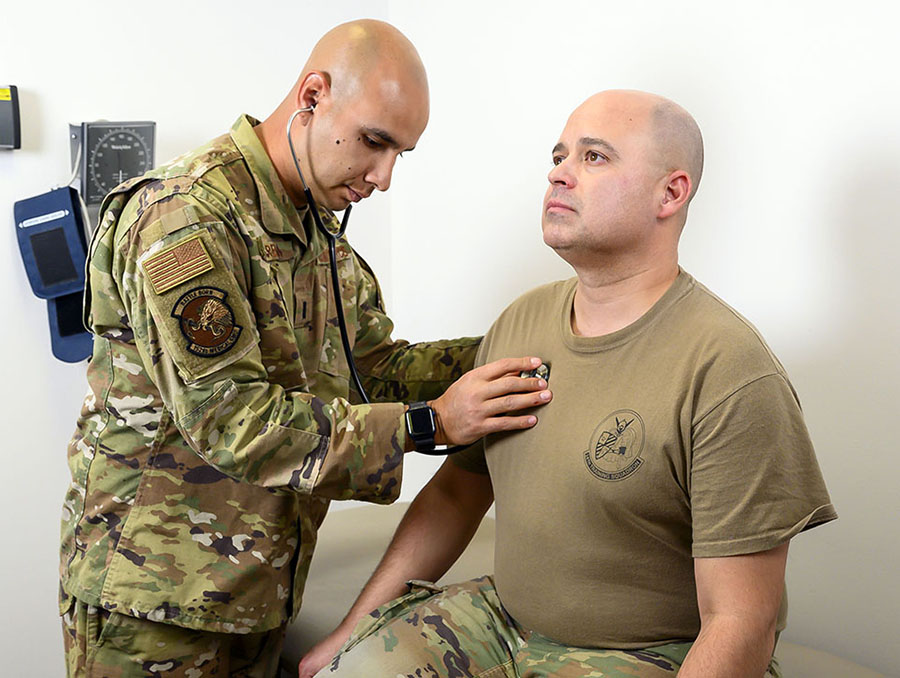 "It takes more than fancy flying, Maverick"
In 2018, Dr. Barrera was accepted at UNR Med and entered the Nevada Air National Guard's "Baby Doc" program. The Nevada National Guard has graduated six members through the "Baby Doc" program since 2017, with two members enrolled in courses this year.
"The mentorship I received at the Nevada Air National Guard and continue to receive there is second to none," Barrera said. "I was always surrounded by great leaders who helped mold me into who I am today."
One of those leaders, Col. Martin Bain, M.D., FACS, helped guide Dr. Barrera through the process.
"He excelled at his enlisted job, but at one point, he came to me and said, 'I want to go to med school,'" said Bain, who retired from the Nevada Air National Guard in 2022 but still works his civilian job as a trauma and acute care surgeon at Western Surgical Group in Reno. "I was taken aback. I wasn't sure he was ready for medical school. I think I told him the 'Top Gun' line, 'It takes more than fancy flying, Maverick,' but I encouraged him. I told him to commit himself 100%. He did very well throughout med school and ultimately graduated, and I had the privilege to commission him."
Throughout the process, the Nevada National Guard provided Dr. Barrera time to study, even during drill weekend, and UNR Med accommodated his calls for military service.
"It was challenging to juggle military work with my studies, but the medical group in the Air National Guard always allowed us to focus on schoolwork if we needed time to study," Dr. Barrera said. "Joining the Nevada Air National Guard was one of the most important decisions of my life."
"He is a superb family practice resident," Bain said. "He's matured past where you would expect him to be at this level, and I would attribute much of that to the Guard."
"Reno is home"
The Nevada National Guard is also where Barrera met his wife, Hannah, a registered nurse at Renown. They live in northwest Reno with their 2-year-old daughter, Teddy.
"We were both lucky to go through school here in Reno," said Hannah, a 2017 graduate of the Orvis School of Nursing. "This community has really supported us, so we want to give back. We want to stay here in Reno."
For Dr. Barrera, that means pursuing that passion cultivated through childhood—bridging those gaps with underrepresented groups and language barriers toward medical care.
"I'd like to work somewhere like the Community Health Alliance," he said. "Their mission aligns with much of what I would like to do. Given everything the community has done for me, I want to stay here because Reno is home."
---
Capt. Emerson Marcus '10 '15 M.A. is the Nevada National Guard State Public Affairs Officer. Capt. Marcus graduated from the University of Nevada, Reno with a B.A. in journalism and M.A. in history.