Join the Associated Students of the University of Nevada (ASUN) and the Nevada Alumni Association on Oct. 12 at the historic University Quad from 6 to 8 p.m. to start the University's yearlong sesquicentennial celebration. This kickoff event, called "150th Bash/UNLV Clash" will be a pep rally-style gathering with music, giveaways, lawn games, food trucks and members of Nevada Athletics sports teams. There will even be a fireworks display near Morrill Hall!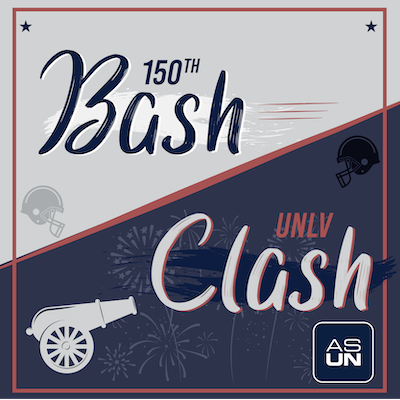 ASUN leadership and Nevada Athletics coaches will be in attendance and address the crowd, getting everyone ready for the annual Nevada football game versus UNLV, which will take place on Saturday, Oct. 14, 2023.

ASUN leadership is excited to offer this event, free of charge, to the entire community.
"We know that the student body looks forward to the UNLV rival game, and this event will bring together the Wolf Pack spirit and include students in the 150th celebration!" ASUN student body President Boris Carpio Guerra said. "Go Pack!"
The Wolf Pack Marching Band and the Nevada Cheer Squad will be giving performances during the celebration. Giveaways and inflatables will also be highlights of the action-packed event.
"The 150th Bash/UNLV Clash will be an amazing event featuring the 150th anniversary of the University and getting students hyped up for the UNLV game," Hannah Alquiza, ASUN vice president, said. "The University has grown so much, and we are beyond excited to partner with everyone for this event!"
The University was established in 1874, and October 12, 2023 is the University's 149th birthday. The University is holding a yearlong celebration honoring the impactful history of the institution, culminating on Oct. 12, 2024 with the 150th anniversary. You can view more information on the sesquicentennial webpage.