The Student Services' First-Generation Student Center received three Upward Bound Classic (UB) Program grants and one Upward Bound Math Science (UBMS) Program grant from the U.S. Department of Education. The $6.7 million in federal grant funding will support efforts from the University of Nevada, Reno to continue providing intensive college preparatory services to first-generation, income-qualified students throughout Northern Nevada for the next five years.
"This funding means direct support to local high students in Washoe and Lyon counties through the provision of free, top-notch college preparation services," said Ellen Houston, Executive Director of the First Generation Student Center at the University of Nevada, Reno which houses the UB/UBMS programs. "The UB/UBMS team works hard to inspire and assist young people in pursuing their dreams of higher education. We are excited to have our funding renewed and continue to work with students at our eight federally identified target high schools."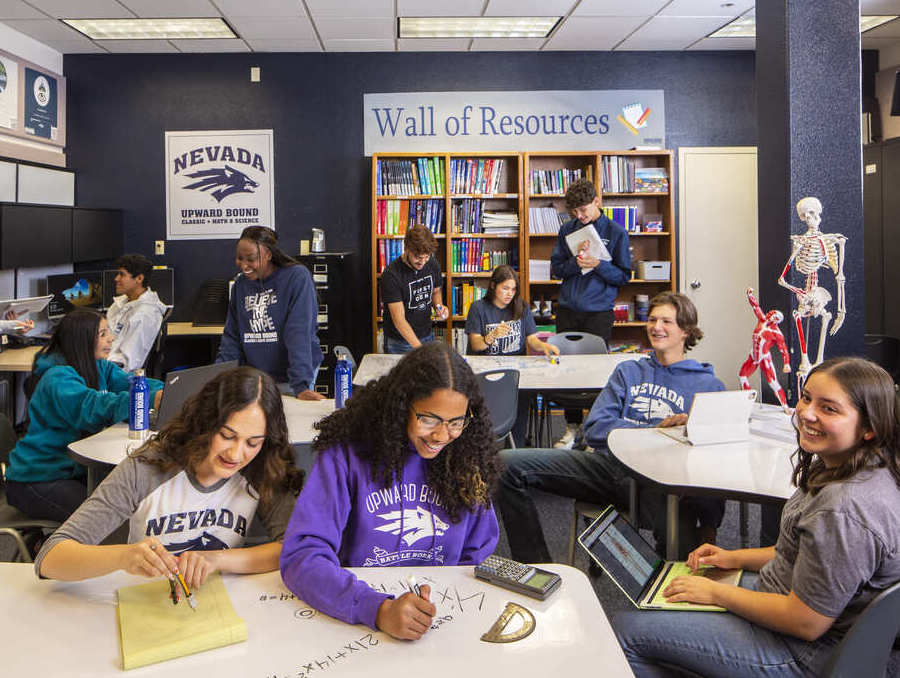 The UB/UBMS programs not only provide the intensive academic support, guidance and rigor needed to be successful in high school, but they provide a second home and safe space for high school students to explore, grow and stretch outside of their comfort zone as they prepare for their postsecondary education. The program provides a host of student enrichment activities, such as college tours, exposure to STEM careers, financial literacy, professional development and internships to help empower students to feel ready for college.
University of Michigan Economics & Public Policy PhD Candidate and Upward Bound alumna, Mary Quiroga states "Through high school and college, being part of the UB/UBMS family meant that there was always a friendly face checking up on me. My counselor and other staff members made it possible for me to succeed academically and also take part in cultural activities, broadening my perspective. I'm proud to be a UB alumna and grateful to all the UB/UBMS students and staff who supported me along the way."
Students who participate in the program commit to a full slate of college preparation initiatives, including monthly academic workshops and evening tutoring hosted on the University of Nevada, Reno campus, participation in service learning and civic engagement events and frequent advising meetings in their high schools with UB/UBMS professional staff.
"I am in awe of our students every day," said UB/UBMS Program Director, Jennifer Sims "Upward Bound students are some of the most hardworking and outstanding young leaders I have ever seen."
Supporting Students
Upward Bound Classic + Math & Science Programs provides free college preparatory services and support to develop the skills and knowledge essential for successful admission, persistence and completion of postsecondary education.
Upward Bound Classic + Math & Science Programs collectively serve 246 students from eight target schools within the Lyon and Washoe County School Districts.
The Washoe Grant Program, first funded in 1967, serves 86 students at North Valleys High School and Procter R. Hug High School.
The Northwest Grant Program, first funded in 2000, serves 50 students at Fernley High School and Silver Stage High School.
The Truckee Grant Program, first funded in 2003, serves 50 students at Sparks High School and Spanish Springs High School.
The Silver Math Science Grant Program, first funded in 2017, serves 60 students at Earl Wooster High School and Edward C. Reed High School.
UB/UBMS is more than just academic advising, college application assistance, SAT/ACT test preparation, and tutoring for students. UB/UBMS is a means to help students become the first in their families to graduate with a four-year college degree and turn their dreams into a reality.
Danny Rhodes Upward Bound alum shares "Upward Bound has given me the confidence I needed to believe in myself to achieve my wildest dreams. Upward Bound means justice and liberation to me. I did not know my purpose or place in this world until Upward Bound. Now, I desire to empower and support other first generation students just as UB/UBMS did for me.
History of TRIO Upward Bound in Nevada
Born out of the Economic Opportunity Act of 1964 and President Lyndon B. Johnson's War on Poverty, Upward Bound was the United States' first federal program designed to prepare low-income students for college and career success. The Upward Bound Washoe Grant Program was one of the original 18 programs authorized by the U.S. Department of Education, and has been continuously funded at the University of Nevada, Reno since 1967 – a feat achieved by few universities across the nation. This fall 2022 will mark 55 years of college and career success for Upward Bound Programs at the University of Nevada, Reno.
Upward Bound Math Science Programs were established by the U.S. Department of Education in 1990 to address the need for specialized math and science instruction and the creation of post-secondary STEM pipeline programs for pre-college students. The University of Nevada, Reno was awarded Northern Nevada's first Upward Bound Math Science Program in 2017.
Student Services First Generation Student Center
Given the tremendous need in Nevada, the University of Nevada, Reno has demonstrated staunch commitment to the success of first-generation students by establishing the Student Services' First-Generation Student Center (FGSC) an entire department dedicated to underserved students. The FGSC unit serves approximately 800 pre-college and college students and includes: Upward Bound Classic, Upward Bound Math Science, Student Support Services, STEM Student Support Services, McNair Scholars, the First-Generation Coalition, the Child Care Access Means Parents in School project, the UNR Fostering the Pack project for former foster youth and the First in the Pack program for low-income, first-generation college students. First in the Pack, TRIO Scholars and TRIO STEM Scholars provide first-generation, income-qualified undergraduate students services to overcome the cultural, academic, class and socioeconomic barriers to success in higher education. McNair Scholars provides research opportunities and academic experiences that promote the acquisition of a doctoral degree for first-generation, income-qualified, and underrepresented University of Nevada, Reno juniors and seniors. Fostering the Pack is designed to help college students who have experienced foster care through the state of Nevada after the age of 13. Child Care Access Mean Parents in School (CCAMPIS) provides support to income-qualified parents enrolled in post-secondary education through the provision of quality, affordable and accessible campus-based child care and other academic services to assist with degree attainment.