Six months into a research project on the advanced manufacturing of titanium alloys, College of Engineering Professor Yufeng Zheng sees the potential to manufacture this lightweight but strong material – critical in the aerospace and biomedical industries – at lower cost.
That would make titanium alloys more available to the many industries that need it, and could ultimately mean less expensive prosthetics and titanium products.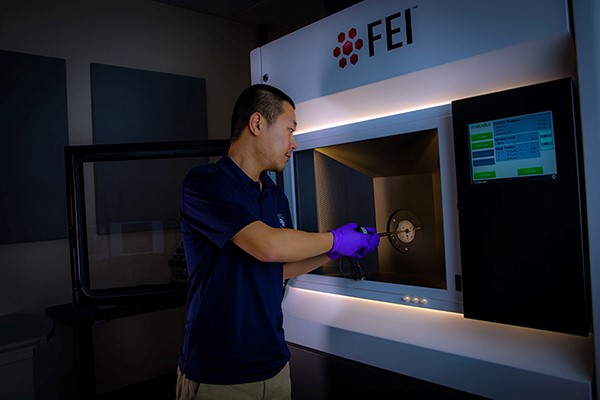 Zheng's research involves optimizing compositions of titanium alloys — titanium combined with other metal elements to increase malleability and workability — that has low-cost alloying elements, rather than the expensive alloying elements currently used. Also contributing to optimizing the cost of fabricating titanium alloys: high processing temperatures.
"We're also trying to figure out a way to manufacture titanium alloys at room temperature," Zheng said.
Last fall, he received a $241,192 collaborative research grant from the National Science Foundation for this work. Over the next three years, Zheng will partner with Professor Liang Qi from the University of Michigan on this project.
Zheng, who also serves as interim director for the Electron Microscopy and Microanalysis Facility (EMMF), is looking at titanium alloys in minute detail, investigating a mechanism that happens at the atomic level known as deformation twinning. This process describes how atoms move along a specific orientation by a displacement, generating the shape and volume variation.
Zheng and one of his graduate students, Dian Li, will use the cutting-edge equipment available in EMMF to study a type of unique deforming twinning mechanism referred to as the high index deformation twinning mechanism in titanium alloys.
"We will utilize the high-throughput fabrication and mechanical testing equipment to rapidly map the interrelationship between the alloy composition and deformation mechanism in titanium alloys," Zheng said.
Those results will guide the discovery of titanium alloys containing low-cost elements with improved room-temperature workability.
Meanwhile, Qi will use first-principle computational simulation — a technique for modeling at the atomic level — and physics-informed machine learning — a branch of artificial intelligence and computer science — to crunch the data. That information will be used to develop an innovative method to search the targeted titanium alloys systems with enhanced room-temperature workability.
But it's the research here at the University of Nevada, Reno, that sparks Zheng's passion. His expertise is in electron microscopy, an area that the College of Engineering has prioritized. Over the past few years, EMMF has acquired the cutting-edge equipment that Zheng and Li are using to study titanium alloys, including the Thermo Scientific Scios 2 Dual Beam Focus Ion Beam/Scanning Electron Microscope and the FEI Talos F200s Scanning Transmission Electron Microscope.
"I'm here at the right time," Zheng, who joined the University in 2019, said. "I really appreciate the College of Engineering's dedication to expanding the EMMF facility. Without (the new equipment) I could not do this research."