Over three days, Thursday, May 12-Saturday, May 14, the University's 2022 Spring Commencement Ceremonies made a triumphant return to the Quad.
Due to the pandemic, the last Spring Commencement held on the Quad was in 2019. Since then, a virtual Spring Commencement was held in 2020, followed by 2021's ceremonies in Mackay Stadium due to social distancing concerns.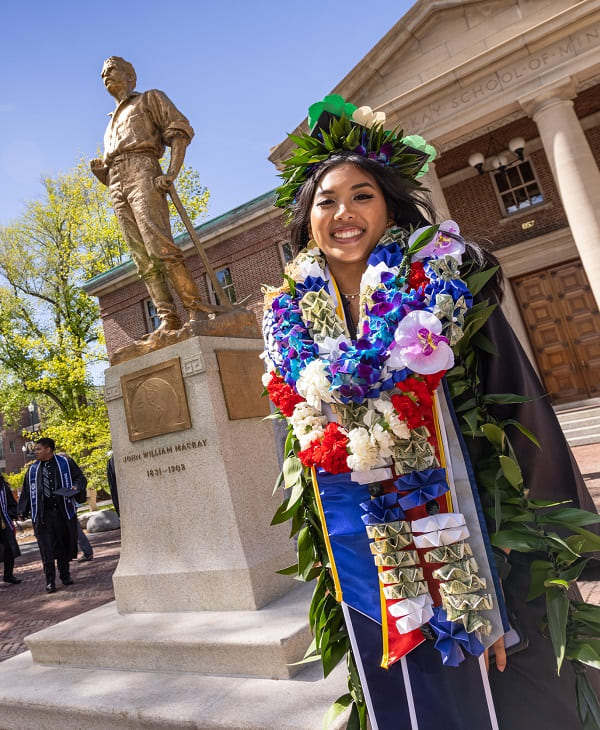 This year, however, more than 3,000 degrees were conferred over three days where the weather kept getting sunnier and warmer, and the enthusiasm of the graduates made the ceremonies feel like one big family reunion.

"Today we restore this wonderful University tradition of being on the Quad to celebrate all of you," President Brian Sandoval said. "The Quad is part of that silver thread that connects all of our graduates. It's been three years since a graduate walked this hallowed ground.

"And to get here, you never wavered. You moved forward, no matter what. The Quad is the place where we realize our lifelong dreams … and then commence to another."
Sandoval told the graduates that even with a great deal of uncertainty in the world right now, the power and potential for transformation that lies in having worthy dreams still is strong for all people.
"And what about dreams?" he asked. "Can we still allow ourselves to dream when the world is faced with so many challenges? I think we can. What's more, I think we must. Your dreams are indeed worth every ounce of energy that you've given them."
Sandoval added, "We need innovators, thinkers, collaborators, and leaders like all of you. You can never put a price on your vision, intellect and experience, which you've honed during your time with us … All of you, all of the Class of 2022, have it within you to make this difference."
"To get here, you never wavered. You moved forward, no matter what."
During Thursday's morning ceremony, the University awarded its most prestigious student academic honor, the Herz Gold Medal, to Nicole Alexandra Shepherd.
Shepherd was a dual degree student, earning a Bachelor of Science degree in Business Administration with a major in Accounting, a Bachelor of Music degree with a focus in Clarinet Performance, with a minor in Mathematics. Shepherd has volunteered with the IRS Volunteer Income Tax Assistance Program, interned with KPMG in Audit, and will be starting with KPMG as an Audit Associate at the Sacramento office after graduation.
Additionally, she has been extensively involved with music at the university-level and beyond. Highlights of her musical accomplishments include performing with both the Reno Philharmonic Orchestra and Reno Chamber Orchestra, being selected as one of the soloists for the Annual Honors Concert in 2020, and collaborating with the graduate Nightingale String Trio. Through all these diverse experiences, Shepherd said she has thoroughly enjoyed her time at the University of Nevada, Reno, and knows that her education has prepared her for all of the opportunities that lie ahead.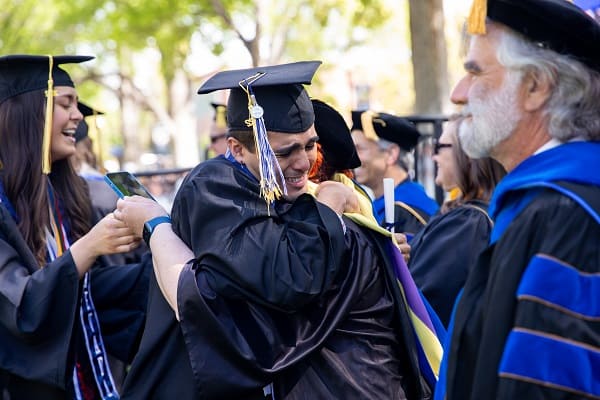 On Friday, the University honored two Distinguished Nevadans and presented an honorary degree.

Guy Clifton, an award-winning journalist, author and Nevada history buff was one of the Distinguished Nevadans. He was raised in Gabbs, Nevada, before attending the University of Nevada, Reno's Donald W. Reynolds School of Journalism, where was editor-in-chief of the Nevada Sagebrush newspaper in 1985-86. He began his professional career as sports editor of the North Lake Tahoe Bonanza in 1986 before serving as editor of The Record-Courier in Gardnerville. His 30-year newspaper career is perhaps best known for the 22 years he spent at the Reno Gazette-Journal in a variety of roles, including his "Nevada Notes" and "Real Nevada" columns which helped bring the state's history alive by highlighting Nevada's people, history and notable events. Clifton is the author of eight books, all with Nevada themes, including the popular "You Know You're a Nevadan, if…" series which former Nevada Gov. Kenny Guinn once called "essential reading if you are serious about being a Nevadan."
Carol Franc Buck was the other Distinguished Nevadan honored. She a long-time philanthropist and avid supporter of the arts and education, believing that art education is an effective way to engage young people in learning across all subjects. For more than four decades, the Carol Franc Buck Foundation has supported numerous programs on the University of Nevada, Reno campus, including a lead gift to the University Arts Building.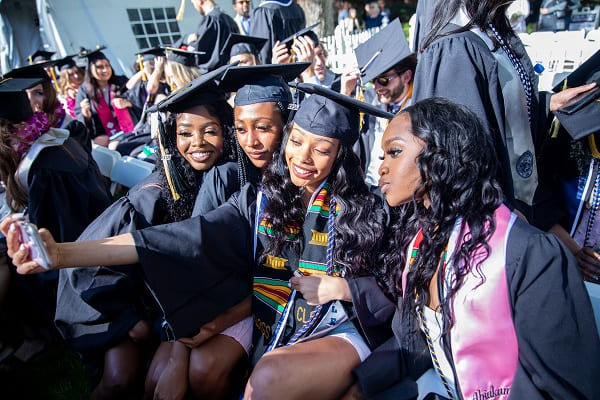 The 1958 graduate of Stanford University's philanthropy includes gifts to KUNR-FM public radio, the Nightingale Concert Hall, the Pride of the Sierra Marching Band, Carol Franc Buck Foundation Sculpture Garden at the Mathewson-IGT Knowledge Center, the Nevada Museum of Art, the Thunderbird Lodge Preservation Society, the San Francisco Opera, and the Metropolitan Opera. An Emeritus Trustee of University of Nevada, Reno Foundation, Carol also gave her time to serve on the boards of the San Francisco Symphony, the San Francisco Opera Association, the Arizona Opera Company, and the Western Opera Theater.

Carrie and Mary Dann, the late co-founders of the Western Shoshone Defense Project, which chronicles the battle to preserve unceded Western Shoshone homelands to the U.S. Government, were presented with an Honorary Doctorate of Humane Letters.
The Dann sisters' project is now housed within University of Nevada, Reno University Libraries Special Collections and University Archives department. The Defense Project is a collection of documents spanning decades that demonstrates the Project's mission to affirm Western Shoshone jurisdiction over Western Shoshone ancestral homelands by protecting, preserving, and restoring Shoshone rights and lands for present and future generations. Carrie Dann also advocated for Native American Tribes in Southern Nevada and protested against mining companies contaminating sacred land and waters of the Western Shoshone. Both of the Dann sisters are considered seminal figures in the history of Indigenous People and the fight to tirelessly defend Indigenous land rights in Nevada and throughout the West.