Lourdes Valdez and Ramneek Dhami, two medical students at the University of Nevada, Reno, hosted a free skin cancer screening clinic open to all University students and personnel in spring of 2022. The clinic was in partnership with the Nevada Cancer Coalition at the Center for Molecular Medicine.
Valdez and Dhami chose to host the event during May, which was Skin Cancer Awareness month, in the hopes of promoting preventative skin cancer measures and healthy sun safety practices.
"It is estimated that, for 2022, there will be 770 new cases of melanoma diagnosed in Reno," Valdez said. "As medical students and Nevadans, we feel a passion for community engagement in regard to skin cancer awareness as Reno has 252 sunny days and is at an increased elevation, which places our local community members at a greater risk of contracting skin cancer."
Valdez is passionate about bringing skin cancer awareness to people of color, especially in a place that is exposed to high levels of year-round sunlight.
"As a Mexican-American citizen with darker skin, I thought that my pigmentation would protect me from the harmful rays of the sun that caused skin cancer. I never received any formal education growing up regarding this topic, especially for people who looked like me," Valdez said. "Thus, as a child, I would hardly ever wear sunscreen, and now, as an adult, that's one of my biggest regrets and one of the reasons that I'm so passionate about skin cancer awareness."
Similarly, Dhami also has a personal passion behind bringing skin cancer awareness to people of color and bringing more education to those groups.
"This was a personal anecdote for me. I was never taught skin cancer prevention methods while growing up because I think my family just didn't know about it. I think this is a similar story for many people of color and children of immigrants," Dhami said.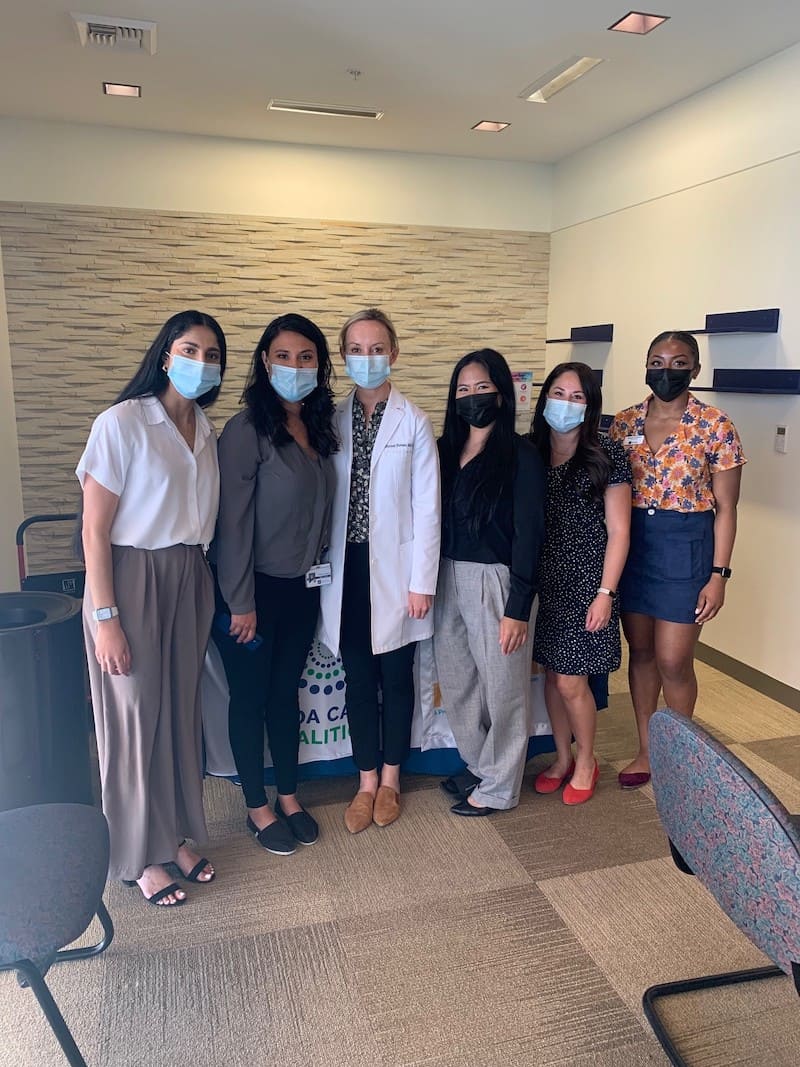 Misconceptions about people of color not needing to wear sunscreen can be dangerous because sun exposure can make individuals more susceptible to skin cancer. The medical students explained that sharing proper education and awareness is necessary, especially in communities where people are not taking necessary precautions like putting on sunscreen or checking their skin for new or changing lesions.

"Many people don't know about skin cancer, its dangers or its risk factors, unless there is family history involved. Although the skin is the largest organ of the body, we tend to not take care of it like we do other parts of the body," Dhami said. "We wanted to host the free clinic to spread education regarding skin cancer and to encourage people to take care of their skin, learn about skin cancer risk factors and be vigilant for signs of skin changes."
Several groups supported the two in the event and aided with providing resources and education to both volunteers and students.
"This event would not have been possible without the gracious support of the Skin Cancer Dermatology Institute, the Nevada Cancer Coalition, the Office of Medical Research and all of the amazing volunteers who participated in the event," Valdez said. "The amazing providers at SCDI not only donated their time, but [also] their expertise, in educating patients and our fellow student volunteers about skin cancer. Christine Thompson with the Nevada Cancer Coalition was also instrumental in spreading education and set up a booth at the event with free sunscreen sticks, UV bracelets and general sun safety information to patients throughout the event."
According to Valdez and Dhami, 43 individuals associated with the University attended the free clinic. Vendors included six dermatology providers, as well as 12 medical and physician associate student volunteers.
"We do hope to repeat the event next year, on a larger scale and available to the public instead of just for UNR-affiliated individuals. We hope to conduct larger skin cancer screening clinics for the public, especially targeting areas that do not have readily available access to healthcare," Valdez said. "We also conduct skin cancer prevention presentations in health and physical education classes in schools in the Washoe County School District and hope to expand these presentations to sports programs at the schools, as well as the UNR campus intramural sports teams."