Each semester, the University of Nevada, Reno and the Alumni Association honor an undergraduate student from each school or college who meets the exceptional Senior Scholar program standards. The graduating scholars are each have selected a mentor who made an impact in their academic success. These outstanding members of the Wolf Pack have helped the University continue to develop as a center of academic excellence.
---
Elsie Lyon Childress
Mentor: Tamzen Stringham, Ph.D.
Meet Elsie Childress, the Winter 2022 Senior Scholar from the College of Agriculture, Biotechnology & Natural Resources.
Elsie came to the University of Nevada, Reno to be on the alpine ski team and because of its proximity to world-class mountains and abundant snow. Reno is close enough to Elsie's home that she can still visit her family. She is incredibly grateful to be a recipient of the University's National Merit Scholarship.
She decided on her major after her childhood experiences invoked a love of nature in her. Growing up, she and her family spent many hours driving across Southern Idaho with her teammates to Salt Lake, Bend, Jackson and more. She spent so many hours staring out the window, looking at the "Sagebrush Sea," that she couldn't help but fall in love with it. When she was presented the rangeland management major at orientation, she knew she had found the right fit for her.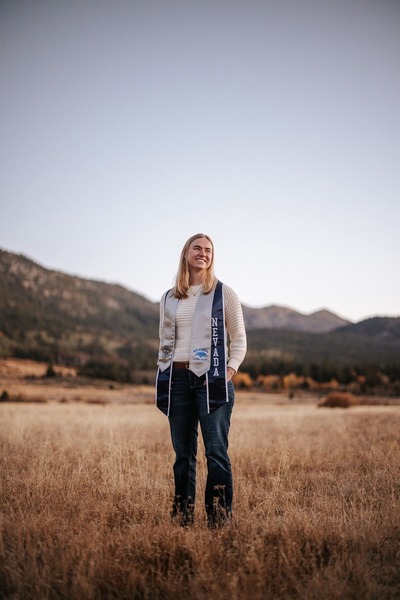 One of her favorite college memories was when she was president of the Winter Sports Club and spent a year fundraising. She launched the Learn to Ski Program. The program partnered low-income students at UNR with expert skiers and boarders from the club who taught them to ski or board for a day. Through that program, the experts were able to give the joy of skiing to 20 students who wouldn't have been able to experience it otherwise.

After graduation, Elsie looks forward to a full-time position with the Natural Resources Conservation Service, Department of Agriculture. She will be working to help Nevada's farmers and ranchers conserve natural resources on their private lands.

She selected her mentor, Dr. Tamzen Stringham, because Dr. Stringham's restoration class was the most challenging, rewarding class she took at the University. In that class, she got to go out to central Nevada, observe and collect data on rangelands and bring it back to Reno to create a real restoration plan, which she says was an incredible experience. She was grateful to have Dr. Stringham and all her knowledge and expertise to answer questions, which made the learning experience for Elsie much better.
---
Cameron John Emerson
Mentor: Jessica Gallo, Ph.D.
Meet Cameron Emerson, the Winter 2022 Senior Scholar from the College of Education & Human Development.
Cameron chose to attend the University because he has always had a goal of becoming the first male in his family to graduate from college. Having been born in Nevada was also something that has motivated him over the years – to experience the beautiful university that Nevada has to offer and to take advantage of the in-state benefits.
He decided to choose his major because as a student, there have always been teachers, instructors and coaches who significantly impacted Cameron's life and inspired him in many ways. He decided to enter the path of becoming an educator because he wants to be that same person for students one day and to be a positive outlet and role model for today's youth in as many ways as he can.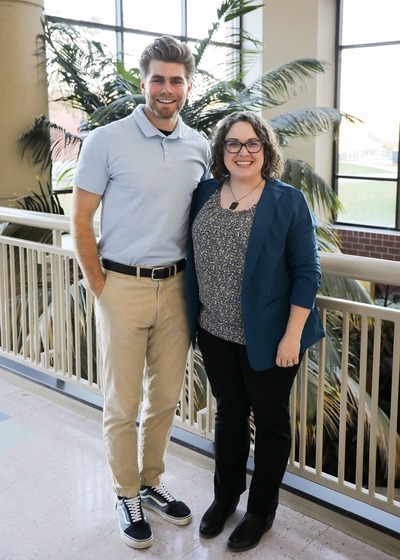 Cameron can't pick just one college memory as his favorite but says that the people that he met and the relationships that he has built through his college experience is something that he will always be thankful for.

After graduation, Cameron plans to continue his passion in education and pursue his career as a high school educator and football coach.

He says that Dr. Gallo has been an amazing mentor for him and for so many other students at the University. In the midst of the pandemic, Dr. Gallo molded her class into an online course that helped students progress as future educators in many ways. Her patience, knowledge of content, insight and encouragement is something that Cameron hopes to pour into his future students one day. He will always be extremely thankful for the role Dr. Gallo played in developing him as both a student and as a teacher.
---


Sarah Anne Danen
Mentor: Krishna Pagilla, Ph.D.
Meet Sarah Danen, the Winter 2022 Senior Scholar from the College of Business.
Sarah picked the University of Nevada, Reno because she was born and raised in the Reno area and has felt deeply connected to the campus community since she was young. She knew the University could offer her both a vibrant campus environment and rigorous academic courses.
She chose accounting as her major after talking with many close friends and family who found success and fulfillment in the field. Accounting, she says, also offers a wide range of professional careers in every industry of business.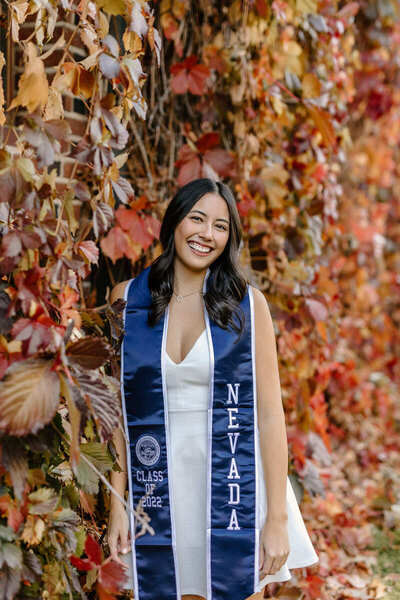 Sarah's favorite college memory is attending the Nevada tailgates and football games with her friends. She adds that the excitement of the entire campus community is always electric on game days.

After graduation Sarah plans on pursing her Master of Accountancy degree here at the University. She will also be working at a local public accounting firm while she studies to become a Certified Public Accountant.

Dr. Pagilla played a huge role in shaping her current professional career. During her first two years of college, she worked under Dr. Pagilla in the Civil and Environmental Engineering Department at the University. She was able to gain the many skills needed to work in a professional setting. The support and encouragement he and all of CEE offered inspired her to advance her career. She was motivated by her time working in that office to pursue a public accounting internship where she still maintained the same skills and work ethic that she gained while working under Dr. Pagilla.
---
Nicholas Tyler Ang
Mentor: Keith Lancaster, Ph.D.
Meet Nicholas Ang, our Winter 2022 Senior Scholar from the College of Engineering.
Nicholas chose to attend the University because the computer science program is very good, and being from Las Vegas, he wanted to go to a place that was close to home, but not quite home.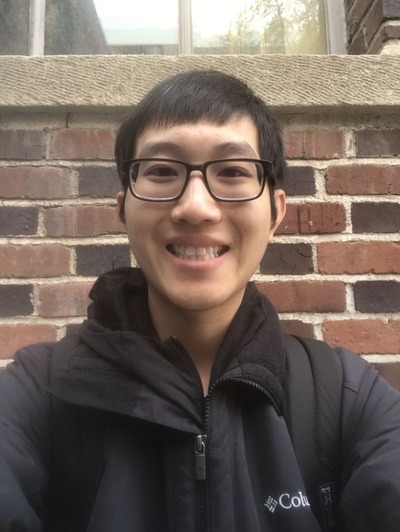 He decided on a computer science degree because he always liked computers. He was fascinated by how they work, how they are built, and how to make it do what you want it to do. Nicholas was always fairly good at the math and sciences, so it applies well to computer science.

His favorite college memory was being taken up to the roof of the physics building with some friends to see the weather stations and technology there. He enjoyed seeing the telescope, the particle sensors and different designs people had there and found it interesting to hear about how different sensors worked and applied.

After graduation, Nicholas plans to find work as a software engineer or in a data related job, where the knowledge he has gained from attending the University will apply throughout the future.
Dr. Lancaster has been an integral part of why Nicholas enjoyed his time at the University. Dr. Lancaster not only taught many subjects, all valuable in the real world, but Nicholas also found him to be one of the friendliest and easiest-to-talk-to professors. Dr. Lancaster makes a concerted effort to understand his students, even if it means learning the vocabulary of younger people.
---
Nicole Gianna Molino Pajarillo
Mentor: Dmitri Atapine, DMA
Meet Nicole Pajarillo, our Winter 2022 Senior Scholar from the College of Liberal Arts.
Born in Nevada, Nicole was most comfortable attending the University of Nevada, Reno, especially since it was very convenient for her. She was interested in studying music and learned that the music faculty at Nevada was astounding. She also wanted to study with the amazing orchestra and cello professors.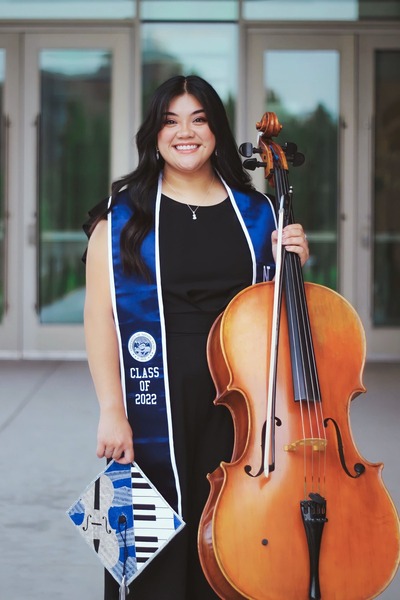 Nicole grew up learning cello and piano and there was something in her that decided she wanted to teach young kids, so she chose to study music education. She feels it is important to change the world by teaching music.

Her favorite college memory was being able to perform in multiple ensembles, like playing with the UNR Symphony Orchestra, Cello Studio, Reno Philharmonic and playing with smaller quartets. There have been many instances when Nicole performed with great professional musicians, which built her confidence in her performance playing, and strengthened my relationships with fellow musicians. Being able to perform for multiple occasions in college allowed her to grow as a musician and as a learner.

After graduation, Nicole plans on teaching string orchestra at the middle or high school level in the Washoe County School District. She would love to teach orchestra for a few years, and eventually continue with her studies in cello and piano in the near future.

Dmitri has been Nicole's cello mentor for a very long time. He has seen her grow as a musician and as a teacher. She has learned so much from Dmitri, whether it is about music or life in general. Dimitri has helped Nicole through her best and also her worst and has always supported her during her performances, her studies and her goals. Nicole is and always has been so appreciative.
---
Megan Eileen Perry
Mentor: Jennifer Hollander '02 M.S., '07 Ph.D.
Meet Megan Perry, our Winter 2022 Senior Scholar from the College of Science
During her senior year of high school, Megan visited the University of Nevada, Reno and was excited by the beautiful campus, the anatomy lab tour and all the opportunities she would have here. She knew the University would offer her a great education for reasonable tuition, and it became the perfect fit.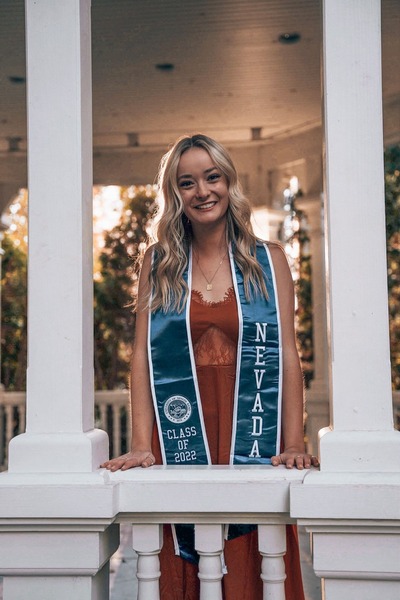 The neuroscience major offered Megan foundational science skills that would prepare her for a future in medicine and gave her years of learning in a field she finds incredibly fascinating. It was the perfect combination of classes to build Megan's skill sets and allow her intellectual curiosity to grow.

From making great friends in the dorms to joining extracurriculars that gave her incredible experiences, Megan has been able to spend her time at the University with wonderful people who have greatly impacted her life. The memories she has made building friendships with her peers have been her favorite and most cherished.

After graduation, Megan plans to work and gain more experience in the medical field as she applies to medical school. She hopes to become a doctor to serve others, as well as continue learning for the rest of her life.

Dr. Hollander's love of learning and anatomy is so infectious when she teaches and her class inspired the same in Megan. Working on the Anatomy Dissection Team has not only taught Megan so much more about the human body but has allowed her to grow in many ways as an individual. Because of Dr. Hollander's mentorship and constant support, Megan has been able to discover her passion for teaching others and gained more confidence in herself and in her knowledge.
---
Kaitlynn Ashley Petrovich
Mentor: Amy Millsaps, MSN, RN, CPN
Meet Kaitlynn Petrovich, our Winter 2022 Senior Scholar from the Honors College & Orvis School of Nursing.
Coming from California, Kaitlynn was unsure if she wanted to stay in-state for college, but she loved the Reno area. After touring and seeing how friendly and supportive everyone was, Kaitlynn knew she was home.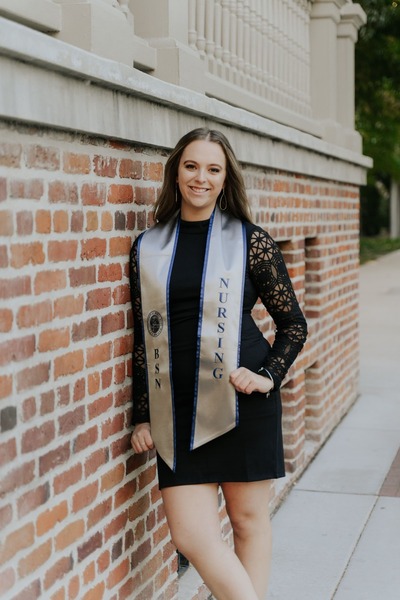 Kaitlynn knew what she wanted to study from a very young age. She loved visiting her doctor as a little kid and even then, she knew she wanted to go into pediatric medicine. As a neuroscience major, however, she realized nurses spend the most time with patients and connect with them in their toughest moments. Kaitlynn wanted to have an impact on kids so she changed her path and switched majors to pediatric nursing.

In her freshman year, Kaitlynn met a group of people that would become her best friends. She will never forget the endless amount of times that they would all sit in the KC and work on their assignments together, talking and laughing until it was very late. Those times afforded them to grow close to one another and develop amazing relationships that Kaitlynn says she still has to this day.

After graduation, she plans to work as a pediatric nurse at an acute care facility in the community. Kaitlynn hopes to continue to learn and develop her passion for the field and learn what it means to be a compassionate pediatric nurse. She expects to go back to school to further her nursing education.

Professor Millsaps has shown Kaitlynn what it truly means to be a pediatric nurse and how to care for both patients and their families. Professor Millsaps treats everyone with the utmost compassion and she has always been there for Kaitlynn when she needed it. Professor Millsaps truly inspires her every day to become a better person and an even better nurse. Kaitlynn says she has forever gained a friend, mentor and colleague that she will cherish forever in the field of pediatric nursing.
---
Katelyn Elli Rose Welsh
Mentor: David Calvert '12
Meet Katelyn Welsh, our Winter 2022 Senior Scholar from the Reynolds School of Journalism.
Katelyn chose to attend the University because Reno is her hometown. She couldn't pass up the opportunity to attend its elite journalism school to fuel her passions.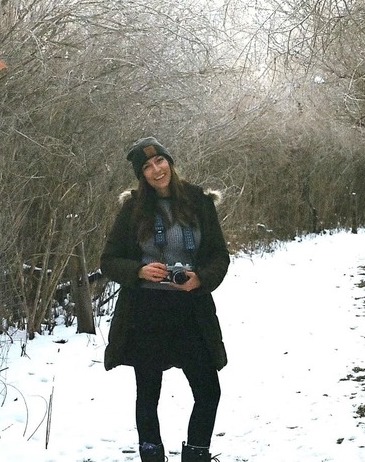 At 17, Katelyn received her associate's degree and was overwhelmed with which direction to go. She developed my own photography company and found she had a passion for capturing photos of her clients in a genuine and photojournalistic style as well as hearing their stories, which she used while creating a blog. She decided to direct her passion to capture and share stories through journalism.

In the fall of 2021, Katelyn was helping her friend, Autumn, with a photography assignment. The location was down a very muddy dirt road, and they ended up getting stuck and had to call a tow truck. It was a funny mishap that had them laughing the mid-semester burnout off, and she now holds it as one of her fondest memories of college.

After graduation, she plans on celebrating by hot springing with her friends and enjoying the holidays with loved ones. In January Katelyn will be exploring South America with her best friend while she searches for a job.

Katelyn's photojournalism professor, David Calvert, has one of the truest journalism hearts Katelyn has encountered. Although his classes were photo-based, Katelyn has been able to carry what she learned from him into every aspect of journalism since he offers practical and insightful takeaways and creates an environment to discuss gripping concepts and industry challenges. He is generous with his time outside of class and goes out of his way to help students further their work, career and passions. His mentorship has cultivated a deep passion in Katelyn to tell stories that matter and make a difference. He taught her that no voice is too small to be heard and no impact is too trivial.
---
Gabrielle Erin Nucci Serafim
Mentor: Grace Leal
Meet Gabrielle Serafim, our Winter 2022 Senior Scholar from the School of Public Health.
Four years ago, Gabrielle chose to attend the University because of its inclusivity, support, and family-like community. The University embraced Gabrielle and truly made her feel at ease with her choice to major in community health sciences, with an emphasis in public health.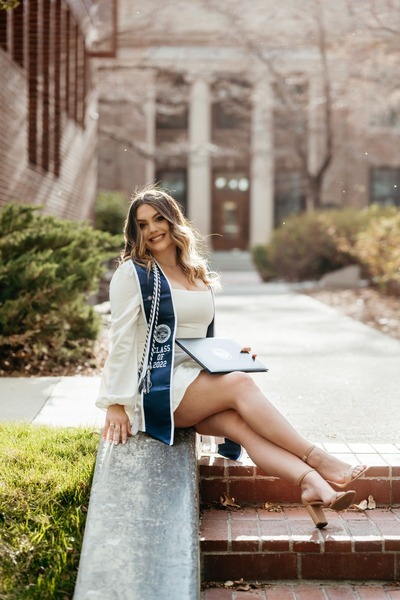 For as long as she can remember, Gabrielle has had a passion for working within healthcare, specifically in minority communities. Public health provided her with an outlet to exercise this passion of hers and deepen her understanding of how to best bridge the gap between community health and access to care.

Throughout her experience at the University, she has had the opportunity to meet so many members of the beautiful Reno community. Overall, her favorite part of her college journey has been getting to interact with so many different kinds of people and truly develop life-long relationships with faculty members and peers.

After graduation, Gabrielle is applying to Clinical Psychology doctoral programs. She hopes to incorporate her public health background into this next step of her academic journey, working toward becoming a well-rounded clinician that emphasizes the importance of social epidemiological factors and their influence within both mental and physical health, specifically how they relate to neuropsychological health.

Grace Leal has been an instrumental figure in Gabrielle's success here at the University. Her first semester, Grace adopted Gabrielle under her wing and guided her through the world of academia, always showing her the importance to strive for the best and push herself to unimaginable limits. Grace has always supported Gabrielle in every way possible and has become a role model and dear friend along Gabrielle's undergraduate journey.