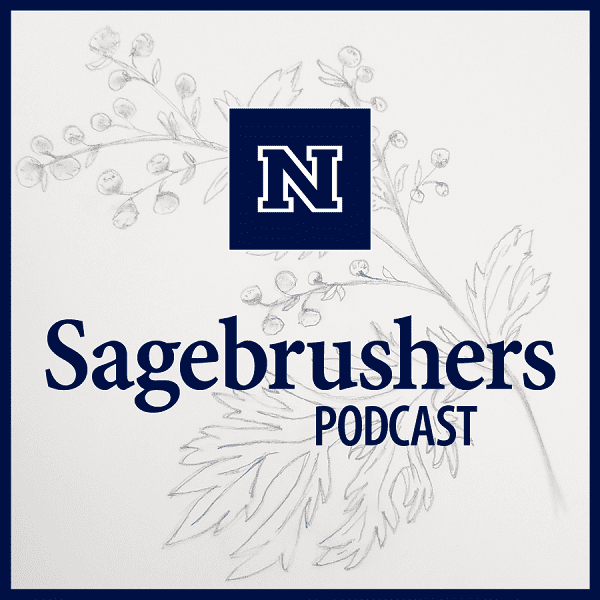 President Brian Sandoval hosts Director of Athletic Bands and Assistant Professor Steve Eubanks in this eighth episode of Sagebrushers. They discuss what students make up the University of Nevada, Reno's Pride of the Sierra Marching Band, how the band prepares for performances at athletic events and what is planned for the coming year. Eubanks also shares his experience in high school band in a small Missouri town and his motivations for becoming a band director. Sagebrushers is available on Spotify, Apple Podcasts and other major podcast platforms, with a new episode every month.
Sagebrushers – Ep. 8 – Dr. Steve Eubanks
Join host President Brian Sandoval as he and Director of Athletic Bands and Assistant Professor Steve Eubanks talk about how the Pride of the Sierra Marching Band prepares for its performances, what is new for the band this year, how Eubanks' experience in high school band inspired him to become a band director and more!
President Brian Sandoval: Welcome to Sagebrushers, the podcast of the University of Nevada, Reno. I'm Brian Sandoval. I'm a proud graduate and president of the University of Nevada, Reno, and I'm your host of Sagebrushers.
Each month at Sagebrushers, which by the way was our University's first nickname, we take a closer look at the people, history and future of our University. We explain why the University, ever since its founding in Elko in 1874, has been about so much more than ourselves and why we remain Nevada's best experiment in understanding who we are and what we are capable of achieving.
Today's podcast is being recorded at the Reynolds School of Journalism on our University's campus. In this episode of Sagebrushers, we welcome Dr. Steven Eubanks, the director of athletic bands and assistant teaching professor of music education at the University of Nevada, Reno.
Dr. Eubanks received his Ph.D. from the University of Missouri, Columbia. Previous to receiving his doctorate, Dr. Eubanks taught in the Missouri public schools for over 30 years, including 25 years of service with the Jefferson City public schools. During his career at Jefferson City, as both assistant director and director of bands, the Marching J Band performed in the Tournament of Roses Parade, the Alamo Bowl, the Fiesta Bowl, the Freedom Bowl, the Gator Bowl and made two appearances at the Citrus Bowl and the Orange Bowl, respectively. Dr. Eubanks is currently on the Nevada Allstate advisory board and directs the Nevada Allstate Professional Development program. Also, he is the recipient of the 2019 UNR Faculty of the Year award.
Welcome to Sagebrushers, Dr. Eubanks, so excited to have you here. So, let's start here: Can you talk about the role the marching band plays, as is related to the university community?
Dr. Steven Eubanks: Sure, first of all, thank you for having me. It's really a privilege to be here to talk with you today about the marching band. I think first of all, the Pride of the Sierra is the name of the marching band. I think that really exemplifies who we are and who we represent, you know, we are the face of the University of Nevada, Reno.
You know, our mission statement talks about, you know, developing a culture of excellence and inclusion and accessibility. I thought, you know, really the marching band encapsulates all those things, you know, if you see the marching band, you see the university admission statement, you know. We tied together the academic community, with athletics, you know, through what we do. Some people may or may think well, marching band is just consisted of music majors, but that's really not true. We have over 40 academic majors in the marching band, and the most popular major is not music; it's engineering, about two to one compared to the actual music ed. majors. So, the three most common majors are engineering, music ed. and then biology.

So, we have a cross section of all the academic areas represented in the Pride of the Sierra. I think we really tie the academic community and tie the University together in one group at one time. I think another way the University is tied with the marching band is, of course, through athletic events, you know, we're getting ready to go into football season now and we're thinking, you know, toward the football season, and you know, what better way to tie the fans into the game day experience than through the marching band.

You can hype them up with other things like DJs, cell phone games or things like that, but there's nothing that takes the place of the marching band. And I think that that's where the Pride of the Sierra really, on game days, brings the fans together with the team, you know, and we're all right together, you know. Before games, we'll go out and play for, you know, a lot of tailgates and then coming in to do our pregame. We play the fight song where the fans they're standing on their feet clapping. So, we have the audience right in the palm of our hand and then during the games, you know, we will play special numbers on timeouts for our audience or we'll do cheers with cheer or with the student body. So, I think in that way, you know, we tie the University community with the student body, you know, as well.

Sandoval: I'm one of your, if not your biggest fan.
Eubanks: Yeah and we appreciate that.

Sandoval: I love the Pride of the Sierra, and I love our marching band. And you're right, it brings something really special to our home football games and into the community. But I wanted to chat with you some more and talk about who comprises the marching band. Obviously you talked about the students in the many majors and you have this beautiful, wonderful demonstrations at halftime and throughout the game, but talk about the commitment and the development of that marching band, which leads to that moment for a football game.

Eubanks: Yes, well we start usually about the second week of August. So, they put in a full two weeks before the semester ever begins and then during semester, we'll practice three days a week: Monday, Wednesday and Friday from 2 to 4 p.m. and then on game days, what people may not realize on game day is, game days are usually 14-hour days for the marching band.

We come in to practice six hours before kickoff. We have a two hour rehearsal in the stadium and then we will change and we will go play for tailgates. We'll feed the band and then the game itself is four hours. So, game days are a lot – it's a big commitment for the marching band students to partake of.

Sandoval: And how large is your band?

Eubanks: This year, we're probably going to be about 142. Looks like last year, we were at 130 – COVID hit us and so, we're working on building the numbers back up with our goal being we will eventually be at 200 again.

Sandoval: We've talked a little bit about this offline, but building a band is like building an athletic team. You have to go out and recruit the percussion and the air instruments. How do you do that?

Eubanks: Well, I'm very fortunate that I've developed a really good relationship both with the directors in Washoe County and in Las Vegas. So, Washoe County, during the fall, I would be going out to their schools when their bands rehearse and like, you know, they'll ask me to maybe work a section of music or something, and I get to relate with the students then. Then, Dr. Chamberlain and I, Dr. Chamberlain is our director of bands, will go to Las Vegas and go visit four or five schools in the trip. You know, just go out and recruit, say, "Hey, this is what UNR has to offer you. We would love for you to come and be a part of us." And it's an ongoing process and coming out of COVID, it's been a series of challenges because of schools deciding to allow other people in, so we're just really getting our feet going again on recruiting, but it's a year-round process for us just like an athletic team.

Sandoval: Now, back to performing at halftime, you know this doesn't happen with like magic. I mean, is that something that you decide, you know, what kind of a theme it is for the game and then you design what the formations are going to be and what the movements are?

Eubanks: Yes, we actually decide in February what music we're going to play for the games. Well, once we have our football schedule from the Mountain West Conference. Then we will look at everything we're going to do. We will decide on what shows we're going to do. We ask the band members, "what do you want to play?" It's their band, so, you know "what music would you like to see us do?"

Actually, this year, every show is something that the band members have suggested that we do. So, we will sit down with our arrangers and we'll sit and say, "Okay, these are the pieces we want to do for this particular ballgame." We have to get the rights to have them arranged and then we'll start working on that. We had everything finished by the end of May, with all our music this year, for the fall shows. And then we start looking at the visual package. Okay, so how much time do we have during halftime for each performance? Usually about six and a half minutes is where our shows run.
So, we will design – depending upon what we're going to do – we'll design how much movement we do for each show. Like for Homecoming this year, we're going to feature our world percussion class. We're going to bring them on the field, and we're going to let them do a really neat number with them. Then, they're going to do a special feature by themselves and then do a duo with our drumline and then bring the alumni and everybody and tie it all together for a piece called "Mas que Nada," which is going to really be cool, and has a Latin flavor to it, and it's going to be something really enjoyable.

So, we, you know, we've been planning this for two years, we were going to do this before COVID hit, and then COVID didn't allow us to perform. So, you know, it's a matter of, you know, a lot of planning, but in this show we're going to do for UNLV, when we march down there, we've been planning that for two years as well. So, it's a lot of planning out of time to get ready to go.

Sandoval: That's exciting and we've talked a lot about football, but you also – the band participates in the basketball games as well.

Eubanks: We do. We have an outgrowth of the marching band that is called Howlers Pep Band, and we prefer – actually during football season, we'll play at soccer games and volleyball games as well. And then, we have the full complement of men's and women's basketball schedule and then in the spring, we also try to play for one or two baseball games, if we can. So, the basketball season by itself is very challenging as far as time commitment goes, but yeah, so it's a busy time.

Sandoval: The amount of energy that those band members bring to the games is nothing short of remarkable. So, what can our fans and lovers of the band expect this fall? In terms of anything new for the band?

Eubanks: Well, we're going to have a new look. One of the goals that I had whenever I was hired as this job is I wanted us to have a new fresh look with our uniforms and at the same time, keep those traditions that make UNR who we are – the Wolf Pack. So, we're excited about that and we're going to have white pants, which is going to be a challenge in itself, but it will give us a whole different look on the field. I'm anxious to see us when we march at UNLV to see what that will look like in the stadium down there. It'll be looking great.

Sandoval: That's exciting and something to look forward to. Now, I'm going to pivot a little bit and talk a little bit about you. So, how has music influenced your life and why did you decide to pursue it as a career?

Eubanks: Well, it's a long story, but in short, I grew up in a small community in southwest Missouri called Aurora. Our director Jean Kirkham had been there for a number of years. In 50 years, they've only had two band directors, which is remarkable. Our town was about 5,400 during the time that I grew up, you know. I didn't have the best of circumstances; our family didn't have a lot of money and stuff. Actually, the town was divided, literally by a set of railroad tracks. If you had a lot of money you lived on the south side of the town. If you didn't, you lived on the north side of the town, and we lived on the north side of the town, and I didn't have many opportunities, you know, at the time.

So, Mr. Kirkham, he looked, he said, "Why don't you come in and play in band." So, I thought, "Okay, I'll give it a try," and it took me about four different instruments before I figured out what I wanted to end up playing. But, you know, our school was about 500 population.
My sophomore year of high school, we were selected – of course, I need to mention that of that 500 population, we had 120 in marching band. And even now a days, that's kind of unheard of, for that large of a band for such a small school. But, we were selected to be reserves representatives in a Presidential Inaugural Parade, which was huge. I would never have gotten to go to D.C. if it hadn't been for marching band. While we were there, there was a committee from the Cotton Bowl, which back when I went to high school, which I won't say when it was, but you know, there were three bowl parades that were on TV. You had the Cotton Bowl, the Rose Bowl and the Orange Bowl were the only televised parades. So, there was a committee at the Presidential Inaugural in D.C. that saw us from the Cotton Bowl, and they asked us to march in Dallas the next year. So, we had enough money left over from our trip that we went to Dallas the next year and performed on TV in the Cotton Bowl Parade.

But the day I decided I wanted to be a marching band director was our last contest my senior year. We were in first place, until the last band performed. The last band that performed ironically, was Jefferson City, and they were huge, they were fabulous and they just beat everybody that day. So, that was the day I decided I wanted to be a band director. I had no idea that it would take me there to Jefferson City. But, you know, so to me, band probably saved my life, you know, in more ways than one because I had everything going against me and then band gave me purpose. It gave me a support group and gave me something to work for. Then, because of my playing ability, it sent me to college with scholarships and then one thing led to another and here I am.

Sandoval: Now, when you recruit students, do you tell them that story and what is it that attracts them to come to this University?

Eubanks: I don't tell that story. I do tell them that story when I teach instrumental methods in the fall to all the music majors because the first day of class we go around, say, "Well, why do you want to do this? Are you sure this is what you want to do?" It's usually a very emotional day. The students talk about their experiences, then I tell them the story, you know about me and everything. When I go to students around Nevada, I really emphasize the academic opportunities they have that UNR because I think that is such a strong, important part, you know. They're going to come to marching band in a couple of years, you know, maybe three or four, but you know, we want them to be a part of our community and UNR is such a strong academic school that I really push from that and say, "Hey, this is where you will meet a lot of people."

Like I mentioned earlier that we have a lot of academic majors represented the band, those students will meet people that they may work with, they may be their employer, they may be colleagues of theirs in their major if they go into business or into health services or things like that. They'll meet people in college that they'll have relationships with for life, you know. They may meet their wife or husband. So, you know we emphasize the academic end of it for UNR.

Sandoval: So, we're running out of time. But one final question: What is your favorite tradition for the band and what is your fondest memory?

Eubanks: Oh, well, the favorite tradition is the fight song. Yeah, you just can't beat the fight song. My fondest memory is no doubt whenever we made the run for the Sweet Sixteen with the Howlers. It was amazing. When we took the band to Nashville, you know, playing in the same room as University of Texas and University of Cincinnati and our pep band was playing just as well as theirs – and those are powerhouse universities – and here was Nevada. We were just as good as they were. So, that will always be one of my most fondest memories of the Howlers in the marching band.

Sandoval: Well, I was at that game, and you were better.

Eubanks: Yeah.
Sandoval: All right. Well, Dr. Eubanks, thank you. This really has been a privilege and an honor and I really enjoyed spending time with you. But that is all the time we have and again, thank you for joining me.

Eubanks: Thank you so much.

Sandoval: Next month, we will bring you another episode of Sagebrushers and continue to tell the stories that make our University special and unique. Until then, I'm University President Brian Sandoval. Go Pack!