The 19 children aged 3-5 years old became published authors through a national student publishing program. As part of the publishing process, students planned, wrote and illustrated their own books using a free publishing kit provided by Studentreasures Publishing.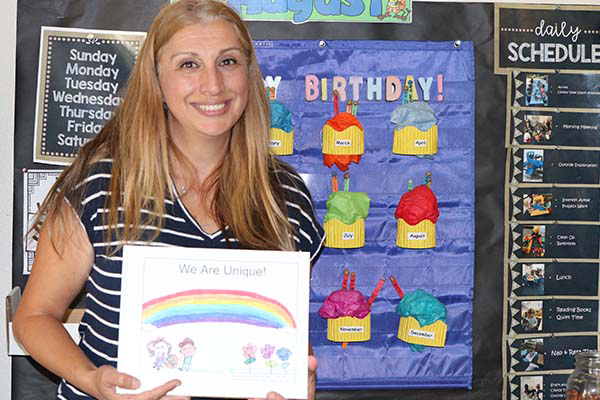 "I am so proud of the amazing job these little authors did on this book," Ozdemir said. "It was truly a challenge, but they had so much fun drawing their own pictures and writing their own words."
The book centers around diversity and inclusion. The children wrote and illustrated what makes them special and unique. Italia wrote, "I like my smile to fit my style," classmate Kenzey wrote, "I like my hair, my best friend is Claire," and "I like my heart because it is a beautiful art" was written by Arisha.
"We picked this topic because the diversity we see in our classroom reflects the people who live, work and play in our communities," Ozdemir said. "We need to help all children to appreciate one another and feel proud and confident about themselves/their family culture. We value this in our classroom because our differences make us special and unique. This year we have learned to accept and get along with friends from all around the world."
The book was part of a yearlong project where students talked about diversity in their classroom and around the world. They shared about their families and how they are different and the same.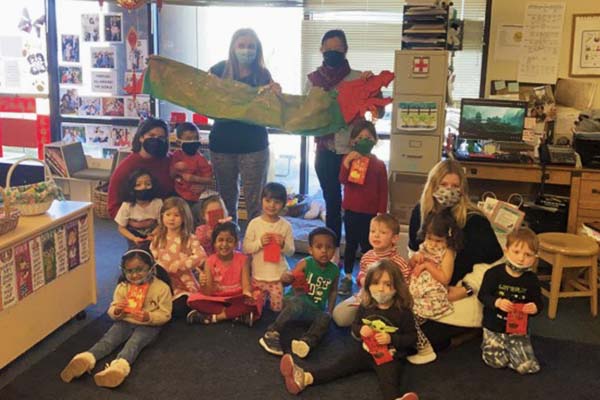 "Our department is so proud of these young authors," Melissa Burnham, Department Chair of Human Development, Family Science, and Counseling, said. "Our faculty have been working with the faculty and staff of the Research Center on a diversity, equity, and inclusion initiative over the past year and a half. This kind of activity blends the diversity focus with social and emotional development as well as literacy and fine motor skills. We know that children learn best through meaningful, hands-on activities and this book project precisely illustrates what we mean by an integrated curriculum."
Publishing this book kept the students engaged through hands-on learning and inspired the love of reading and writing. The preschoolers also improved their vocabulary, creativity and fine motor skills in writing and illustrating the book. Plus, being a young published author gave them a sense of pride and accomplishment.
The young authors include Claire, Fynn, Joseph, Italia, Hugo, Romano, Finnegan, Kenzey, Cora, Blakely, Alex, Willow, Gia, Haizel, Arisha, Prakriti, Theo, Ezequiel and Penelope.
The children illustrated their self-portraits using markers that matched their skin tones. The children proudly compare their skin color, eye color, hair color and texture and complement each other. Young author Italia said, "look at this brown crayon, just like my beautiful skin."
The Child and Family Research Center provides a developmental, child centered approach to early education. A variety of materials and activities are used to help children learn the value of diversity and respect for all family backgrounds. Its staff is committed to helping meet the needs of children and families for appropriate child care. The Center provides a safe and nurturing environment that promotes the physical, social, emotional, cognitive and language development of young children.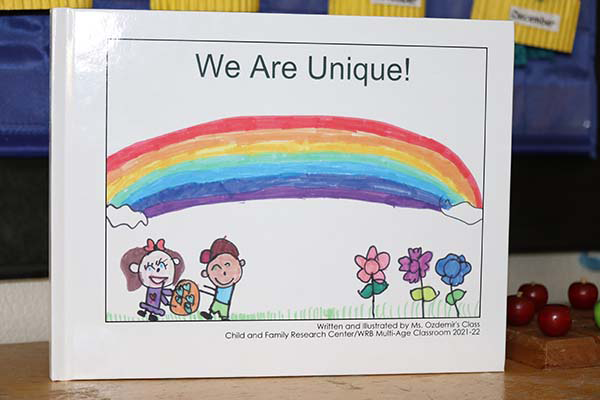 This book is available for purchase through the publisher Studentreasures and will soon be available in the Learning and Resource Center in the College of Education and Human Development.
"This book is amazing; it will go in my child's keepsake box and will always be remembered," Blakely's mom Allison Ferguson said.