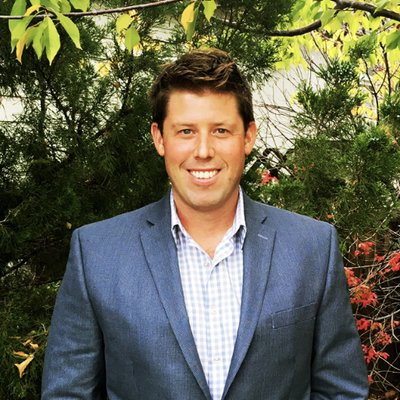 Alumnus Lucas Ingvoldstad ('05, '11) has been appointed to serve as the Nevada State Director for the U.S. Department of Agriculture (USDA) Rural Development agency by President Joe Biden. Ingvoldstad brings deep expertise in Nevada's issue areas as well as critical relationships with federal, state, tribal, and local leaders.

"Rural America is critically important to our entire nation's economy. When the people in rural Nevada and rural America succeed, we all succeed," Ingvoldstad said.
State Directors serve as Rural Development's chief executive officers in the field – the boots on the ground in every state and U.S. territory. Key to Ingvoldstad's new role will be addressing climate change and investing in climate-smart infrastructure in rural Nevada.
"People in rural communities continue to see first-hand the devastation climate change and increasingly severe weather can have on their safety, health and livelihoods," Ingvoldstad said. "By investing in climate-smart infrastructure, we are creating good-paying jobs in rural America and empowering the people in these communities with resources to help them build more resiliently for decades to come."
Ingvoldstad is also tasked with ensuring that funding from the recently passed Infrastructure Investment and Jobs Act, with its $2 billion allocated for USDA, is distributed in a way that best serves rural Nevada.
"By investing in climate-smart infrastructure, we are creating good-paying jobs in rural America and empowering the people in these communities with resources to help them build more resiliently for decades to come."
"Supporting Americans living in rural areas remains a top priority for the Biden Administration, and the Bipartisan Infrastructure Law delivers on the President's promises to provide high-speed internet, safe roads and bridges, modern wastewater systems, clean drinking water, reliable and affordable electricity, and good-paying jobs in every small town and rural community," Ingvoldstad said.
From the University to USDA
Born and raised in Reno, Nevada, Ingvoldstad attended the University where he earned his Master of Science degree in Land Use Planning Policy in 2011 and a Bachelor of Arts in Psychology in 2005. In 2016, Ingvoldstad was acknowledged as a Young Alumni of the Year by the College of Science and Mackay School of Earth Sciences.
"Luke has consistently remained committed to balancing human perspectives and environmental needs," Associate Professor of Geography Scott Bassett said. Bassett served as a committee member on Ingvoldstad's master's degree advisory committee. "I've enjoyed following Luke's career since he graduated, and I look forward to seeing him continue to be successful in this new role. His inclusion in rural decisions is timely for the state of Nevada and his presidential appointment well-deserved."
"My M.S. in Land Use Planning has opened numerous doors and I can largely attribute my career to working with Scott Bassett, Kate Berry, Scott Mensing, and all of my peers throughout the Geography Department," Ingvoldstad said. "More specifically, every day I apply the skills I obtained through hands-on experience in working on real-life, land-use planning scenarios – one of the most vital skills being stakeholder engagement."
Ingvoldstad's deep connection to the University opens the door to many creative opportunities for supporting rural Nevadans.
"USDA Rural Development is proud funding partners with many universities throughout the country in several of our program areas," Ingvoldstad said. "We often work directly with institutions of higher education to assist in deploying distance learning or telemedicine advances, support programs for areas like renewable energy advancement, solid waste management, or entrepreneurship, and more. We recognize colleges and universities as exceptionally impactful in rural areas, as many operate extension services."
When asked what role the University could play in the advancement of rural development in Nevada, Ingvoldstad responded: "I think the answer to that is as simple as to bear in mind all the creative ways we can further along the shared mission of rural prosperity."
Ingvoldstad's professional experience includes public policy, public affairs, legislative relations, stakeholder engagement, and business development. Ingvoldstad previously served as the Senior Director of Government and External Affairs for Eolus North America, a utility-scale renewable energy developer focusing on solar, wind, and battery storage projects throughout the Mountain West. Ingvoldstad directed legislative and regulatory strategies and closely engaged with elected officials and administrators to promote renewable energy development, to combat climate change and promote economic development. Before joining Eolus, Ingvoldstad served as a senior advisor to U.S. Majority Leader Harry Reid where he focused on energy, agriculture, and natural resource issues.