The University Libraries recently introduced four of its newest academic and administrative faculty members to Nevada Today readers and the campus community. Here, in this second story, get to know the DeLaMare Science & Engineering Library Makerspace Senior Specialist, as well as three new members of the @One Digital & Technology Center team. Each new team member is eager to share their passion and expertise with students, faculty, staff, researchers and community members. Get to know the new faces of the Libraries.
Nick Grainger, makerspace senior specialist, University Libraries, DeLaMare Science & Engineering Library
Nick joined the Libraries in August accepting the role of Makerspace Senior Specialist for the DeLaMare Science & Engineering Library. He previously worked for Black Rock City, LLC, the Burning Man organization, as an Assistant Ranch Manager. Most recently, Nick served as the Facilities Manager for the Generator in Sparks and brings more than 15 years of experience into his role with the Libraries.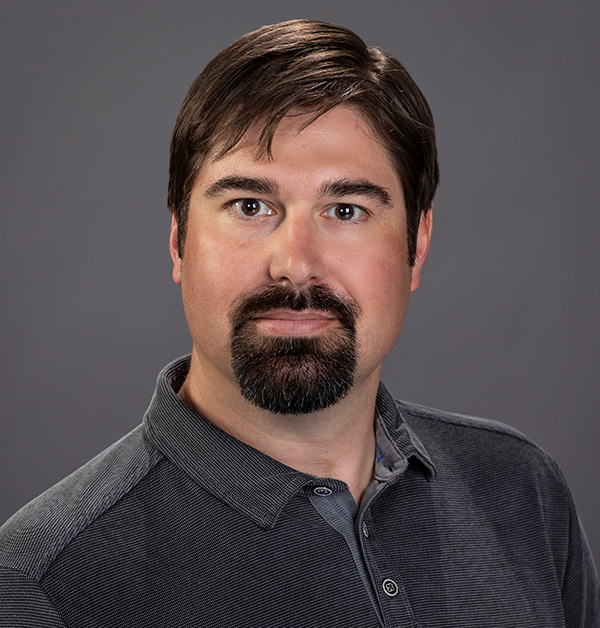 As the Generator Facilities Manager, Nick managed the relocation of two temporary makerspaces to a new 70,000-square-foot facility. He worked with building and planning committees as well as Frame Architecture, Inc to create plans and 3D renderings for a Phase 2 build out of the new space. He also created use and safety training programs for new and returning members.

Grainger said he is used to and very comfortable with running large production facilities. He said it was his broad knowledge base and previous experience with Burning Man, the Generator, and as a professional artist that made him the right fit the position with DeLaMare.
"For approximately five years, I managed Burning Man's 130-acre production facility overseeing all pre-event construction and event infrastructure assets as well as facility maintenance," Grainger said. This, coupled with the experience he gained after moving to the Generator, has given him a strong foundation on which into pivot to academic making.
"I look forward to exploring and using creative technology to help facilitate advanced research," he said. "I want to emphasize the accessibility of the DeLaMare Makerspace and identify growth opportunities for it. I look forward to bringing in new equipment, and I hope to be able to expand on current services offered."
Looking forward over the next five years, Nick said he hopes to expand the Makerspace and offer more large-scale making.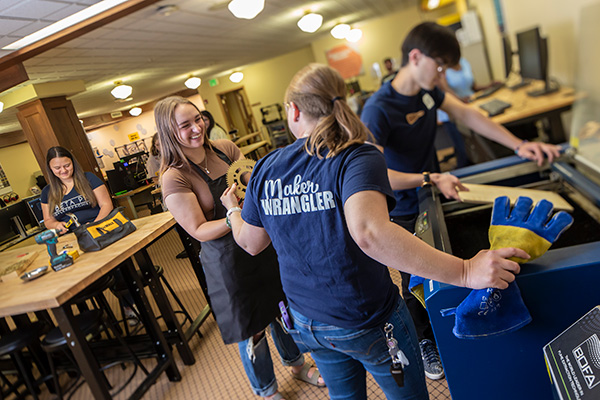 "I hope to bring some art into the science and engineering work taking place DeLaMare's Makerspace," Grainger said. "Cross-pollination between the fields and the Makerspace can serve as an on-campus incubator for all types of projects because the space is open to everyone. All students. All researchers. All disciplines."

Nick has a Bachelor of Fine Art degree from Pacific Northwest College in Portland, Oregon.
Fun Fact about Nick: A good way to break the ice with Nick is to ask him about his passion for Polynesian Pop. As a self-proclaimed Tiki-lover, Nick spends his free time manufacturing unique Tiki mugs and creating new Tiki drink recipes. He even makes his own plaster and ceramic molds for his Tiki mugs! Nick said he fell down the hole of the Polynesian Pop phenomenon many years ago and has never looked back.
Contact Nick via email or call him at 775-682-7383. Nick encourages students to visit the DeLaMare Makerspace or swing by his office located inside the Library within the Mackay Mines Building.
Explore Nick's department
---
Martin Szillat, multimedia production specialist, University Libraries, @One Digital & Technology Center
Martin (pronounced "mahr – teen") joined the Libraries' @One Digital & Technology Center team in early June, however he is no stranger to higher education or the University.
Martin partnered with the Libraries in 2018 during his time serving as Content Creator with PBS Reno. He worked with a team in the @One to shoot and produce an episode of PBS Reno's ArtEffects featuring the Libraries' Reno Street Art project. He said it was this partnership that inspired him to consider returning to work in higher education.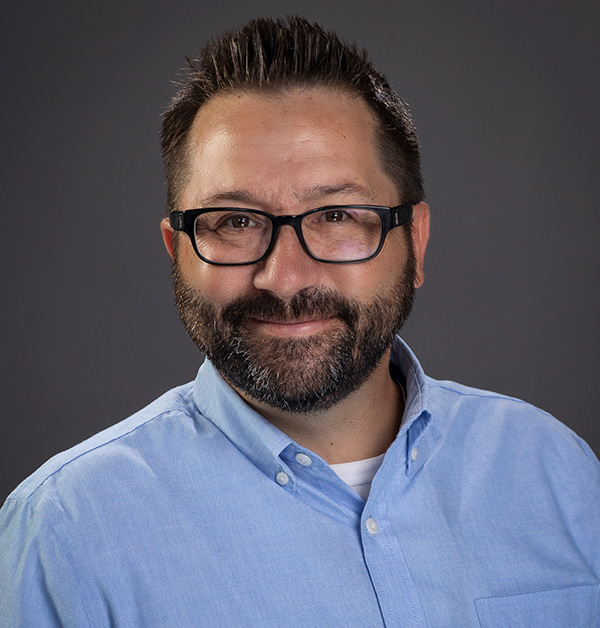 "In working to produce the ArtEffects segment I got to see and experience first-hand the work done by @One for the Libraries," Szillat said. "I was fascinated by the virtual reality content being made, the team producing it and the sense of teamwork and comradery that was present. It felt like a very creative and impactful environment. Since that moment I thought I could bring my skills to the Libraries and help the department grow its impact both on and off campus.

"When I saw the Virtual Event Multimedia Specialist position come available in the spring, I just knew I had to go for it!"
Having most recently worked for PBS Reno and having had prior experience working in higher education at California State University San Marcos and MiraCosta College Martin said his more than nine year's of experience as a producer, director, videographer, photographer, and editor for broadcast television and digital media for web content positioned him to be a great fit.
Martin has a background and professional experience in documentary filmmaking. He has shot and produced more than 200 episodes and seven seasons of the award-winning televised series ArtEffects for PBS Reno. He also filmed, directed and produced three seasons of the popular, weekly Wild Nevada series also airing on PBS Reno.
In addition to his local production experience, his previous responsibilities included directing live multi-camera studio productions, directing lighting and set design, and floor directing on-camera talent.
"My past responsibilities have been broad and diverse, requiring a very high degree of collaboration and teamwork," Szillat said. "My ability to partner with colleagues, work with and direct professional and non-professional on-camera talent, and my willingness to troubleshoot and solve production challenges as they arise are a few of the skills I am happy to bring into my new role with the Libraries."
Martin has a passion for identifying important stories and presenting them in a creative, visually-appealing, impactful way. He is a University videographer for Nevada Athletics having operated the camera and run instant replay for Nevada football and basketball games. Martin is a University instructor, teaching Introduction to Digital Photography classes and Introduction to Video and Time-Based Media, and is currently co-instructing Intermediate Videography for the Fall semester.
Martin has a Bachelor of Arts degree in Mass Media with a focus on media production from California State University, San Marcos.
Fun Fact about Martin: Martin loves to cook! It is his creative outlet. When Martin got out of high school he worked as a chef in a fine dining restaurant. He's also worked as a personal chef. He has his own, very special Mahogany sushi case that he likes to use to teach people how to create and roll their own sushi.
Contact Martin via email if you want to reach out and say hello or if you have an idea you want to share for potential collaboration with the Libraries and the @One department.
Explore Martin's work
@One Digital & Technology Center
PBS Reno ArtEffects show on Reno Street Art
---
Mike Wilson, Virtual Reality programming + development specialist, University Libraries, @One Digital & Technology Center
Mike joined the Libraries in July and is serving as the Virtual Reality programming and development specialist in the @One Digital & Technology Center. His passion for Social VR platforms and their ability to allow people to organically meet one another through shared interests is something he gets excited about.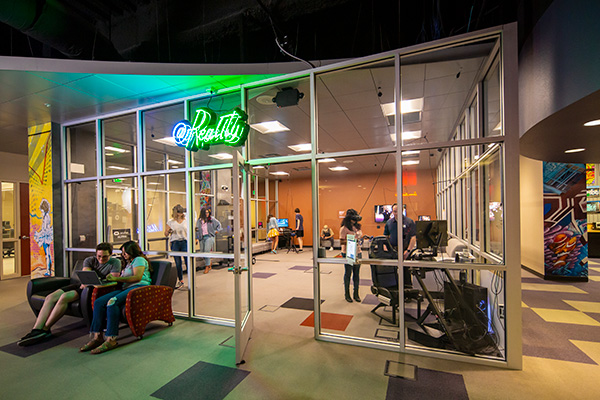 "I have been very impressed by the cross-disciplinary VR work being done at the University," he said. "I love working in game development and hope to contribute to the effort on campus by sharing my technical skill with the Libraries in order to implement software that helps the organization and University reach its goals."

Before joining the Libraries Mike served as a software engineer for Microsoft. In his role he collaborated with hundreds of members within the organization to develop and release software. He trained new team members to use Engineering System management tools to improve code quality, wrote Windows Bluetooth stack driver logic used by millions of PCs worldwide and wrote automated hardware tests to run on physical machines testing Bluetooth radios. He also applied user mode and kernel mode debugging techniques to fix bugs given limited, hard-to-reproduce logs.
Mike said he is happiest when assisting those who are interested in VR. He enjoys helping people create projects, and looks forward to engaging in VR outreach in his role. He said he hopes to organize events to help share knowledge and culture developments happening in VR today.
Mike has a Bachelor of Science in Computer Science and Engineering degree from the University of Nevada, Reno.
Fun Fact about Mike: Mike uses VR to successfully teach coding languages to people around the world. He also likes Street Fighter and Tony Hawk.
Contact Mike via email to learn more about VR and the work being done in the Libraries @One department.
Explore Mike's department
@One Digital & Technology Center
---
Mike Kari, virtual event multimedia specialist, University Libraries, @One Digital & Technology Center
Mike joined the Libraries in June as the Virtual Event Multimedia Specialist. This position adds a layer of event expertise and support to the already strong @One Digital & Technology Center team. Mike will provide support and expertise for University Events, Libraries events and more.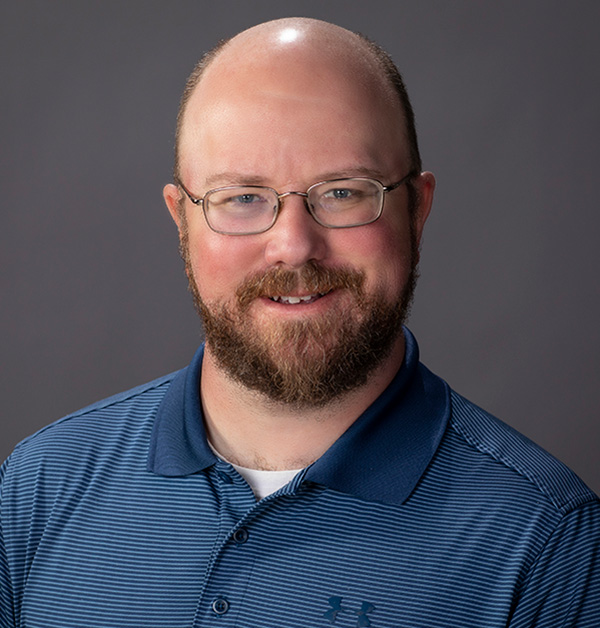 "With more than 20 years of experience in live event production both as a stagehand as an A/V technician Mike makes for a strong addition to the department," Daniel Fergus, interim director for the @One said.

With experience in technical theater and the audio-visual industry, Mike values collaboration and is well-versed in applying contributor feedback to develop creative strategies and enhance processes.

"I have been complimented for my ability to communicate clearly with users in a manner they understand helping them achieve their technology-related goals," Kari said. "Additionally, my knowledge of lighting and camera operation, coupled with my work ethic is something I am grateful to share with the @One, Libraries and University.

"I am excited to provide engaging and innovative multimedia content highlighting the great achievements and life experiences at the University."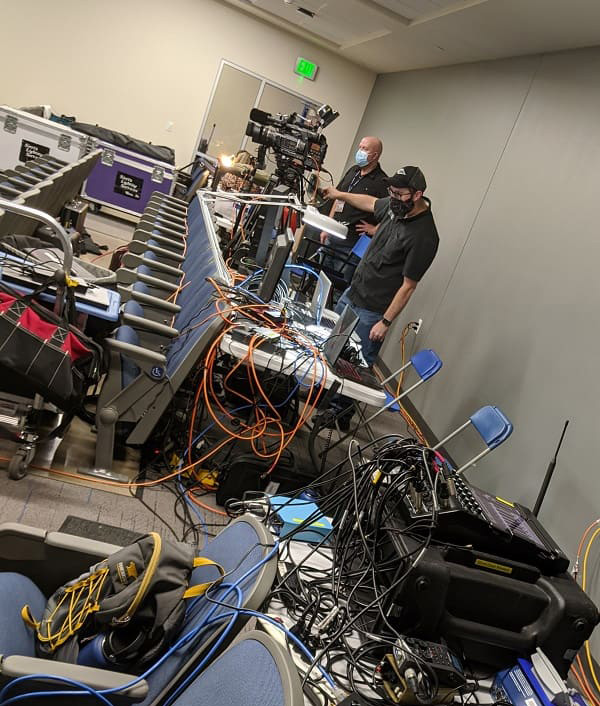 Prior to joining the Libraries Mike served as an A/V technician for University Classroom Technology. He set up A/V events for successful outcomes -- from standard to high profile. He also worked to find creative solutions in updating out-of-date room setups. Mike also supervised and trained student employees in A/V solutions.

Before coming to the University in 2016, Mike served as a Spotlight Operator and was quickly promoted to Flyman/Rigger during his more than 15 years with the Eldorado Resort & Casino. In these roles he designed technical components of flying acts and planned and implemented the permanent installation of audio-visual and theater equipment. Mike proactively managed cross-functional production stagehands in proper backstage etiquette and techniques such as movement, communication, and safety. Prior to the Eldorado, Mike worked for Mandalay Bay Resort & Casino as an Arena Technician.
Mike has a Bachelor of Arts degree with an emphasis in Theater from the University of Nevada, Reno.
Fun Fact About Mike: Mike's hobbies include playing Dungeons and Dragons, painting miniatures, and being a father.
Get in touch with Mike
@One Digital & Technology Center
---
To learn more about Nick, Martin, Mike W. or Mike K. please reach out to them directly via the email address listed in this story, or visit the Libraries webpage.
About the University Libraries
The University Libraries embrace intellectual inquiry and innovation, nurture the production of new knowledge, and foster excellence in learning, teaching and research. During each academic year, the Libraries welcomes more than 1.2 million visitors across its network of four libraries: the Mathewson-IGT Knowledge Center, the DeLaMare Science and Engineering Library, the Savitt Medical Library and the Prim Library at the University of Nevada, Reno at Lake Tahoe. Visitors checked-out more than 80,000 items and completed more than two million database searches.