This piece originally appeared in Nevada Silver & Blue.
---
Nevada alumna Krysta Palmer '16 (community health sciences) took home the bronze in the women's 3-meter springboard diving competition — marking the first U.S. women's individual diving medal since 2000 and first U.S. medal in that event since 1988. What's more incredible is Palmer didn't start diving until age 20 after years of competing in gymnastics as well as internationally in trampoline.
Injuries shortened her trampolining career and turned her focus to diving. She competed in her first senior nationals in diving in 2015 and quickly climbed the charts — taking bronze in the team events at the 2017 World Championship, joining the World Cup team in 2018 and winning gold in the 3-meter synchronized dive during the 2019 FINA USA Grand Prix.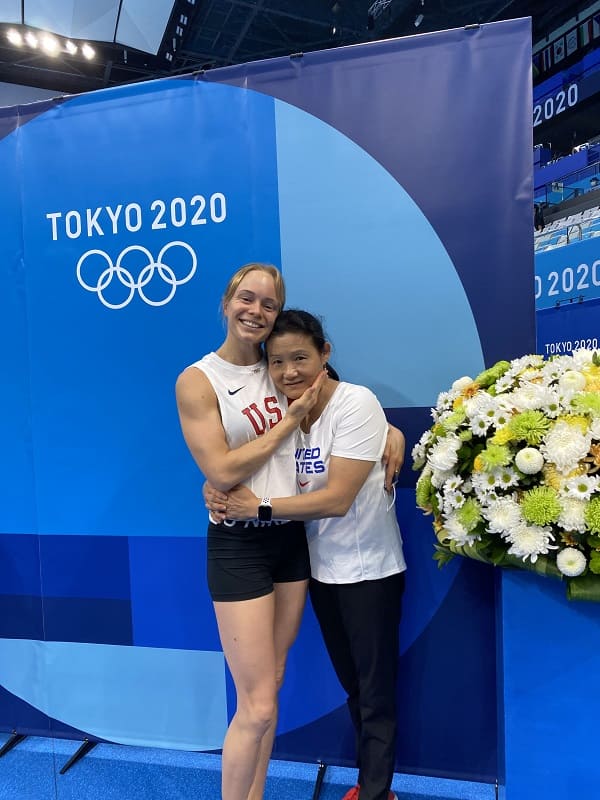 Born and raised in Carson City and graduating from Douglas High School, Palmer says it was an honor to represent our great state and our alma mater where she now volunteers at the University of Nevada, Reno as assistant diving coach. Though Palmer is now a household name in diving for her bronze medal win at the Olympic Games in August 2021, she admits she wouldn't mind being a professional snowboarder and aspires to perform with Cirque du Soleil and become a collegiate diving coach or even own her own business one day.

Palmer was accompanied by 26-year Nevada Diving Coach JianLi You. Coach JianLi is a record setter herself, becoming the first female in history to coach Team USA Diving at the Olympics. She also made the Olympics as an athlete for the People's Republic of China in 1980 but was unable to compete due to the boycott of the Moscow Games.
As a diver on the Olympic team, she was ranked first in the world on the 1-meter springboard and was the Chinese National Champion in the 1-meter and 3-meter board as well as the platform from 1976-80. In her time at Nevada, JianLi has established the Pack as one of the premier diving schools in the region. She has coached numerous athletes to NCAA Championships, receiving the College Swimming Coaches Association of America's Coach of the Year honor in 2016, as well as six Mountain West and three Western Athletic Conference Diving Coach of the Year awards. JianLi has been loyal and committed to the University, expressing her love for Reno, support of Swim & Dive Head Coach Brendon Brey, as well as Nevada's Athletics Department.