The College of Engineering showcased its expertise in earthquake, pavement engineering and science, transportation and water research to government, industry and academic institutions at the Nov. 18 Infrastructure Forum, in an effort to drive more collaboration and partnerships.
About 50 infrastructure stakeholders, from the Nevada Department of Transportation to Granite Construction to UC Berkeley, attended the on-campus forum organized by the College's Department of Civil & Environmental Engineering (CEE). Lab tours, demonstrations, discussions and a student poster session presenting current research projects were included in the event, coordinated by CEE Professor David McCallen.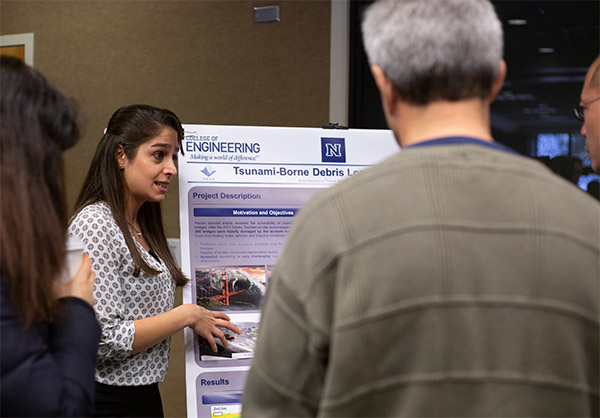 The forum comes at crucial time for the nation's infrastructure. In a statement about the event, McCallen explained that United States infrastructure developed rapidly from the 1940s to early 1980s, but has since aged, and in many cases, is in a state of disrepair.

"This situation has been decades in the making, and it will take a significant period of national investment and remediation to reverse this trend," McCallen wrote.
Engineers have been aware of the issue for years: The National Academy of Engineering — a nonprofit that provides engineering leadership in service to the nation— listed "Restore and Improve Urban Infrastructure" as one of its 14 Grand Challenges for Engineering in the 21st Century back in 2008.
National policy now is addressing the issue. Federal funding for infrastructure work will be coming to the state through the 2021 Infrastructure Investment and Jobs Act, a point brought up by Engineering Dean Erick Jones in his address at the forum.
"Cutting-edge research and development is urgently needed to provide the foundational elements for the new generation of infrastructure the nation must pursue," Jones said. "We have this amazing group of researchers that need to be invested in."
He added that the College of Engineering has long been working in this area: equitable infrastructure is one of its main areas of focus. Engineering and designing equitable community infrastructure to mitigate cascading local, regional and global hazards, including wildfires, water issues and earthquakes, is a priority.
In the CEE Department, there are research centers specializing in those areas, including the Center for Civil Engineering Earthquake Research, home of the recently debuted Laminar Soil Box System to test soil-structure interaction; the Western Regional Superpave Center, one of five centers established by the Federal Highway Administration to promote the implementation of superpave technology; and the Nevada Water Innovation Institute, which worked with local government to test wastewater to determine the prevalence of COVID-19 in the community during the pandemic and advanced water purification of reclaimed water.
"We have people visit (the College) and they are pleasantly surprised," CEE Department Chair Krishna Pagilla said in his welcome message to the forum. "But they shouldn't be surprised."
CEE brings in about $7 million in research funding a year, according to Pagilla, was instrumental in the University achieving its R1 status in 2019 and has grown Ph.D. student enrollment by 50% in the past three years.
"We have faculty at the lead of what they are doing," he said. "That's what we want to showcase to you."