Equipped with a 355-pound concrete canoe of their own design, engineering students on the University's Concrete Canoe team took seventh place at the national ASCE Concrete Canoe Competition earlier this month at Louisiana Tech University.
The win comes on the heels of the team's first-place performance at the Intermountain Southwest Student Symposium in April, a regional qualifier for the national competition, and has the group primed for 2023, when the University will host the regional event.
The team is ready for that next challenge.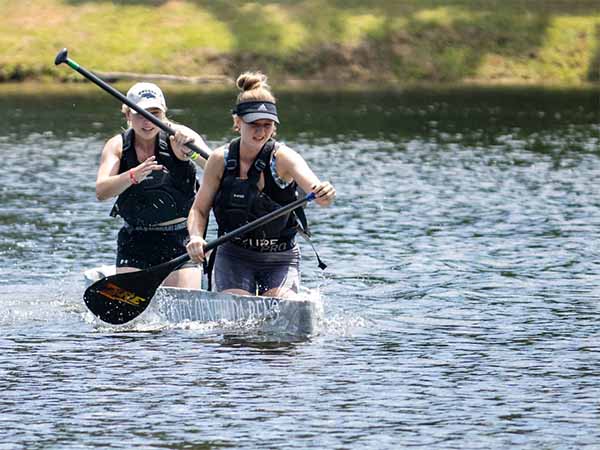 "Competition at a national level reignited a flame and drive that was snuffed out by COVID," Alex Tang, the team's project manager, said in reference to 2020 and 2021 competitions that were cancelled or changed to a virtual format due to the pandemic. "I know that moving forward, our team is going to work twice as hard (to) strive for a national win."

The American Society of Civil Engineers Concrete Canoe Competition began in 1988, and offers students the opportunity to gain hands-on experience with concrete mix designs and project management challenges. At the University, the Concrete Canoe club— advised by Kelly Keselica, a lecturer in the College of Engineering — is the group that represents the Wolf Pack in competition.
Tang described it as a "civil engineering-centric club," but added that engineering students from all disciplines — environmental, mechanical, electrical — participate, as well as students studying nursing, business and other fields. Together, they forge ahead with the popular event that combines technical skill with fun.
"The competition is a deeply rooted engineering tradition, especially here at UNR," Tang said. He added that the University has competed at nationals 11 times and won it twice, but had not competed nationally in the past five years. This year, in addition to placing seventh overall, the team took second in women's slalom, fourth in women's sprint, fifth in technical presentation and sixth in technical report.
Here, Tang and fellow teammates Tanner Mcilree and Nura Tung share some thoughts about the group's experience at nationals.
Q: How does the team feel about its performance in competition?
A: We had a good performance in both of our competitions. As this is the first time competing for most of our team, we learned a lot about what we're really doing. This competition really tested our team and made us evaluate our performance. We are evaluating how our paddling team did, and how our paddlers can do better. Also, how our canoe came out: we want to do much better next year. Finally, we want to be on the cutting-edge of innovation for the overall canoe construction for next year.
—Tanner Mcilfree, 2023 project manager
Q: How did the concrete canoe perform in the water?
A: The canoe was pretty heavy, 355 pounds. It was also very maneuverable, and it took quick learning by the steersmen and steerswomen to keep the canoe straight during the races. Our training all year at the Sparks Marina definitely helped us take the second and fourth places in women's slalom and sprint, but the weight definitely was a factor, and prevented us from taking top placements in the other races. Despite the weight, our waterline remained above 5 inches and we took on very little water. It also did not crack during the races, which is always a good thing.
—Alex Tang, 2022 project manager
Q: What else do we need to know about the team?
A: Joining the Concrete Canoe team at UNR has been one of the best decisions I've made in my college career thus far, and I highly encourage not just STEM majors, but students of all disciplines to come by and check us out for a great opportunity to create something more than the sum of its parts with amazing people.
—Nura Tung, aesthetic design manager