On Friday, April 22, the University of Nevada, Reno hosted its 10th annual College Day at Archie Clayton Pre-AP Academy in Reno. With more than 900 middle-school students in attendance, the pep rally was designed to get Clayton's sixth through eighth-grade students excited about going to college.
The event was opened by Clayton Principal Rhonda Turnipseed and Assistant Principal Leslie Shults. Guest speakers from the University included 2021-2022 Associated Students of the University of Nevada, Reno President Austin Brown and Vice President Keegan Murphy. Students also heard from Nevada Women's Basketball Head Coach Amanda Levens and two of her student athletes, Gabby Rones and Lexie Givens.
"For me, college changed my life," Murphy said during his speech at the pep rally. "I think back to my time in middle school. I was a small little sixth grader walking around the long hallways, trying to find all of my classes and really nervous to meet new friends, anxious I would not fit in. I would be lying if I said I still don't struggle with those things, but the most important lesson college has taught me was to trust and believe in myself."
In addition to motivational speeches, the pep rally included performances from Clayton's mascot Archie and the Nevada Cheer team with a special appearance of Luna, one of the Nevada Wolf Pack's mascots. All students also received a "Future Wolf Pack Student" T-shirt provided by the University's Division of Student Services, which they wore during the assembly.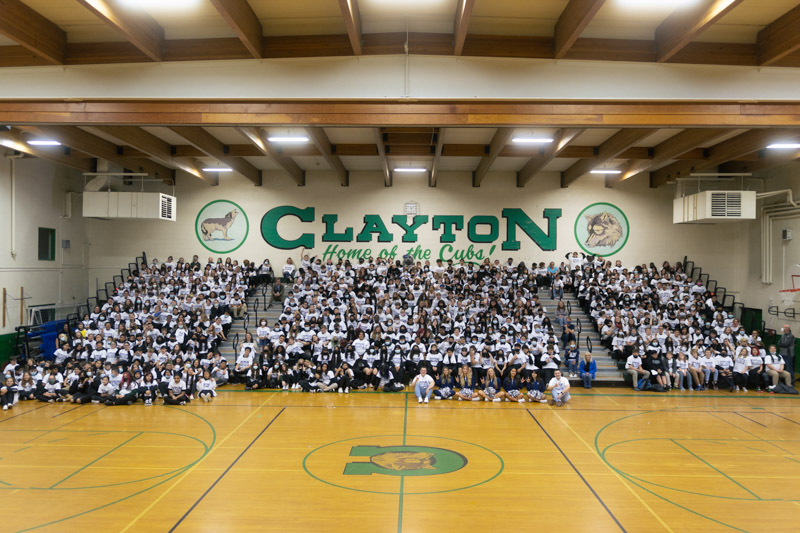 Current Clayton eighth-grader Amyra Durosinmi was grateful for the experience.
"I am really glad that UNR comes and outreaches to the kids here," Durosinmi said. "They show us what our futures would be like if we went to college there."
Durosinmi already has plans for college, including playing college basketball, studying aerospace engineering and one day working for NASA.
"It's important [for students to go to college] for the future," she said. "We need scholars, people who can make a difference in the world, to fix the world we have now."
Luna, one of the Nevada Wolf Pack mascots, pumped up the students by walking through the crowd on the bleachers. Photo credit: Edgar Padilla

The students also cheered along with the Nevada Wolf Pack cheerleaders during the pep rally. Photo credit: Edgar Padilla

Clayton Principal Rhonda Turnipseed opened the event before passing the microphone to ASUN leadership for a motivational speech. Photo credit: Edgar Padilla

Nevada Women's Basketball Head Coach Amanda Levens talked about the importance of going to college before introducing her players, Gabby Rones and Lexie Givens. Photo credit: Edgar Padilla

Clayton middle-school students and their teachers listened to motivational speeches from University students and faculty. Photo credit: Edgar Padilla

ASUN leadership and University faculty from the Division of Student Services passed out T-shirts to Clayton students. Photo credit: Edgar Padilla

Every student received a free T-shirt to remind them they can all go to college and belong to the Wolf Pack family. Photo credit: Edgar Padilla
For University of Nevada, Reno senior Roni Ellison, the excitement of Clayton College Day helped to spark her interest in coming to the University. When she attended Clayton Middle School for her seventh and eighth-grade years, she loved watching the Wolf Pack cheerleaders and mascot and receiving a free T-shirt.
"I remember them giving us T-shirts, and it was the coolest thing to get to wear your UNR T-shirt all day," she said. "I'm really glad I went to Clayton College Day. It exposed me and a lot of my friends to the University of Nevada, Reno and allowed us all to come here and study what we love together."
Ellison is set to graduate this May with a bachelor of music degree in vocal performance from the University's College of Liberal Arts. She said when choosing where to go to college, she looked for a program that would support her background in competitive singing. She chose the University because it offered her an environment that was ideal for learning.
"My decision to study at the voice department here was definitely a good one," Ellison said. "The faculty are so supportive. We have state-of-the-art facilities that are beautiful, and [the faculty] often bring in guest artists to work with us and are focused on getting us into outside programs to further our education."
Ellison plans to continue with her education in opera singing after walking across the stage in a few weeks.
"This summer, I'm singing with the Chicago opera and then going into graduate school at The Jacobs School of Music, University of Indiana."