Nevada guards Grant Sherfield and Desmond Cambridge Jr. earned third-team All-Mountain West honors for the second-straight day, as the conference announced its annual postseason awards and teams Tuesday.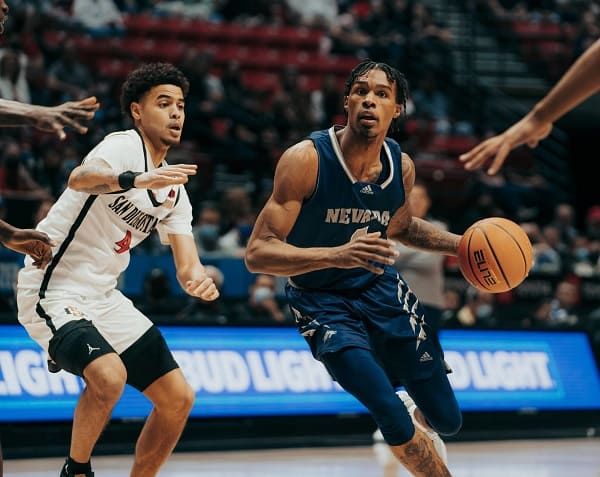 Each player earned an All-Mountain West honor for the second year in a row. Last season, Sherfield was voted Mountain West Newcomer of the Year and to the First Team. Cambridge Jr. was named to the All-Mountain West Third Team for the second time.

Despite missing three conference contests (Feb. 1-6) this season, Sherfield put up 17.7 points per game, ranking eighth in the conference in Mountain West-only games. His 6.60 assists per game ranked second, while his assist-to-turnover ratio of 2.36 was fourth-best.

Against conference competition, Sherfield scored in double figures in 13 of 14 games, with a 30-point effort (30 points vs. San Diego State, March 5), and five additional 20-point performances. He also posted two double-doubles, going for 10 points and 10 assists Jan. 1 against New Mexico, and 25 points and 10 assists Feb. 17 at San José State.
Cambridge Jr. was another of the conference's prolific scorers in 2021-22, ranking 11th with 15.5 points per game in Mountain West play. The redshirt senior finished third, in the regular season, in 3-pointers made (44) and 3-point field-goal percentage (36.4 percent), and was 12th in field-goal percentage (41.9 percent).
Defensively, Cambridge Jr. stepped up his game this season, leading the Pack in steals (31) and blocks (24) in Mountain West play, ranking second and third in those categories' respective conference lists.
Nevada (12-17, 6-12 MW) opens play at the 2022 Air Force Reserve Mountain West Championship in Wednesday's first round, taking on No. 9 New Mexico (13-18, 5-12 MW) at 11 a.m. The contest will be televised locally on Nevada Sports Net and livestreamed on the Mountain West Network, and available locally on the radio on ESPN 94.5 FM.
2021-22 All-Mountain West Men's Basketball Team
First Team
David Roddy, Jr., F, Colorado State
Orlando Robinson, Jr., F, Fresno State
Matt Bradley, Sr., G, San Diego State
Bryce Hamilton, Sr., G, UNLV
Hunter Maldonado, Sr., G, Wyoming
Second Team
Abu Kigab, Sr., F, Boise State
Marcus Shaver Jr., Sr., G, Boise State
Isaiah Stevens, Jr., G, Colorado State
Justin Bean, Sr., F, Utah State
Graham Ike, So., F, Wyoming
Third Team
Desmond Cambridge Jr., Sr., G, Nevada
Grant Sherfield, Jr., G, Nevada
Jaelen House, Jr., G, New Mexico
Jamal Mashburn Jr., So., G, New Mexico
Brandon Horvath, Sr., F, Utah State
Defensive Team
Abu Kigab, Sr., F, Boise State
Orlando Robinson, Jr., F, Fresno State
Lamont Butler, So., G, San Diego State
Nathan Mensah, Sr., F, San Diego State
Justin Bean, Sr., F, Utah State
Honorable Mention
A.J. Walker, Sr., G, Air Force
Emmanuel Akot, Sr., G, Boise State
Tyson Degenhart, Fr., F, Boise State
Nathan Mensah, Sr., F, San Diego State
Omari Moore, So., G, San José State
Royce Hamm Jr., Sr., F, UNLV
Player of the Year: David Roddy, Jr., F, Colorado State
Defensive Player of the Year: Nathan Mensah, Sr., F, San Diego State
Newcomer of the Year: Matt Bradley, Sr., G, San Diego State
Sixth Man of the Year: Chad Baker-Mazara, So., G, San Diego State
Freshman of the Year: Tyson Degenhart, F, Boise State
Coach of the Year: Leon Rice, Boise State