Principal Investigators Yufeng Zheng and Bin Li, both professors in the Department of Chemical and Materials Engineering, have used a Department of Energy (DOE) Nuclear Energy University Program (NEUP) grant to expand the University's in-situ transmission electron microscopy ability. Developed as a collaboration between the Department of Chemical and Materials Engineering, the College of Engineering, and Research & Innovation, the equipment allows researchers to evaluate the behavior of materials on the atomic level.
"The one-year infrastructure grant allowed us to build a two-part system to directly observe what happens in tiny specimens. The first part is a specialized straining specimen holder in the transmission electron microscope, and the second part of the system is a high-end camera that we can use to record video of in-situ experiments," Zheng explained. "The equipment allows for high-temperature in-situ tension and compression experiments that will be recorded with 4K x 4K images at the rate of 25 images per second."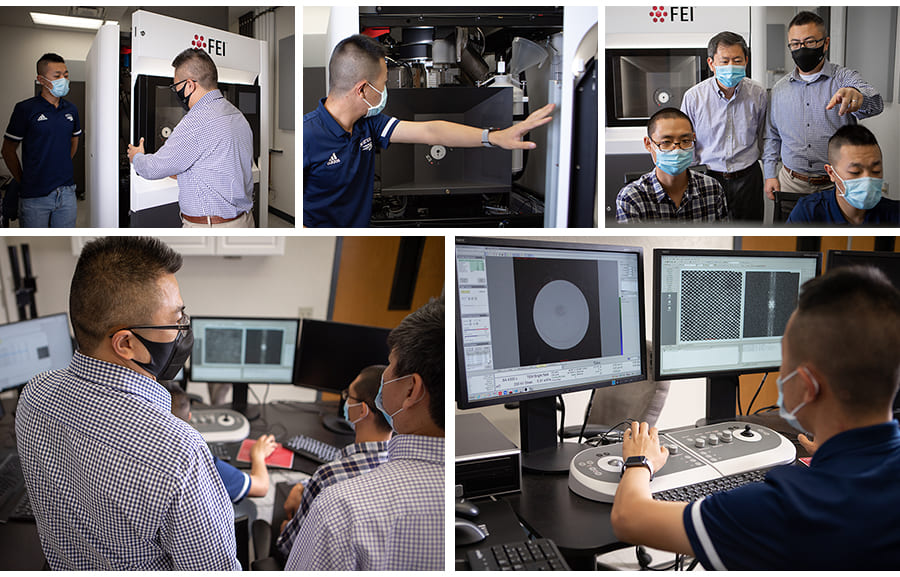 Built on the state-of-the-art FEI Talos F200s Scanning Transmission Electron Microscope, the system allows researchers to subject test materials to temperatures as high as 400 degrees Celsius. Because these conditions mimic those in nuclear energy facilities, the system will allow researchers to see if models of materials' behavior match those in real-world circumstances, in turn increasing the reliability and safety of nuclear energy.
"The equipment will allow us to study the mechanical performance of materials in a nuclear reactor and design the novel advanced materials used in the nuclear reactor" Zheng said.
Li added, "This equipment will also allow novel research on other advanced materials such as lightweight materials for automotive and aerospace applications, in the sense that researchers not only can conduct post-mortem observations after deformation, but also they can conduct in-situ observations while the material is being deformed. This capability will provide much better understanding of the underlying physics behind materials behavior."
In addition to advancing nuclear research, the ability to investigate materials at the nano-scale is key for innovations in cutting-edge computer chips, semiconductors and the development of aerospace materials. As such, it supports the academic development of students in a variety of engineering majors and minors, and it is a tool for cross-disciplinary collaboration with on-campus partners and industry partners.
"The development of this tool is a great example of how the expansion of research capabilities on campus not only translates to a better, safer world, but also expands the educational opportunities we can offer our students," College of Engineering Dean Manos Maragakis said. "We are grateful for the efforts of Drs. Li and Zheng, and we look forward to the high-impact research and collaborations their work will yield in the years to come."
Technical Specifications
Hysitron PI-95 PicoIndenter
Maximum force: 1000µN; maximum displacement: 1000nm.
Sample heating to 400oC;
Push-to-Pull (PTP) tensile characterization package
Gatan OneView IS Camera:
High resolution image recording: 4096 * 4096 pixels at 25 fps
High frame rate image recording: 512 * 512 pixels at 300 fps