Nearly 30 years ago, the University celebrated its first Winter Commencement ceremony at Lawlor Events Center, featuring about 200 graduates.
Adding an additional Commencement in December on Dec. 5, 1992, was due to the fact that May's traditional Spring Commencement had grown too large.
History was made again on Saturday at Lawlor, as for the first time, again necessitated by growth, two separate Winter Commencement ceremonies were held.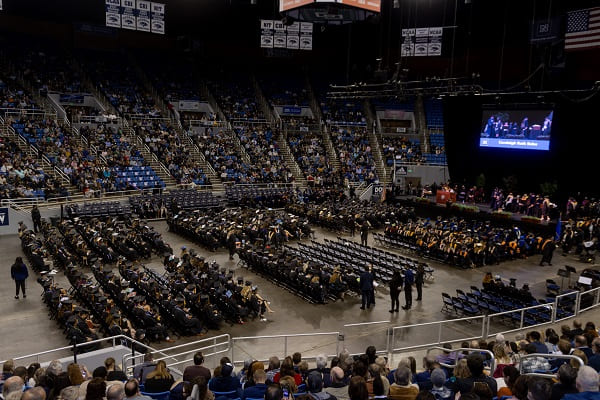 More than 1,900 degrees were awarded.

President Brian Sandoval praised the graduates for the resilience the Class of 2021 had shown in the face of a 21-month-long pandemic.

Even while faced with significant challenges, Sandoval said, the Class of 2021 had "contributed thousands of volunteer hours in a variety of spaces, throughout our community during your time here as students. You made those spaces brighter because of who you are, and what you have to share."

He added, "Those acts are like silver threads in a larger quilt. This quilt has the words, 'The amazing work of the people of the University of Nevada, Reno,' written in bold letters right across it. All of you have contributed to this beautiful, hopeful mosaic by one of these silver threads."
Carol Del Carlo, chair of the Nevada System of Higher Education Board of Regents, also praised the graduates for keeping the faith and in remaining hopeful throughout. She said the graduates were uniquely qualified, based on their experiences and through their studies at the University, to make a difference.
"I want you all to know that although there are many challenges in our world today, the world, with your accomplishment today, just got a little more hopeful," she said. "With your graduation, the chances that problems will be solved, and new paths will be blazed, in all disciplines, in all workplaces and throughout all of our communities, will grow almost exponentially throughout our great state."
ASUN President Austin Brown said the Class of 2021's determination to not be deterred had made the class historic: "Perhaps more than at any other time in our history, this past semester has shown what being a student at our University is all about."
He added, "… over the summer it became apparent what you all wanted. … You wanted, as safely as possible, of course … to return to in-person learning."
He said that because of the relationships that were forged and the time that was spent partnering in a variety of contexts, had helped make the Class of 2021 stronger – and more qualified to help the communities in which they would serve in the future.
"What you carry with you today and for the rest of your lives is how you remind us that we are always stronger when we are together," Brown said. "That our potential to do great things is limitless when we reach out and make sure we never lose track of our core beliefs of cooperation, of collaboration, of respect, and of love."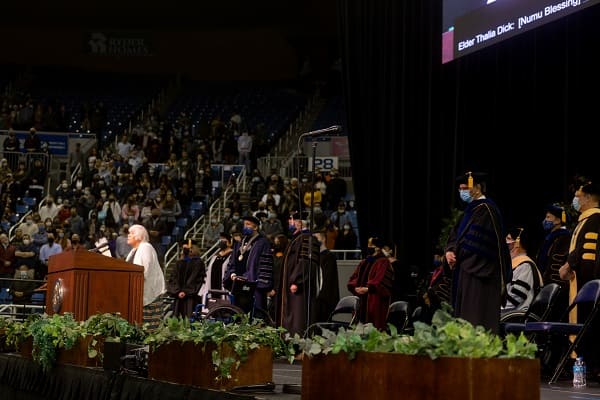 Sandoval, smiling broadly, said the graduates on Saturday might not have noticed it, but in the fine print of their degrees was the acknowledgment that from Saturday forward, as graduates of the University, they would all possess "super powers."
"Graduates of our University," he told those assembled in Lawlor, "these are super powers no one else has. You value service over self You know there is strength in the unity of our collective goodness. You will always invite others into your circle of community … and of belonging."