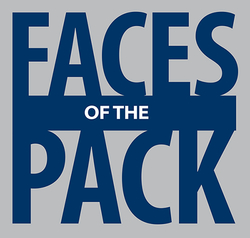 On June 7, mechanical engineering student Tyreis Gatson posted to LinkedIn a photo of himself preparing for the first day of a NASA internship as part of the Lucy Mission. In the photo, he is wearing a NASA shirt and smiling at the camera, demonstrating an undeniable excitement for the next phase of his engineering journey. Behind his computer monitor (which itself bears a NASA logo and the immensity of space as its wallpaper), honors cords and stoles hang from the wall. The photo captures Gatson's spirit—a combination of verve for life and an intellect that is ready to tackle any problem he might face. Within days of its hitting LinkedIn, the photo had gone viral, and by the end of the second week, it had registered more than 2,000,000 views, 100,000 likes, and 1,700 comments.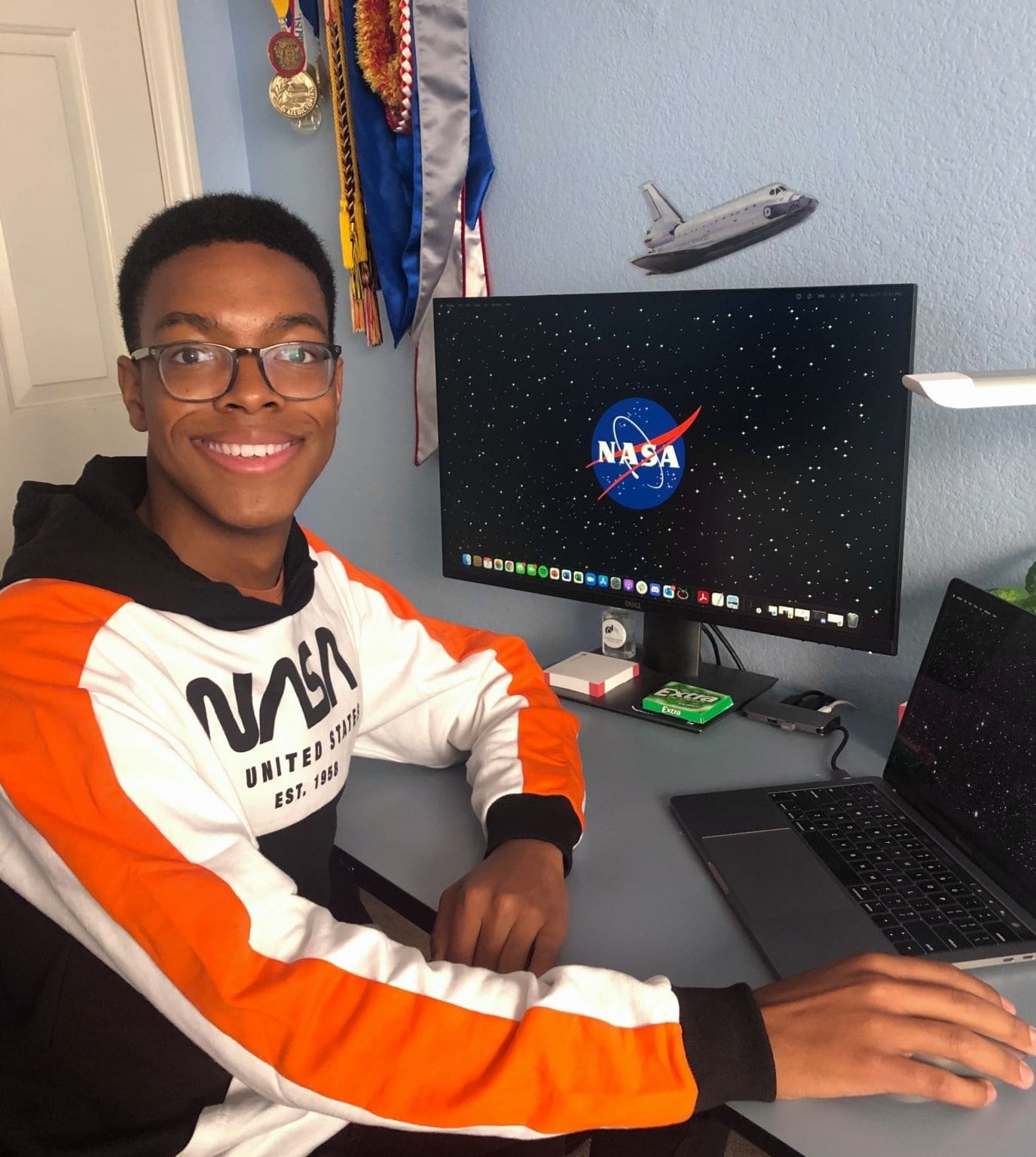 "I have 4,000 invitations to connect," Gatson said and laughed. "I don't know what to make of it. It's overwhelming. My friend told me I should send it to Extra because it [the post] has a pack of Extra gum in it."

It might be overwhelming to Gatson, but after just a few minutes speaking with him, it's clear that it was only a matter of time until he garnered attention for his accomplishments. For Gatson, though, the success of earning the internship—in which he serves as Deputy Project Manager and Mechanical Engineer on a team tasked with designing, building and testing simulated flight hardware—came after a difficult period.

"One year ago, when the pandemic hit, I was discouraged. All the engineering conferences and competitions were cancelled. My professional life went stagnant," Gatson explained. "I didn't know what to do."
While contemplating how to push his education to the next level, he applied for NASA's L'SPACE Mission Concept Academy. The Academy put Gatson on a team of ten, including the brightest from Princeton, USC, UCLA, Cal State LA, Cal State Northridge, Glendale Community College, and Humboldt State University. Together, his team developed a mission concept that proved prescient.
"Venus's upper atmosphere is kind of like that of Earth," Gatson explained. "It is believed that life might exist there. We spent 12 weeks developing a mission concept to bring a space vehicle to Venus and presented it to a panel to gain insight. Now, NASA just announced two Venus missions—for the first time in 30 years. It's crazy how the timing worked out!"
From the Mission Concept Academy to the Lucy Mission
The Mission Concept Academy is designed as a pipeline accelerator, giving those who have excelled in it exclusive opportunities to continue their development within NASA. Building on his success in the Academy, Gatson was part of a pool of students invited to apply to an internship with the Lucy Mission. Set to launch this October, Lucy will study the Trojan Asteroids that orbit Jupiter and are thought to hold key information about the history of the solar system, including its formation more than 4 billion years ago.
Gatson will work with six other interns to help design, build and test simulated flight hardware—specifically an infrared instrument that can take images of thermal targets. Working with Arizona State University's Space Works Instrument Incubator Laboratory, his team's design will be tested in a special vacuum.
"It's fun and challenging," Gatson said. "It's a good opportunity to hone my technical skills."
Specifically, as a result of the internship, Gatson is learning Siemens NX, which is a premier CAD software used in the aerospace industry. His experience will culminate in an opportunity to become certified in the program.
Pack Research Experience Program
In addition to his internships at NASA, Gatson recently accepted a role in the Pack Research Experience Program (PREP). Housed in Undergraduate Research, PREP provides funding for students to perform research under the guidance of a faculty member. Gatson is working with Assistant Professor Thomas White on magnetohydrodynamics simulations with the ultimate goal of understanding planetary creation and fusion energy.
White said of Gatson's contributions, "Tyreis has worked in my research group for the past semester through the Pack Research Experience Program (PREP). His main task has been to understand the behavior of dense plasmas, the kind of matter found in the cores of stars and planets. On a day-to-day basis, he has been running magnetohydrodynamic simulations. With no prior experience, Tyreis has mastered using the Linux operating system, gained experience with MATLAB, run paralyzed MHD simulations across multiple cores, and written up his results in LaTeX – all in one semester. It is a further testament to Tyreis's ability that he accomplished all of this remotely."
White continued, "Tyreis is an exceptionally smart, hard-working, and enthusiastic student with an insatiable drive to understand our universe!"
It was just this kind of research experience that Gatson, a Las Vegas native, had in mind when he chose the University.
"I wanted to attend a great engineering program at an R1 University.... I wanted to be able to conduct research as an undergraduate to better prepare myself for graduate school."
"I wanted to attend a great engineering program at an R1 University," Gatson said, referring to the University's designation as one of only 130 institutions in the United States ranked as an R1 Very High Research Activity Institution by the Carnegie Foundation. "I wanted to be able to conduct research as an undergraduate to better prepare myself for graduate school. Working closely with Dr. White has provided me with valuable mentorship and guidance in this aspect of my career."
In discussing the trajectory of his academic career, Gatson emphasizes the value not only of seeking mentorship but of offering it. In addition to receiving support from Dr. White, Gatson was a member of the College of Engineering's Outreach program, he has served as a peer mentor for 8 engineering students, and he will be part of the mentorship team welcoming the next class of Engineering students to campus as part of E-FIT, a one-credit program that helps students transition successfully from high school to college.
"Tyreis was motivated from his freshman year. He met with prospective students during recruitment events, provided engineering lessons for our K-12 outreach programs, and taught during our summer camps," College of Engineering Recruitment and Outreach Coordinator Meg Fitzgerald said. "In addition to his exceptional talent, ability, hard work and conscientiousness, he brings a level of maturity and poise to everything he does, while keeping it fun for the students."
For those looking to follow in Gatson's footsteps, he says, "Be resilient; obstacles are inevitable, but resiliency is how you thrive. Per aspera ad astra," he concluded: Through hardships to the stars.
Internship at Allegiant Stadium
Even before he joined the University of Nevada, Reno, Gatson had already made a mark on the history of Nevada through his contributions to Allegiant Stadium, a 65,000-seat venue in Las Vegas.
As a high school student, Gatson held a Mechanical, Electrical, and Plumbing (MEP) engineering internship at Allegiant Stadium, which is now home of the Las Vegas Raiders.

Gatson signs the last steel beam to be placed in the stadium during the Steel Topping Out Ceremony. At the ceremony, the stadium was officially named "Allegiant Stadium."

Gatson with Las Vegas Raiders owner Mark Davis