For Nevada Gold Mines Professor Pengbo Chu, mining is all about scale. From massive equipment that can literally move mountains to separation of elements using the tiniest air bubbles, he wants to know about it all. Chu started as an assistant professor in the Department of Mining and Metallurgical Engineering (MME) at the University of Nevada, Reno in 2020.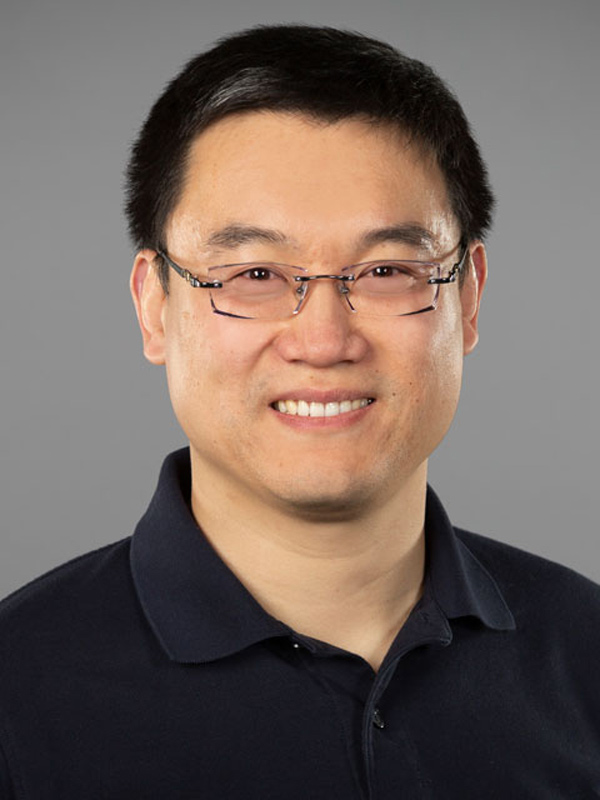 "I came to Reno because of the reputation of the Mackay School of Earth Sciences and Engineering. It is one of the best mining universities in North America. In addition, the state of Nevada is known as a mining state. Working at Mackay will help me to gain more collaboration with the industry," Chu said.

And it has done just that. Chu was recently awarded his endowed professorship from Nevada Gold Mines, a gold industry leader. In addition to the added financial support of his research and teaching efforts, Chu said the professorship has put him into direct contact with industry leaders, particularly those at Nevada Gold Mines like the general manager Megan Tibbals, who happens to be an alumna of the Mackay School.
"The first step is to have more engagement for the students with the mining companies. Nevada Gold Mines will work in their operation to identify small projects that can be tackled by our students at the University."
"Collaboration is the key. Nowadays, you cannot just do things by yourself," Chu said.
Other collaborations for Chu have included working with a researcher at the Desert Research Institute, other mining operations, and professors in other departments at the University. One of the professors Chu is collaborating with is the Susan Magee and Gary Clemons Professor of Chemistry Ana de Bettencourt-Dias from the Department of Chemistry.
Bettencourt-Dias is Chu's faculty mentor and is working with Chu to improve sustainability in mining. Improving mining process efficiency can reduce mining waste. Reducing waste has an obvious economic benefit, but it also means there is less need to disturb other environments to acquire materials. His collaboration with Bettencourt-Dias will use her research in chemistry to extract more rare earth elements from ores.
"Dr. Chu's research in interfacial phenomena (the structures and properties at the interface of solids and liquids) is at the frontier of separations chemistry. His knowledge and research contributions have, and will no doubt continue, to provide valuable insights regarding more efficient separation processes that are part of the mining industry," Bettencourt-Dias said.
One of Chu's priorities after receiving this professorship is bridging the gap between students and the industry by improving education. But Chu said this can't just be done by professors or even the University. It requires a collaboration between educators and the mining industry to apply the theories students are learning in the classroom to the mine sites. That means more field trips and students using new learning technologies, such as virtual reality, in the classroom.
"The first step is to have more engagement for the students with the mining companies," Chu said. "Nevada Gold Mines will work in their operation to identify small projects that can be tackled by our students at the University."
In addition to benefits to students and connections to the industry, the professorship is also a valuable resource for Chu's ongoing research. As Bettencourt-Dias, a named professor herself, knows, this can be critical to supporting bigger ideas and jumpstarting new ones. "Being a named professor is an honor. Support of the named professors with this type of award provides the resources to heighten our research productivity and gives us the freedom to pursue more 'pie-in-the-sky' research ideas, which often lead to important scientific breakthroughs," Bettencourt-Dias said.
One of those "pie-in-the-sky" ideas Chu is currently pursuing is autonomous mining on Earth's moon. As plans for extra-terrestrial habitation become realized, NASA is working on ways to mine on the moon for resources, which would be cheaper and easier than bringing those supplies from Earth. One of the materials NASA is interested in mining is ilmenite, which is found in the lunar topsoil called regolith. Ilmenite can be mined and then melted down for 3D printing. This material could be used to build infrastructure such as lodging for astronauts. Ilmenite also contains oxygen, which can be extracted for use by astronauts.
Concentrations of ilmenite in lunar regolith are low, and the extraction process requires a lot of the mineral. Chu is focused on how to concentrate minerals in the lunar regolith. After speaking with two scientists from NASA, Chu applied for the Nevada NASA Space Grant Research Infrastructure grant. The goal is to develop a method to concentrate the minerals of interest. His proposal was accepted, his first grant since starting at the University.
The process Chu is focused on is called beneficiation, and it will be key for the processes NASA plans to perform on the Moon. Chu's research will contribute to NASA's Artemis plan to establish infrastructure using lunar resources by 2028. This infrastructure includes power plants, refineries, habitats and roads. The research team on this project will include undergraduate students and graduate students at the University.
According to the MME department chair Manoj Mohanty, Chu is the first MME faculty member to receive a grant from NASA.
"Dr. Chu, having an expertise in fundamental flotation science and engineering, is a great addition to our metallurgical engineering program. In addition to teaching both at undergraduate and graduate levels, he has been able to reach out and form teams with faculties in other departments and colleges as well as industry experts to pursue large federal grants," Mohanty said.
Chu's professorship from Nevada Gold Mines will help him to make his research more impactful for students, and for Chu, this professorship is an opportunity to close a gap in his field of knowledge.
"What I'm missing is the real industry experience. That missing qualification directly influenced which research direction I should pursue," Chu said. "That's one of the beauties of this professorship, is to get me connected with Nevada Gold Mines directly."