For the first time ever, users of the Churchill County Library and visitors of the Churchill County Museum can experience the culturally and historically significant Hidden Cave site located in Fallon, Nev., like never before – in Virtual Reality (VR). Hidden Cave is located in the Grimes Point National Register Historic Site.
The University Libraries' @One Digital Media Team worked in partnership with Carol Lloyd, director of the Churchill County Library, to design and develop a VR-based, immersive and accessible experience highlighting the wonders of Hidden Cave. Lloyd reached out to the Libraries because she said she was confident in the @One Digital Media Team's ability to create this type of innovative project.
The @One Digital Media Team has a well-known and well-respected reputation for creating exceptional multimedia and VR projects for both the University community and local northern Nevada community. The Reno Street Art project, VR-based Basketry Museum and the 'Walking With Reality' documentary are a few of the projects that have put this team on the map.
"I knew we had to partner on this project!" Lloyd said.
After exploring the idea to use VR to document and preserve Hidden Cave, the @One, Churchill County Library and Churchill County Museum formally partnered to secure grant funding for the project through the Institute of Museum and Library Services through the Library Services and Technology Act, administered by the Nevada State Library, Archives and Public Records.
A sizeable grant of approximately $100,000 was awarded to the Churchill County Library late Spring 2020 and the VR project was completed in September 2021.
Hidden Cave: A culturally symbolic site for the Fallon Paiute-Shoshone Tribe
Hidden Cave is culturally symbolic to the Fallon Paiute-Shoshone Tribe. It is a site viewed as a sacred place of importance worthy of preservation. It is also of interest to non-tribal people. One of the project's goals was to build a better understanding of Native culture.
"We created the experience with empathy in mind," Acting Manager of Digital Media Checkout and Multimedia Specialist Luka Starmer said. "We wanted the experience to give context from the Indigenous perspective in addition to the scientific archaeological point-of-view."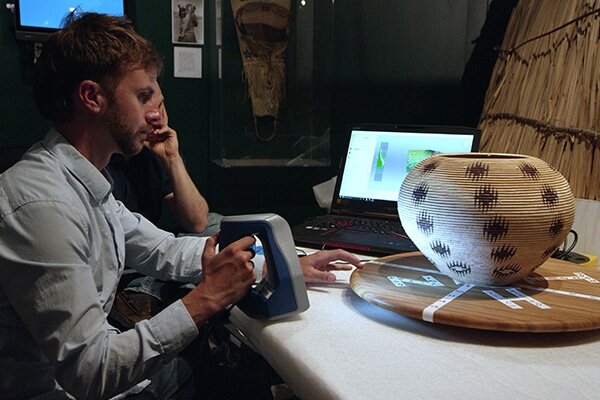 He added, "Collaborations like this tend to strengthen and deepen existing relationships outside of the walls of our Libraries. This is the type of project helps us grow even more meaningful contacts in our Nevada community."

Starmer said the team was interested in putting users of the VR experience in the shoes of Indigenous people who have used Hidden Cave for thousands of years.
What is Hidden Cave?
The cave itself was formed approximately 21,000 years ago by the waves of rising Pleistocene Lake Lahontan. It was in use intermittently by the Indigenous people on these lands over the last 4,000 years. The site was never lived-in but was believed to be a place for storage year after year for items used for hunting, fishing, basketry, and other belongings. Archaeologists liken it to the way we use an attic or a garage in modern times.
It was rediscovered in the 20th century in the 1920s by four school-aged boys. Hidden Cave has been excavated three times by archaeologists – once in 1940, again in 1951 and finally a large excavation led by the American Museum of Natural History in 1979-80 that helped shape the understanding the geological formation and Indigenous uses of the cave.
Many of the artifacts found in Hidden Cave were unbroken and arranged in concentrations known as caches. These caches reveal technological and cultural practices of the people thriving on these lands long before white settlers arrived.
Today, more than 3,000 people visit Hidden Cave annually with a majority of visitors traveling from outside Churchill County, primarily from Nevada but including national and international visitors. The dirt trail to Hidden Cave is a steep up-hill hike approximately one-half mile from the parking lot and requires navigation of a short four-foot entrance. This is difficult for people with mobility restrictions.
"Since time immemorial Northern Paiute have inhabited the area known as Lahontan Valley and specifically Hidden Cave," Former Tribal Chairman for the Fallon Paiute Shoshone Tribe Len George said. "Even though it is against our teachings to visit known burial sites the Tribe is committed to protecting this site. We worked together over the duration of the project advising the team of the proper handling of objects and artifacts. We shared our cultural knowledge and history as it pertains to this project in order to help with further learning and future programming to help grow new knowledge about this important historical site."
Why use Virtual Reality?
Because of the extremely fragile nature of Hidden Cave, VR was the medium selected for the project. The VR experience, a fixture at the Churchill County Library, Churchill County Museum and Fallon Paiute Shoshone Tribe - Community Learning Center, helps bring new educational content to the community while helping to normalize VR technology across a wider audience.
Because VR is an active medium, users must explore and interact with the digital assets and environments in front of them, spurred by their own inquisitive nature.
The @One Digital Media Team helped consult on the construction of three VR kiosks that are located in Fallon. The high-tech kiosks beckon use from users of all ages. Users navigate the experience using a VR headset and hand controllers paired with a high-end gaming computer. The virtual environment and 3D objects are as life-like as digitally possible, given 21st century developments in computer processing and technology.
"The VR experience incorporates archaeological, cultural and natural history points of view in a way that is captivating, experiential and interactive," Mark Gandolfo, retired director of Digital Media Technology for the University Libraries said. "Users are able to closely interact with and examine artifacts, geological stratigraphy and the general cave environment. Additionally, video, audio and interpretive text panels are incorporated to highlight and draw attention to both the archaeological and Native American cultural contexts present in the Hidden Cave narrative."
How was the experience created?
Six @One Digital Media Team members, along with @One VR developer Hadi Rumjahn, worked together to build the final VR product. By utilizing modern game engine programming and assets created by the team, Rumjahn was able to design an interactive VR experience incorporating storytelling, 3D objects, audio elements and more.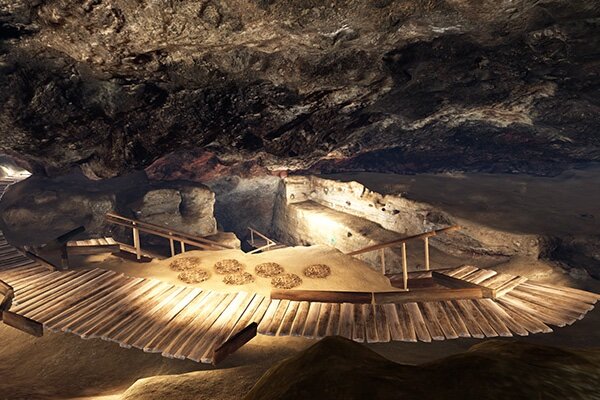 The team spent four days on location utilizing LiDAR technology and photogrammetry to capture imagery of the interior and exterior of Hidden Cave.
"When you are working with a project of this scale there is a constant balancing act taking place where we must optimize data in order for it to run on a consumer grade computer and headset while keeping a high-level of integrity for the environment and objects," Interim Director of Digital Media Technology Daniel Fergus said. "Capturing Hidden Cave in both LiDAR and photogrammetry we utilized the strengths of both techniques in building an accurate yet optimized viewing experience. This, along with the game engine programming used by Hadi, users can simply put the headset on and go on an intuitive and user-friendly simulated adventure inside historic Hidden Cave!"
Additionally, members of the team visited the Churchill County Museum and Nevada State Museum more than six times to 3D-scan approximately 40 Hidden Cave artifacts held within the museum collections
"Evidence exists confirming Hidden Cave was used as storage site around 4,000 years ago and as recently as 2,000 years ago," Fergus said. "We knew different caching categories existed when we started the project, but as Luka began 3D-scanning different artifacts held by local museums, the team felt it would be exciting to bring a select sample of these artifacts into the VR experience."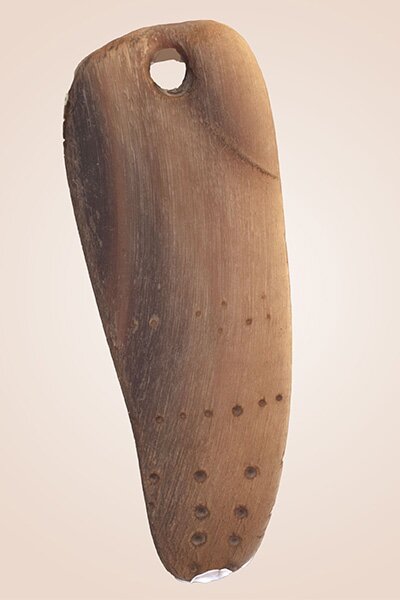 While in the VR experience users can pick-up, hold and rotate things like spearheads, basketry fragments, mattings made with tule and hand-made jewelry. This gives users a 360-degree view of the artifact they are interacting with. In a typical museum display, users must view artifacts from behind a glass case or a locked door.

The @One Digital Media Team was confident when they took on the project, but they had never captured an environment with the same obstacles present at Hidden Cave.

"Light is very important when using photogrammetry and this was by far the darkest environment we have attempted to capture," Fergus said. "The team was determined to gather as much data as possible to allow users to visit parts of the cave traditionally not accessible to the public."
Hidden Cave VR project helps foster the creation, sharing of new knowledge
The Hidden Cave VR experience transcends the University Libraries and brings the Libraries into new communities. Additionally, the project presented opportunities for the @One Digital Media Team to learn new skills and techniques for sharing within the University setting.
"Our team is always learning," Fergus said. "We learn in advance and on-site. This experiential learning allows the team to take new knowledge gained through working on complex projects like Hidden Cave and share them with students and faculty across campus."
Many of the techniques, theories and processes used to create projects like this trickle down into the University's classrooms helping to foster the creation of new knowledge allowing students and faculty to incorporate cutting-edge technology and ideas into their course work or their research.
"The Hidden Cave project is about impact and possibility," Fergus said. "We experiment on real-world projects with the end goal being to foster Discovery, Learning and Engagement across campus and within the community. Hidden Cave is a perfect example of how a good idea can lead to a great product which in turn creates opportunities for everyone to learn about or experience something new, in an innovative, memorable and refreshing way."
About the University Libraries
The University Libraries embrace intellectual inquiry and innovation, nurture the production of new knowledge, and foster excellence in learning, teaching and research. During each academic year, the Libraries welcomes more than 1.2 million visitors across its network of three libraries: the Mathewson-IGT Knowledge Center, the DeLaMare Science and Engineering Library and the Savitt Medical Library. Visitors checked-out more than 80,000 items and completed more than two million database searches.