It is long known that murals have the power to generate an intimate connection to our surroundings. The art form is accessible and interpretive. It can unite people or celebrate differences. No matter what an artist is trying to communicate, the work itself evokes a curiosity in passersby, from cave paintings of 40,000 years ago, to Diego Rivera to Basquiat to Reno's own muralist Joe C. Rock.
Street art painted on walls and buildings around Reno has become a celebrated part of our city's character. Varying styles and subject matter represent a sprawling variety of ethnic and cultural expressions. The sheer number of murals in Reno is astounding - more than 20,000 square feet of painted walls. This recent proliferation of street art is embedded in Reno's identity. Murals dotted around Reno live on walls of all sizes and shapes. They brighten the character in the most beautiful neighborhoods and the dodgiest of alleyways.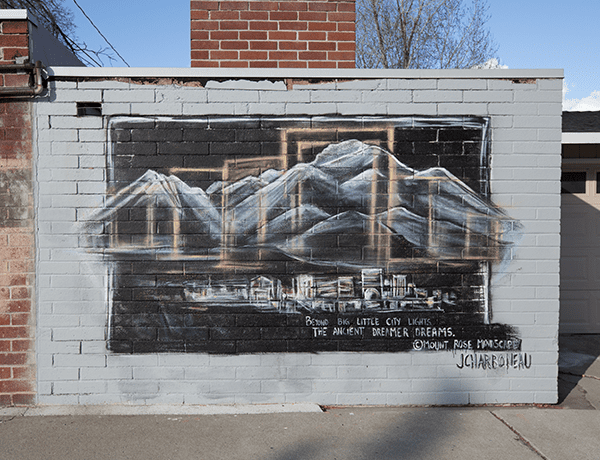 However, all street art is ephemeral in nature. Buildings are torn down; walls are painted over or degraded by weather. To preserve our own cultural heritage, librarians and multimedia specialists at the University of Nevada, Reno collaborated with local artists to generate a digital archive and virtual reality (VR) gallery celebrating this medium.
WHAT IS THE RENO STREET ART PROJECT?
Because murals are ephemeral, the Digital Initiatives Department within University Libraries at the University of Nevada, Reno decided in the spring of 2017 to design the Reno Street Art Project to digitally preserve and catalog the influx of street art being created in Reno. The Project, now complete, is comprised of a robust digital archive and multimedia virtual reality (VR) tour highlighting street art on display in Reno between July 2017 - December 2017.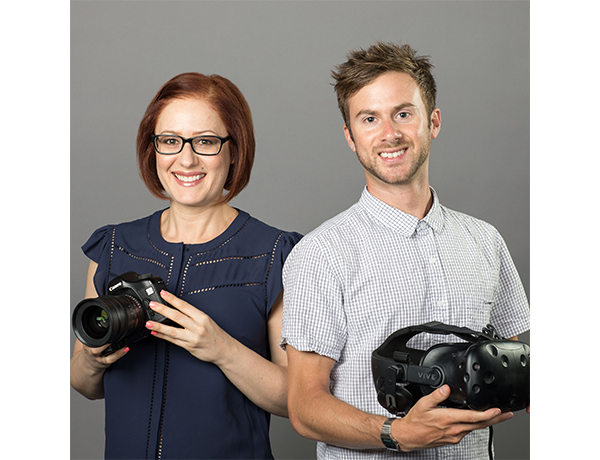 "A little more than one year ago I was seeking a new and exciting project to manage," said Laura Rocke, project manager for the Reno Street Art Project. "My boss, Digital Initiatives Librarian, Amy Hunsaker, had long been interested in a project in Buenos Aries that documented street art. When Amy mentioned this to me it got me thinking...we have our own street art movement taking place in Reno. Why not try and capture photography and metadata of this ephemeral art and create an online digital archive available to library users to help preserve a celebrated part of our city's character? This is how the idea for the Reno Street Art Project was born."
CREATING A DIGITAL ARCHIVE
The Project team identified and collaborated with several local artists to generate a digital archive populated with more than 500 entries of street art representing more than 200 individual murals. New murals are being added to the archive as they go up around town. Metadata accompanies each entry that describes, in considerable detail, the murals themselves, as well as the artist, location, medium and more. In addition to the digital archive, the Libraries' @One and @Reality teams created a complimentary virtual reality (VR) gallery celebrating the medium.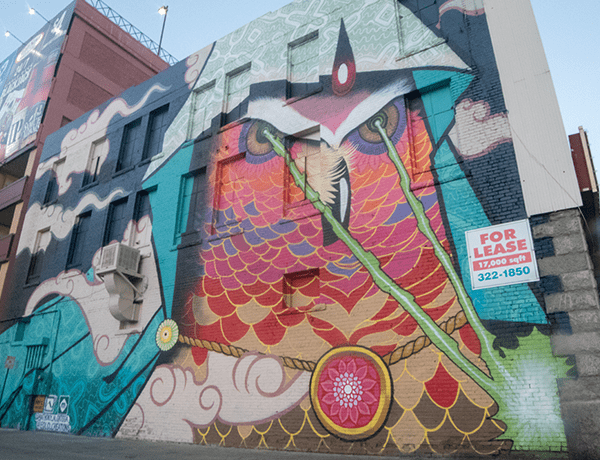 "I believe that murals create work based on the culture and society that surrounds them, and the historical contexts or political undertones in murals will make the archive a good primary source of information for future researchers." Rocke said. "The database is fully searchable and opens new doors to muralists styles, mediums and much more. It is my hope that the archive gets used by University departments like Art, History and Journalism."
ADDING A VIRTUAL REALITY COMPONENT
University Libraries is a traditional academic library that fully embraces the digital culture of the world we live in. Straight forward archival photography alone wouldn't capture the scale and presence of Reno's street art; Virtual reality could.
@Reality Multimedia and Virtual Reality Specialists Luka Starmer and Michelle Rebaleati were the leads on gathering 360-video content for the VR component of the project.
Shawn Sariti, a member of @Reality's multimedia team, generated a 3-dimensional (3D) map of our city spanning from the University campus down to the edge of Midtown. Next, he populated the map with more than 100 cubes, each one representing a mural or a group of murals. Some of these locations are tucked away off of the beaten path. Other locations are completely inaccessible. The ability to "teleport" around the map allows you to intimately observe a variety of street art murals faster than ever before.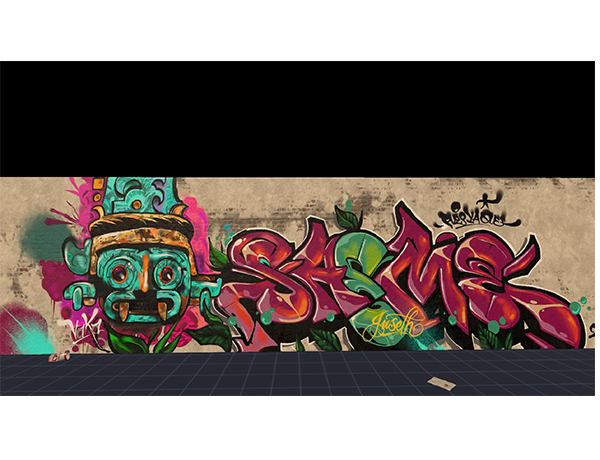 "Luka started working for University Libraries last summer," Rocke said. "Prior to his arrival he was a graduate student at the Reynolds School of Journalism. He produced a final project that leveraged the use of VR for storytelling. From the earliest Project production meetings, the team knew that the 360-degree video component would utilize storytelling techniques to supplement the academic metadata I was working to develop in the archive."
Starmer and Rebaleati worked on the VR tour for about a year. Now complete, the VR application allows library users to experience Reno's street art like never before.
"My favorite aspect of creating the 360-video is experiencing how creativity and technology come together," Rebaleati said.
Using 360-video, the Libraries team captured a perspective that makes the user physically tilt their head up, down and side-to-side to be able to observe the art. And behind them, cars drive by, people are carrying on with their daily life. You're feeling the art in its sense of place.
"The VR tour also allows users to hear from Reno's street art muralists in their own words," Starmer said. "Artists themselves are featured in the VR tour and can be seen describing their work, inspiration, favorite medium and more. It's a completely immersive and interactive way to take in all of Reno's awesome street art on your own time, indoors, and in a convenient location on campus - the @Reality virtual and augmented reality studio located on the first floor of the Mathewson-IGT Knowledge Center inside the @One area."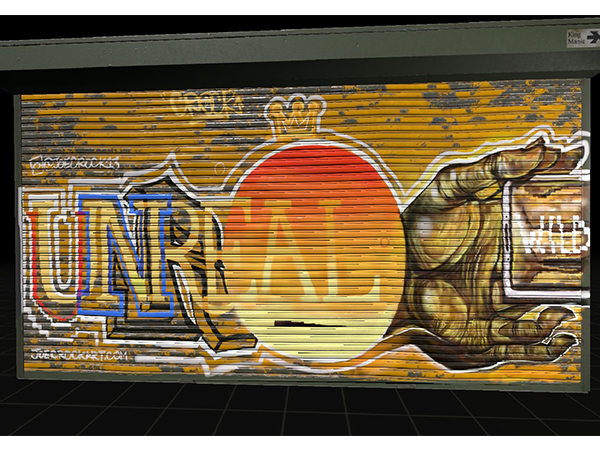 Rocke added, "The multimedia team's goal was to accomplish the same objective as the digital archive team, except wearing a VR headset exploring a three-dimensional map that feels like a video game with interactive multimedia content."
LAUNCHING THE COLLECTION
University Libraries in partnership with Artown invites you to experience the Reno Street Art Project on July 17. All interested community members are asked to RSVP via Eventbrite to reserve their spot. Space is limited and the event is free and open to attendees of all ages.

Event guests will have an opportunity to explore the Reno Street Art Project digital archive, experience the VR tour and watch live, virtual reality-based street art-style painting from renown Reno muralists including Anthony Ortega, Vaka, Joe C. Rock, and Jenn Charboneau. For more information email UniversityLibraryEvents@unr.edu or call (775) 682-5684.
"As a Reno native who has lived in midtown since 2011 I've seen our demography change and have witnessed a physical change in the landscape," Rocke said. "I saw amazing street art going up and coming down quite frequently. As a result of this observation, I felt it was my duty to help preserve this beautiful artwork in the Reno Street Art Project by offering library users a place to go to experience the evolution of Reno's street art scene," Rocke said.
To date, the Reno Street Art Project has been featured on KNPB's Arteffects and also in the Reno News & Review.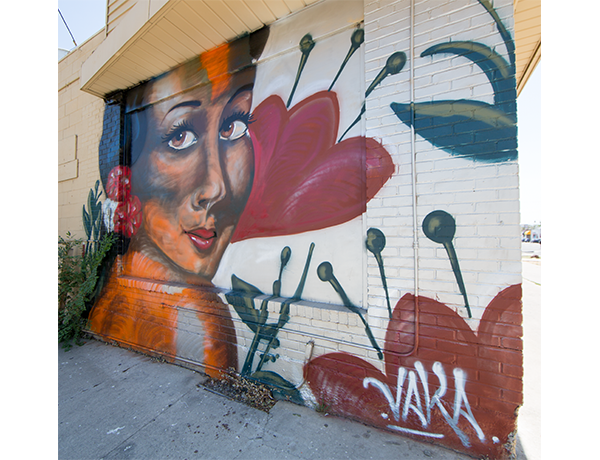 CREDITS + SPECIAL THANKS
University Libraries, Mathewson-IGT Knowledge Center
Kathlin Ray - Dean, University Libraries and Teaching & Learning Technologies
Jill Stockton - Marketing & Communications Specialist
Robin Monteith - Associate Director of Development
Chris Holloman - Graphic design/Pop-up exhibit design for the Reno Street Art Project Installation at the Sierra Arts Foundation (June 2018)
University Libraries, Digital Initiatives Department
Amy Hunsaker - Digital Initiatives Librarian, University Libraries
Laura Rocke - Digital Humanities Specialist & Reno Street Art Project Manager, University Libraries
Jeannette Martinez - Contemporary Street Art Specialist
University Libraries, @Reality +@One Departments
Mark Gandolfo - Executive Producer
Daniel Fergus - 3D Modeler
Shawn Sariti - Unity UX Programmer
Michelle Rebaleati - 360 Video Producer
Luka Starmer - 360 Video Producer
Kyle Weerheim - Second Unit Photography
Maryan Tooker - 360 Video Utility
Hadi Rumjahn - Unity Developer/Student worker
Tyler Goffinet - Unity Developer/Student worker
Special Thanks
Jack Freer - Additional Still Photography
Eric Brooks - Curator, Art Spot Reno
Vaka - Muralist
Jenn Charboneau - Muralist
Joe C. Rock - Muralist
Anthony Ortega - Muralist
Sierra Arts Foundation
Art Spot Reno
Artown
About University Libraries
University Libraries embrace intellectual inquiry and innovation, nurture the production of new knowledge, and foster excellence in learning, teaching and research through scholarly resources, creative learning spaces, cutting-edge technology, and world-class service.