University of Nevada, Reno Assistant Professor of Anthropology Kyra Stull contracted the COVID-19 virus this past summer. At the time, the virus was starting to spread more rampantly, but with stay-at-home orders and other restrictions, many people may not have known anyone personally who had caught the virus. Stull feels comfortable sharing her experience with COVID-19 now, but initially, she felt ashamed.
"I did feel as though I was wearing a scarlet letter," Stull said.
Stull and a close friend decided to escape into the wilderness on a camping trip to Idaho and Montana in July. They stayed within their own camp sites and on their road trip, wore masks, gloves and used hand sanitizer when stopping at gas stations. The small group started showing symptoms when visiting her partner in Montana. Stull and her friends don't know who contracted the virus and when, but each member felt its effects and realized how the virus can spread so quickly.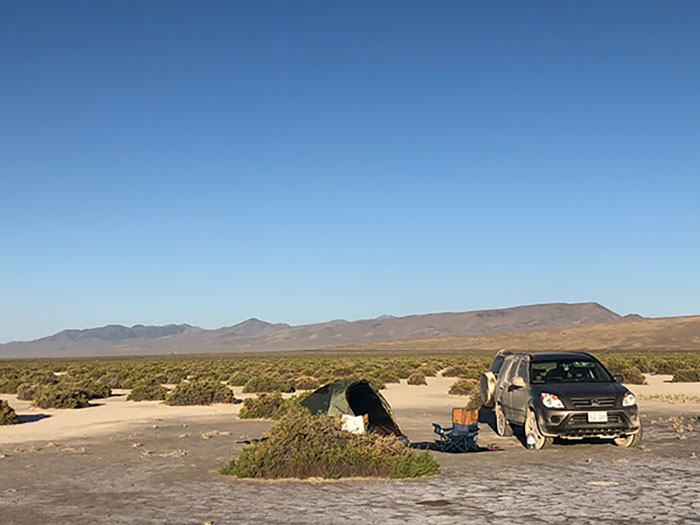 "Not only are you getting it, but you're potentially infecting other people who did not make the same decisions that you did," Stull said. "It was really uncomfortable and took a while to be okay with the reality. My friend is a healthcare provider and she dealt with even more guilt and shame. We were people who got it even though we were doing what we thought would be okay."

Stull returned to Reno with her friend where they both got tested and quarantined together to keep their respective households safe from the virus. She said having her friends as a support group as they all went through the virus together helped a lot.
"When you don't know what's expected, and you're unaware of the significance of the virus that you have, it is scary, and I was comforted to have shared that experience with other people," Stull said. "We all know what it's like to quarantine, but to be forced into that quarantine is kind of a different level, especially then to experience symptoms that don't really make sense, or you're not used to."
Stull experienced uncomfortable symptoms such as shortness of breath and loss of taste and smell, but never developed a fever or cough. She said the COVID fatigue hit all three of them hard and she is still experiencing that fatigue months later as well as some other long-term effects.
"I ran about three to five miles, five days a week, and now I could barely walk ten steps with my dog without having to take a break," she said. "I couldn't speak without taking deep breaths or breaks between my sentences."
Stull said she wants to emphasize to the University community, whether it be students or faculty, that in a pandemic, choices have consequences.
"The decisions you make can have an impact on those around you and even those who are not, and you may end up impacting more people than you thought," she said. "Recognizing and admitting to others that you have it and letting them know you might have impacted their lives because of your choice really highlights that this isn't just about you and what you're doing. It really put into perspective that the choices we make, especially during a pandemic, are not our own, they impact everyone."
As an assistant professor, she sympathizes with what college students are going through right now with remote learning and not being able to have that conventional college experience. She misses in-person learning and hopes to get back to the classroom as soon as possible.