Throughout his personal and professional life, whenever there has been a need to stand up and make a difference, Donald Easton-Brooks has done just that.
He is considered not only a national but an international leader in the field of equity in education. As dean of the College of Education and Human Development since 2019, Easton-Brooks has led the college through a time of growth, change and accomplishment.
So it shouldn't be too surprising that when fifth-year Coach Jay Norvell left the University to become the head coach at Colorado State University less than a month ago, taking with him several assistant coaches and staffers as well as nine players from the 2021 Nevada Wolf Pack football team, Easton-Brooks knew with every fiber of his being that he had to do something to help.
The Wolf Pack was down to five assistant coaches, as well as two analysts. Newly named head football coach Ken Wilson, a former longtime Wolf Pack assistant coach who was co-defensive coordinator at Oregon, would be busy assembling a new staff and recruiting for the 2022 season. As is the custom in college football when a new head coach has been named prior to a bowl game, Wilson would not be coaching the Wolf Pack in their bowl game, a Dec. 27 appearance in the Quick Lane Bowl in Detroit.
Wolf Pack Hall of Fame running back Vai Taua, the team's running backs coach, was elevated to interim coach for the bowl game.
Easton-Brooks, who had played Division I football at UTEP as well as at Greenville University in Illinois, where he was inducted in 1993 into the Greenville, Illinois, school's Athletic Hall of Fame, said it was a meeting in the bookstore in the Joe Crowley Student Union with President Brian Sandoval that set him on the path he has been following for the past several days. It's been a path that has seen Easton-Brooks having to wake each day well before many chilly and icy December dawns to be a part of Wolf Pack's practices in preparation for the Quick Lane Bowl.
Easton-Brooks has become the Wolf Pack's "Dean-Coach," a reassuring and encouraging presence for a group of football players whose seriousness about their academics, their football and their hopes for the future has impressed him in a way that he believes he will never forget.
"I saw President Sandoval in the bookstore at the Student Union, and we were just talking," Easton-Brooks says. "He mentioned that he had just talked to the coaches and had wished them well. I thought, 'You know what, I'm going to do the same thing.'"
Easton-Brooks sought out Taua, who throughout the turbulence of the Norvell departure has exuded nothing but positive energy. In an interview with Nevada Sports Net earlier this month, Taua, who along with quarterback Colin Kaepernick was a key cog on the Pack's legendary 2010 team that went 13-1, upset third-ranked Boise State and ranked 11th nationally, called the opportunity to be the Wolf Pack's interim head coach "a dream come true."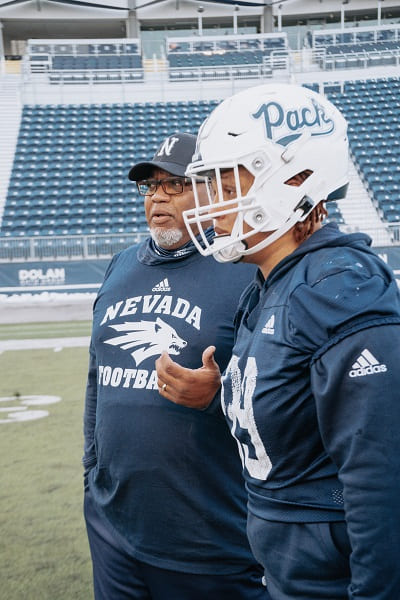 "I went to Vai and introduced myself," Easton-Brooks says. "I told him I've coached (at Sterling College in Kansas for a season), I've played Division I football (Coach Bill Yung recruited Easton-Brooks out of Booker T. Washington High School in Houston, where the then 6-foot-1, 200-pound Easton Brooks was a talented playmaker who could run a 4.4 40, to play in the secondary and outside linebacker at UTEP). I told Vai that if there is anything I can do to help, I'm here to help. Vai was very welcoming. He said, 'Absolutely, you can help.' He just jumped on it."
Taua didn't need someone to develop game plans or defensive schemes for the Wolf Pack. That wasn't what Easton-Brooks expected, either.
Within a few days of giving Taua his number, Easton-Brooks received a text from Taua, inviting him to the Wolf Pack's football offices.
"Vai is introducing me to the coaches and he's saying that, 'He's going to help us,'" Easton-Brooks says. "And I'm thinking, 'Hey, this is getting real.'"
From the beginning, as Easton-Brooks began attending the Pack's practices, he's been careful not to get in the way of the Pack's position coaches.
"I wanted to make sure I wasn't disrupting what they were doing," Easton-Brooks says. "But the coaches, Vai and all the coaches, they've all been great. From the very beginning, they've been, 'Come on out.' I've been listening to what they've been saying to the players, and the players come up and I can talk to them about their coverages and help them think through what's going. That's been an amazing part of this – to hear them talk about how they process things, and how deeply and how seriously they take all of their preparation. It's just been amazing."
Easton-Brooks says the positivity and professionalism of the entire staff has been evident.
"What's been really beautiful is getting to know the guys," Easton-Brooks says. "To hear their stories and what is important to them has been a really beautiful thing. In talking to these kids I get to share my experiences as a former student-athlete. It's been great in helping these student-athletes navigate what they're trying to do. In conversation with them you come to realize that graduating, that being good students as well as good athletes, is really important to them.
"I joke about being the team's 'Dean-Coach.' I've been wearing both hats on the field with the team. It's been an indescribable experience for me, how the kids have been so inviting and welcoming to me, how amazing the coaches have been to me. There have been so many real conversations with these kids. I've learned who they really are."
And who are the players of the Wolf Pack who are heading into Quick Lane Bowl on Dec. 27?
Players, Easton-Brooks believes, that all of northern Nevada needs to be proud of.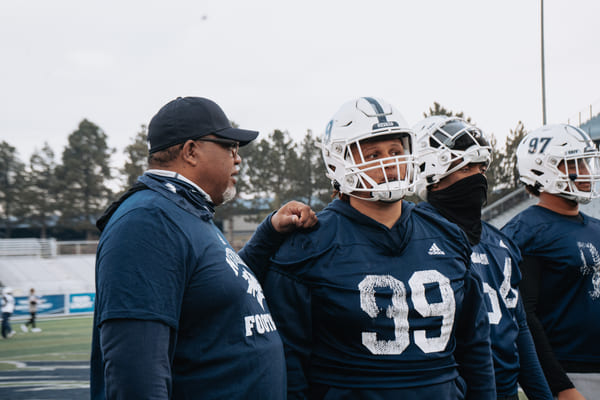 "One of the things that hit me when Jay left, he talked about Nevada not supporting football," Easton-Brooks says. "That hit me hard. For me, it's a matter of everywhere I've ever been, I've always been very supportive of athletics. What hit me more than anything else was knowing that President Sandoval, if he hears something like that, he's going to correct it. He is making this University a place where people have a sense of belonging, that people here care about one another. I wear those same values.
"I want these kids to know that there are people who will do anything to show they support and value them. The coaches being gone, none of it comes up at practice. These kids come out there, they are just out there grinding, and are about nothing but this very special moment in their lives. I just emailed coach (Taua) about how proud I am of the coaches. They've been able to guide them in such a way that it's all about this moment. They're not talking about adversity, or being left behind. It's been about how do we best prepare ourselves for this opponent … how do we as a team get there."
Easton-Brooks says his involvement with the Pack football team over the past several days has been a microcosm of what happens on the University campus every day.
When it became apparent he would be spending a lot of time with the Pack's staff and the players, Easton-Brooks put his administrator hat on within his own college. He gathered his leadership team and let them know that at least through Dec. 27 (he will be joining the Wolf Pack in Detroit for the game), he would be busy with practice.
It was also a busy time for his college. Final fall semester examinations were just being completed. Grades needed to be posted. Advisees needed counsel on the spring semester.
Not too surprisingly, Easton-Brooks saw the faculty and staff of his college step up. As they had throughout nearly two years of pandemic. As they had done throughout his tenure as dean.
"When I went to my leadership team in the college and dean's office staff, I said, 'This is what I'm going to be doing until 11 o'clock; this is what I'm doing for the next two weeks," he says. "They already know how I work, how I'm usually late for our meetings because I'm always with our students, always taking time to be with them. They've always known this about me. They've kept things moving and responding to things. So I really have appreciated them for stepping up with me and keeping things moving. Even to the point where as dean, there is always a list of a few instructors who haven't turned in their grades yet. Every year as dean, I've had to call a couple of faculty to get their grades in. Not this semester. They've all stepped up."
Easton-Brooks says it's an example of what Sandoval, in his Commencement speeches and in numerous public utterances during his presidency, has called the "Wolf Pack Way" – how the University is in the business of producing people who are actively involved their communities, whose first instinct is to give, to help, to step up in a time of need.
"When I first heard President Sandoval say this, it really shook me," Easton-Brooks says. "It was almost poetic: The Wolf Pack Way, and what it meant. That's what has hit me throughout the past couple of weeks. Whether it's been with the Wolf Pack football team or throughout my college, this has been all about the Wolf Pack Way. This is what we do at our University. We step up and do what is needed to protect the Pack and to be there for each other."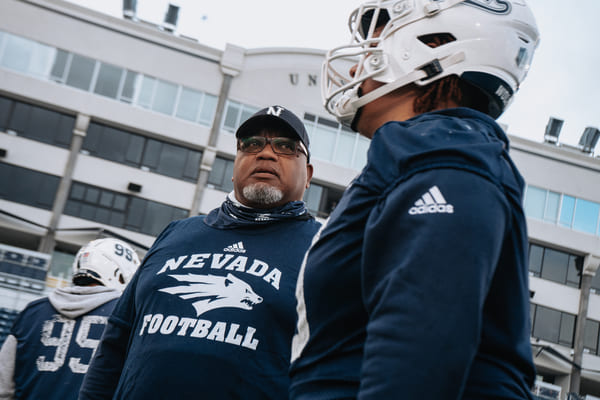 Said Sandoval, who has been out to several Wolf Pack practices himself: "I've always valued Donald and his strong sense of empathy and his very genuine concern for all the people he knows. Yet seeing him at practice and how he's been showing our Wolf Pack student-athletes how much they mean to all of us has been a pretty incredible thing to witness. I've spoken a few times about the 'Wolf Pack Way.' If there is an example that we could bottle and share with the people of our University and northern Nevada, it's what Donald has been doing over these past few days. What a great example he is providing all of us."
As a former football player who has competed against nationally ranked opponents and with teammates who went on to play in the NFL, Easton-Brooks knows what the Pack is facing in the Quick Lane Bowl.
Yet Easton-Brooks' prior experience – this previous life he lived as a football player – tells him that past experience in athletics can sometimes be a harbinger of success.
On Oct. 26, 1985, he and his UTEP teammates were not expected to beat a BYU team that was ranked seventh nationally. BYU, incredibly enough and in a testament to how such things were decided more than 30 years ago in college football, had been named national champions the season previous.
On a sunny, 75-degree day at Sun Bowl Stadium in El Paso, UTEP, behind an opportunistic defense that forced two fumbles, two interceptions and included Don Brooks' six tackles and critical goal-line tackle that prevented a touchdown, upset BYU, 23-16.
"It was one of the biggest upsets in college football history," Easton-Brooks says. "From start to finish, we played to our potential. More than 30 years later, when I talk to my friends from that team, that's what we talk about, that game. When I see this team, this is what I think about. This is a time to look at something that was adverse and come together on a national stage and I hope the outcome will be the same.
"This is an experience that is going to bond these players and coaches together for the rest of their lives. And this is a moment where we all need to show how valuable we think these kids are to us, that the University wants to be there for them. We are helping them embrace this moment that will help shape them for the rest of their lives."