Lauren Mazurowski, a graduate student studying environmental engineering, has a passion for increasing access to clean water around the world. As graduate president of the Student Association for International Water Issues, she annually plans trips abroad to help communities suffering from limited access to potable water, and as an undergraduate, she spent a semester in Thailand, where she was shown firsthand how water quality issues can affect a society. The National Science Foundation's Graduate Research Fellowship Program award will be used to enhance her research.
Through a competitive process, the GRFP awards fellows a three-year annual stipend of $34,000 along with a $12,000 education allowance for tuition and fees to the institution, opportunities for research, professional development, and the ability to conduct their own research at any graduate school they choose.
"It feels surreal," she said of receiving the award. "Originally, I only had the research funding to finish my master's degree, then start working in engineering, and I know I would have been happy to do that. But now, getting this award has changed the course of my life. I believe I need to make the most I can with this fellowship, and really work to do something that could help people."
Of the award, Vice Provost and Graduate School Dean David Zeh said, "Fellowships, such as those awarded by the NSF Graduate Research Fellowship Program, provide graduate students with nationally recognized prestige, funding for their education, and the financial and academic independence to pursue projects of interest. Applying for fellowships makes students better writers and thinkers and being awarded a fellowship increases a student's chances of obtaining future awards."
The GRFP is given to students who have shown the potential for high achievement as scientists and engineers. Recipients come from underrepresented groups, including women, minorities, persons with disabilities and veterans. With the financial support from the award, Mazurowski, a first-generation college student and Graduate Dean's Merit Scholar, intends to apply to a Ph.D. program after she finishes her M.S. in environmental engineering this December.
Krishna Pagilla, chair of the Department of Civil & Environmental Engineering and the Ralph E. & Rose A. Hoeper Engineering Professor, has mentored Mazurowski since she was an undergraduate. Of her future, he said, "Lauren embodies a bright, young engineer whose future is limitless."
To achieve her success, Mazurowski has had to overcome significant challenges. When she was 13, her father was diagnosed with AFTD, a rare and terminal brain disease. For the next four years of her life, she was a caretaker to her father, whose illness required intensive care, while her mother worked nights to make ends meet. Mazurowski's father passed away in their home when she was 17. The hardship deeply strengthened the connection between Mazurowski, her mother and her two brothers, who all became her role models for their strength and resilience. She has since testified to the Nevada State Legislature to advocate for aid to dementia victims under 60, who often have young children and less resources.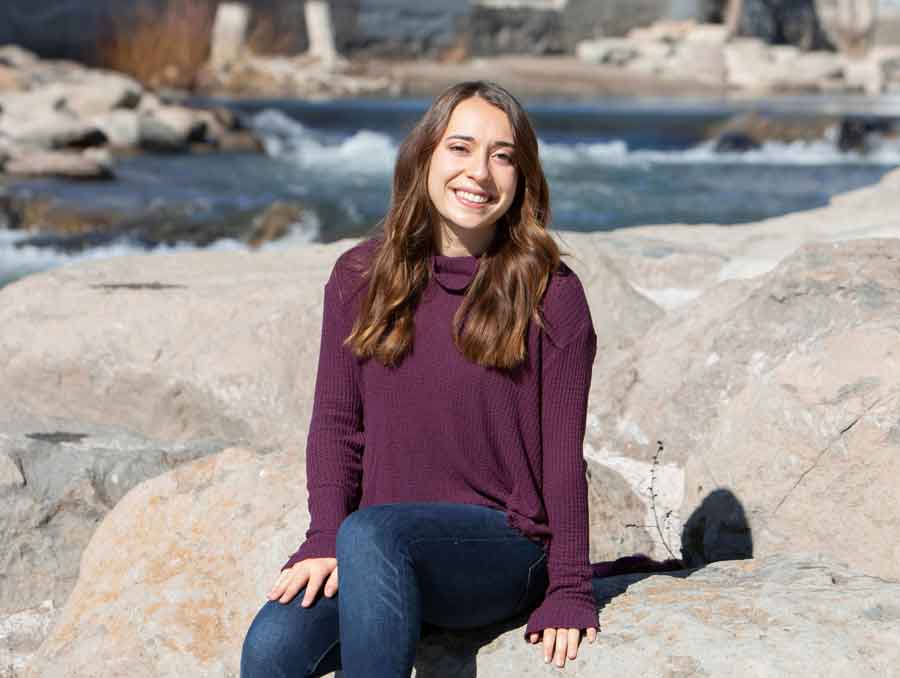 "My father's illness led to a lot of struggle for my family, financially and emotionally," she said. "My mother immigrated here from Venezuela when she was 26, and her and my father's goal was to always provide stability for me and my brothers, and both my parents worked so hard to achieve that. Getting this award means so much to us, as a family. Dad would have dreamt of this for me."
The GRFP award will support her research in breaking down recalcitrant water pollutants to make water potable more quickly and more efficiently. To pursue her research, she will use a lab-scale UV reactor in the new William N. Pennington Engineering Building. The reactor combines O3 molecules with ultraviolet, high-energy light and organic molecules to break down impurities like pharmaceuticals and personal care products.
"Everyone should have access to clean water," she said. "I want to work internationally and locally to give people that access."
The giving spirit that drives Mazurowski's work permeates her whole life. When she is not busy in the lab trying to figure out how to provide as many people as possible with clean, drinkable water, Mazurowski volunteers regularly and espouses the belief that the best way to excel is by working hard and being kind. She said, "If you do your work with kindness, a good heart, and for the right reasons, you will be successful."
Pursuing environmental research has benefits for all
Valeria Nava, a McNair Scholar and senior studying environmental engineering, has won a prestigious research fellowship from NSF as well. The GRFP historically selects recipients who will achieve high levels of success in their future academic and professional careers, and in the fall, Nava will attend graduate school at Carnegie Mellon University in Pittsburgh, Pennsylvania.
"I'm happy and honored that my hard work over the years has resulted in this," she said.
Over the summer, Nava spent time at a research fellowship held at Stanford University, where she studied rice plants grown in a greenhouse are affected by the arsenic levels in soil.
"It was relevant to what we're seeing about climate change in the media, and there's a direct correlation between how changes will affect the world with food and rice, an important staple crop," she said.
"I really want to emphasize that this award is less a reflection of me than it is of the incredible mentors I've had to support me: the professors in my department: Dr. Yang, Dr. Marchand, Dr. Pagilla, Dr. Dennett, and Dr. Hanigan as well as Karla [Hernandez] and Heather [Williams] from the McNair Scholars Program," Nava said.
She also credits other student researchers in the environmental engineering department as an inspiring and integral part of the University.
"Valeria is a strong self-motivated student and has many significant achievements as an undergraduate student. This well-deserved prestigious fellowship fully reflects her dedicated efforts. I'm really proud of her," said Yu "Frank" Yang, associate professor of environmental engineering.
For undergraduate students who want to get a head start on research, Nava suggests emailing professors whose research topics are something that they'd like to pursue in the future and see if they need any assistance. The fellowship Nava received gives graduate students more liberty to choose a project that's tied to their own personal research goals, so it certainly helps to get a head start.
"It's important to know that research has its ups and downs," she said. "You can also apply to the Nevada Undergraduate Research award to get your own project going."
Pagilla added, "Both Lauren and Valeria have seized research opportunities that came along their way and intentionally sought them throughout their undergraduate education. This has paid off and they have been deservingly awarded NSF graduate research fellowships. They have shown that their interest in research is genuine. I am sure they will elevate the fellowships into transformational outcomes for themselves and the community around them. I am very proud of them."